This archived news story is available only for your personal, non-commercial use. Information in the story may be outdated or superseded by additional information. Reading or replaying the story in its archived form does not constitute a republication of the story.
SALT LAKE CITY - With the lockout nearing an end, the Utah Jazz opened up the doors of the Zions Bank Basketball Center for players to begin training this morning.
Finally at about 10:15, there was a little stirring around the Jazz practice facility. "Who is that?" someone from the media asked.
"I think that is Devin Harris," another media member replied.
It was Devin Harris. Harris sat in the back with Jazz strength and conditioning coach Mark McKown. They sat and spoke for a minute, then Harris left out the back door.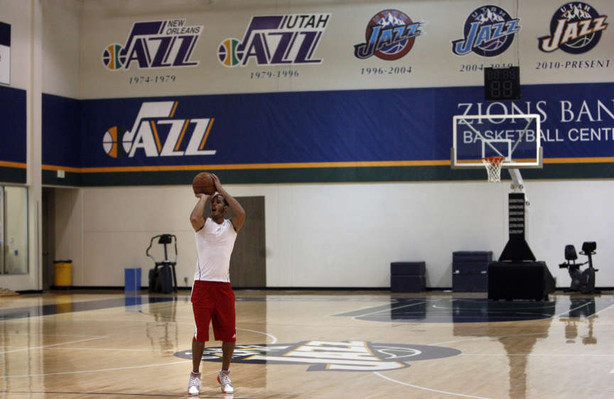 A few minutes later Harris arrived in shorts and sneakers. McKown stretched him out, ran him around for a little while, and he got some shots up. He looked to be in very good shape, though far from ready for the season to begin.
After running a few drills, Harris had to lean over and grab his shorts, but there was a bounce in his step. I think the guy genuinely missed playing ball.
He didn't speak to us until after his quick workout. He was upbeat, genuine, and seemed very happy to be back in Salt Lake City. Like I said, I think he just wants to play ball.
I think it says a lot about Devin Harris, being the first one in the building and getting his work in. I think the Jazz really almost didn't expect any players today, but expected most on Friday. Harris said he was here trying to figure out a place to live. He is heading home to get his family and bring them back Monday or Tuesday. Hopefully it won't be tough for them to get situated. That might be the toughest thing for these players, pulling their kids out of school, away from friends, moving (and all that comes along with that).
Harris was there this morning though, first thing, just like a leader would. I think he recognizes that this team is young and talented, but that there is a gaping hole - leadership. I was impressed to see him there at least trying to be the leader.
Email: mgrant@ksl.com
Twitter: @mikegrantksl
×
Related Stories