This archived news story is available only for your personal, non-commercial use. Information in the story may be outdated or superseded by additional information. Reading or replaying the story in its archived form does not constitute a republication of the story.
PARADISE ISLAND, Bahamas — The Runnin' Utes (1-4) dropped their fourth straight game with an 89-75 loss UMass (5-1) on Day 2 of the Battle 4 Atlantis tournament Friday.
Five Minutemen scored in double figures, including Jesse Morgan's 15 points, which all came during the first half on 5-of-6 from three-point range. Chaz Williams had 14 points, seven assists, and five steals, while Freddie Riley and Javorn Farrell each added 13 points.
As a team, UMass knocked down 15-of-30 three-point shots and forced Utah into 18 turnovers, dominating the game largely on those two statistics.
The game was close early on with multiple lead changes until Morgan hit four of his five three-pointers in a six- minute span to put the Minutemen up 41-33 with 3:36 remaining in the first half. UMass took a 44-35 lead into halftime, and increased that lead in the second half to as high as 23.
With the win, UMass evens the all-time series between the two schools at 1-1. The only other meeting occurred in 2002 at the Maui invitational, which Utah won 69-53.
UMass will take on College of Charleston in the fifth- place game on Saturday.
Josh Watkins led the Utes with 16 points and seven assists in the loss. Kareem Storey scored 12 and Jason Washburn added 11, with Chris Hines scoring nine in his first start of the season.
Despite a double-digit loss, Friday night's game was the best game of the season so far for the Utes in multiple aspects.
Utah outshot UMass, hitting 60 percent from the field to UMass' 50.7 percent. The Utes also outrebounded the Minutemen 24-22, despite a size disadvantage for much of the game. Utah managed to hit 50 percent from the three- point line, going 6-of-12, its best percentage of the season.
Utah got off to its best start of the season, jumping out to a 6-0 lead early before Farrell's first three-pointer put the Minutemen on the board. The Utes led 19-14 after Washburn's layup six minutes into the game, and led by five again after Storey's three-point shot made it 24-19 with 10:52 remaining in the half. But three threes in less than two minutes put UMass ahead, and the Minutemen never trailed again.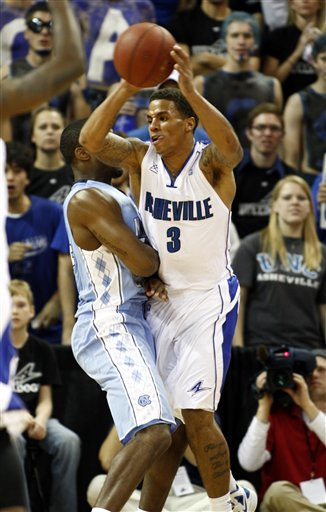 The Minutemen continued to hit three-pointers, scoring 15 times from beyond the arc, often without a hand in their face. They also gave the Utes fits with their full-court press, and kept it going late into the game. Utah had trouble navigating the full-court pressure, which resulted in several of the team's 18 turnovers.
Utah will move on to face UNC-Asheville in the seventh- place game Saturday at 7:30 p.m.
UNC-Asheville is the only other team in the tournament to lose its first two games. The Bulldogs lost a hard-fought game to No. 4 UConn, 73-63, in Round 1, then lost a nail- biter to the College of Charleston, 68-66.
The Bulldogs are 2-4 on the season, but have gone up against some tough competition, facing two teams ranked in the top 4 during their first five games. They lost their first two games to NC State and No. 1 North Carolina, before managing two wins against Div. II opponents, Mars Hill and Brevard.
Four players average double figures for UNC-Asheville, led by senior guards Matt Dickey at 16.2 points per game and J.P. Primm with 13.8. Junior guard Jaron Lane scores 12 points per game, while senior guard Chris Stephenson averages 10.2.
Dickey scored 20 points in the Bulldogs' close loss to College of Charleston, while Stephenson added 19 points and eight boards.
Utah will look to end its four-game losing streak and finish the the Battle 4 Atlantis on a positive note with a win against UNC-Asheville. They will then enjoy a week off before traveling to California to face Fresno State on Dec. 3.
×
Related Stories