This archived news story is available only for your personal, non-commercial use. Information in the story may be outdated or superseded by additional information. Reading or replaying the story in its archived form does not constitute a republication of the story.
LOGAN -- Many people had written off the Utah State Aggies football season after dropping to 2-5 overall against Louisiana Tech back on Oct. 22nd.
Since that time, however, the Aggies have rolled off three straight wins for the first time since 2001 en route to a 5-5 record with a good chance at getting to their first bowl game in 14 years.
There are two obstacles that remain for Utah State: Nevada and New Mexico State. The Aggies need to focus this week on the Wolf Pack, the second-best team in the WAC so far this season.
With this being Thanksgiving week, could Utah State suffer from eating too much tryptophan and start the game sluggish? Or since they seem to play better from behind, is this their strategy? (I may or may not be kidding about that one).
At this point of the season, I don't think that anyone in Logan cares how the Aggies win so long as they just win the game and send the fans into a delirious frenzy for becoming eligible for a bowl game.
After seeing how the Aggies slugged it out against a weak Idaho team this past Saturday in Moscow, Utah State will need to step up their game in several areas to have a chance against the high-powered offense of Nevada.
Here are five storylines to watch for this coming Saturday:
1. Trying to stop the multi-faceted Nevada offensive attack.This is definitely the hardest part for the Aggies on Saturday. If you didn't watch or listen to the game this weekend, the 97th ranked offense of the Idaho Vandals torched USU all game long and if it wasn't for the offense, Utah State would have lost that game.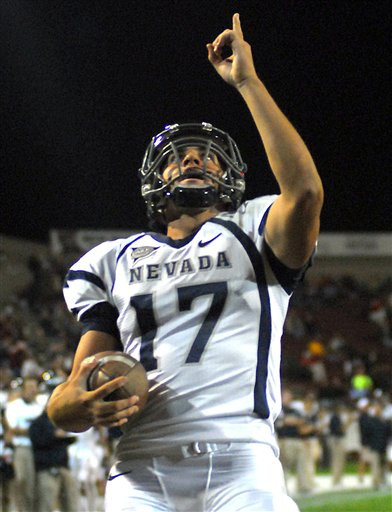 Nevada is led by freshman quarterback Cody Fajardo, who is putting up some gaudy numbers since being inserted into the lineup against UNLV. He has completed 123 of 174 passes for 1467 yards and six touchdowns while also rushing 109 times for 635 yards and 11 touchdowns.
Since Fajardo has only played in 5.5 games, his per game stats average out to 22 of 31 passing for 267 yards and a touchdown with 20 carries for 115 yards and two touchdowns rushing. This means that on average, Fajardo will be account for 18 points and 382 yards of offense for the Wolf Pack.
Fajardo isn't the only player the Aggies need to worry about. Running back Lampford Mark has been impressive so far this season with a 5.2 yards-per-carry average and three touchdowns. Receiver Rishard Matthews has 67 receptions on the season for 1,045 yards and six touchdowns. Truly, head coach Chris Ault has team ready for another streak of success.
Nevada is 9th in the nation in rushing at 261.1 yards per game much like the Aggies, who are ranked 6th in the rushing. The stats say that Nevada is better passing overall at 257.6 yards per game, even though Utah State's passing game has been revived since Adam Kennedy started under center.
How does Utah State stop the Wolf Pack? Well, they can't stop the Wolf Pack, but they can slow them down significantly. Matthews will be out of the game if Fajardo can't throw him the ball and the Aggies can key on Fajardo's ability to run the ball as well with their better-than-average run defense. Look for Utah State to see Fajardo as the key cog that drives the Nevada offensive machine and have a defensive player spy on him on every single play.
2. Matching up two of the best rushing attacks in the country.Both Nevada and Utah State boast Top-10 running games in the nation, with the Aggies at sixth and the Wolf Pack at ninth. We could see a lot of running on Saturday, but we may see an audible called by both offensive coordinators and see quite a few passes as well since both teams play well against the run on defense.
Nevada has Lampford Mark and Mike Ball to lean on along with quarterback Cody Fajardo while Utah State relies on the three-headed monster of Robert Turbin, Michael Smith, and Kerwynn Williams. However, two of the six players haven't played major roles in the past few games as Williams has had issues with migraine headaches and Ball has not played at all. This means that it is essentially comes down Fajardo and Mark against Turbin and Smith.
Who has the advantage? I will call it a push. This will definitely be an interesting matchup to watch on Saturday.
3. Aggressive vs. Conservative play-calling.Utah State's Adam Kennedy continues to impress as he completed 13 of 18 passes this past weekend for 182 yards and two touchdowns. The Aggies started out the game very aggressive in their play-calling and it paid off as the Aggies jumped out to a 21-7 lead against Idaho.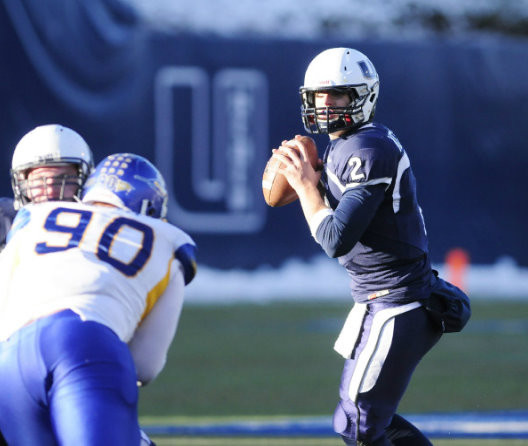 Kennedy looked sharp when the play-calls were of an aggressive nature. But then, as it always seems to happen for a stretch during each game, offensive coordinator Dave Baldwin went conservative and the whole team struggled.
If Utah State wants to beat Nevada in this game, they will have to be aggressive all game long. They cannot be conservative at any point. The Aggies have clearly struggles as a conservative play-calling team and in the games when the aggressiveness has returned, they are 5-0.
Think about it: the games against Weber State and Wyoming while Chuckie Keeton was in a quarterback were the "aggressive" type of games and the Aggies blew out both teams. Since Kennedy has come in at quarterback, USU is 3- 0 while coming back from deficits in two of the three games.
You can play conservatively in games like chess. You cannot do the same in FBS college football. Watch for the success the Aggies have when their play-calling is aggressive in nature.
4. The role of Special Teams in a Utah State victory. If Utah State wants to win this game, they absolutely must play flawless on special teams. Each aspect of the special teams has to play perfect.
Punter Tyler Bennett has struggled in recent weeks punting the football, as his average has gone down significantly from the beginning of the season.
Kerwynn Williams, who continues to struggle with migraines, was stellar at the beginning of the season but also has had a tough time in recent weeks getting good returns on kickoffs.
Fortunately, Chuck Jacobs has stepped in wonderfully for the Aggies and has done a nice job returning the football, even though he has fumbled a couple of times.
Kicker Josh Thompson continues to impress as well on both field goals and extra point attempts.
There can be no mistakes on Saturday if the Aggies are to come out victorious. If Utah State does happen to lose the game, look for it to be as a result at least in part to a special teams mistake.
5. Utah State has two chances to get to a bowl game. Aggies fans have been waiting 14 years to get back to a bowl game. This is the closest the team has been to being bowl eligible since 2000. They now have two chances to get to that elusive six-win status and to further validate the hiring of Gary Andersen.
I don't think that there could be anything better for Utah State than for them to become bowl eligible at home on Thanksgiving weekend. But, they will have to play a complete game to do so. Nevada is a well-rounded team and they would love to play spoiler on the Aggies' senior day festivities.
If Utah State wins on Saturday, they will have the opportunity to move to 7-5 and not have to worry about qualifying for a bowl game.
However, if Utah State loses on Saturday, they will have to face New Mexico State on the road in the regular-season finale. NMSU has been a team that can be surprising one week and disappointing the next while sporting a 2-3 record overall at home.
After everything that the Aggies have been through this season, it is amazing to think that they have not one, but two chances to still make it to a bowl game. If you are a fan of Utah State athletics, you better be at the game on Saturday at Romney Stadium. The Aggies are going to need every ounce of energy and strength they can get.
×
Related Stories