This archived news story is available only for your personal, non-commercial use. Information in the story may be outdated or superseded by additional information. Reading or replaying the story in its archived form does not constitute a republication of the story.
VERNAL — Rachel Stewart just had to stop and see what the hubbub was about.
The visitor from Taranaki, New Zealand, had seen the man in the cowboy hat standing on the street corner, waving his sign. She'd heard the cacophony of car horns. She needed to know more.
"He could have been an anti-abortionist or selling pizza, but no, no, he's selling oil," said Stewart, who hails from an area she described as "the Texas of New Zealand" based on the size of its oil and gas industry.
Actually, George Burnett, owner of Covers and Camo, sells custom seat covers out of his shop at the corner of 500 East and Main streets. It's a business he operated for years in Utah County before relocating to Vernal in 2008.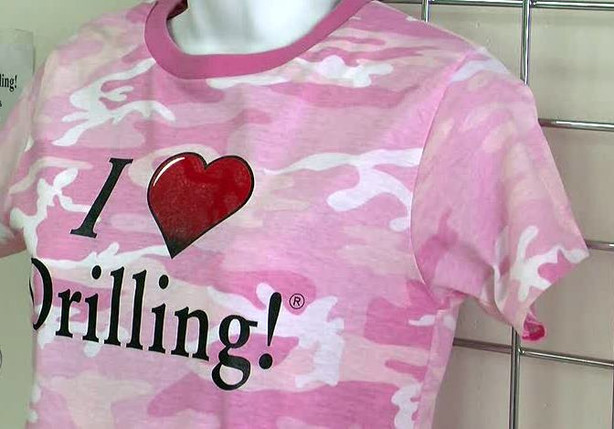 That's when Burnett decided he needed a way to connect with potential customers. So the lifelong entrepreneur spent a weekend mulling over what he could put on a sign that would grab people's attention.
He discarded "Honk if You ♥ Oil" and "Honk if You ♥ Vernal," and settled instead on "Honk if You ♥ Drilling."
"I believe that we need to be drilling to get our own energy sources," Burnett said. "In fact, I'm as bold as to say, 'You love drilling whether you know it or not.' When you're filling up at that gas tank, you oughta be saying: 'I love drilling. I sure beats walking.'"
With his slogan selected and his sign made, Burnett took his message to the streets. It was an instant hit.
"People started honking immediately," Burnett said. "It connected. It connected with this community."
But within months of Burnett's move to Vernal, the energy industry that drives the area's economy suffered a dramatic collapse. The number of drilling rigs dwindled and unemployment spiked.
Burnett's slogan became a rallying cry of sorts that locals displayed on T-shirts and bumper stickers to show their community pride, and their anger with the Obama administration for actions most residents viewed as detrimental to domestic energy production.
"There have been multiple, multiple times that people have stopped and thanked me for keeping things positive as this area went through some pretty tough times," Burnett said.
He admits that he considered leaving his newly adopted home during the bust, but decided to stay because of the support he received.
"That's when you realize you have something, when the community pulls together and supports each other," he said. "That's what will get us through the future hard times that we may have ahead."
Burnett said he's not opposed to developing alternative fuel sources or to being environmentally conscious about energy development. Instead, he wants people to "connect the dots" when it comes to the number of things they enjoy as a result of oil and natural gas.
---
""Right now, those alternatives aren't ready to take the place of what (oil and natural gas) can do for our lifestyles and the things that we enjoy." -George Burnett
---
"Right now, those alternatives aren't ready to take the place of what (oil and natural gas) can do for our lifestyles and the things that we enjoy," Burnett said.
Burnett still spends about five hours each week holding his "Honk if You ♥ Drilling" sign outside his shop. It's a positive experience for him, and he hopes it provides something equally uplifting for the people who drive by — especially the people who work in the energy industry.
"I'm sending out good vibrations to them ... be good to each other, work hard and be proud of what you do," Burnett said. "I'm proud of what they do."
Email:gliesik@desnews.com
×