This archived news story is available only for your personal, non-commercial use. Information in the story may be outdated or superseded by additional information. Reading or replaying the story in its archived form does not constitute a republication of the story.
BOUNTIFUL -- He's just 31 years old, but has already endured trials most of us will never experience. Despite his struggles, Bountiful's Brandon Sulser is making the most out of life, by making a difference in the lives of others.
"I couldn't move my legs, my hands my fingers and I knew then something was seriously wrong," Sulser said.
Thirteen years ago, Brandon Sulser - fresh off his high school graduation - ran down a sand hill at Lake Powell. His legs got tripped up, forcing him to dive too early - into 4 only inches of water.
"It felt like a bolt of lightning struck my body. Then the power went off so to speak," Sulser said. "I could hear someone screaming and it was my mom and, as a guy, that's probably the last thing you want to hear is your mom screaming for you."
Sulser had broken his neck and was floating face down in the water. Life would never be the same. In an instant, he had become a quadriplegic. Things as simple as getting out of bed, putting on a shirt or getting into a car were now challenging activities that had to be overcome every day.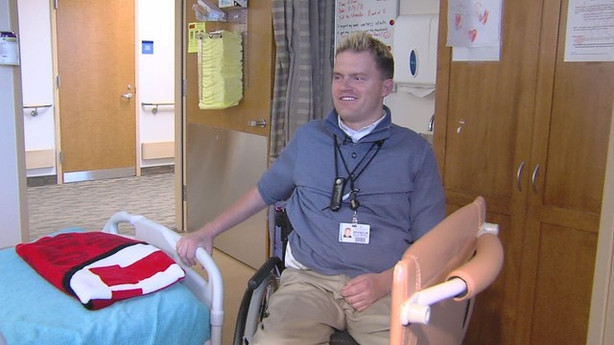 "The things I took for granted were gone in seconds," Sulser said.
Despite those constant struggles, Sulser continues to love life, and today he helps others who are also paralyzed as a social worker at Intermountain Medical Center.
Sulser says when patients first see him, and learn he's a quadriplegic, they feel instantly understood. Patients like Peggy Lloyd, who has been in the hospital since early July, and is also struggling with paralysis.
"He's so friendly and so upbeat," Lloyd said. "He just makes you feel so good not bad and that there is tomorrow."
"Well what I'm grateful is being able to work in a place where my weaknesses can be a strength to others," Sulser said. "And that's why I love being here."
"He was a patient of ours and he was endeared to us at that time," said Brad Zollinger director of neuroscience at IMC. "And now we get to work with him again in a whole different capacity, and his contributions are huge."
Contributions that are making a huge impact in the lives of others. And during this Thanksgiving Holiday, Sulser finds much in life to be grateful for.
"I'm grateful for my blessings, you know. Someone might see me and say 'Boy that's a tough life,' but I'm grateful that I have what I have," said Sulser. "I'm grateful for the opportunity to live."
And the opportunity to truly make a difference.
Email: [kaiken@ksl.com](<mailto: kaiken@ksl.com>)
×
Photos
Related Stories