Estimated read time: 4-5 minutes
This archived news story is available only for your personal, non-commercial use. Information in the story may be outdated or superseded by additional information. Reading or replaying the story in its archived form does not constitute a republication of the story.
LOGAN -- Utah State head football coach Gary Andersen has won five games in a season for the first time in his tenure in Logan, but don't expect him to be satisfied. The Aggies need only to win one of the last two to become bowl eligible, and they will need to fight tooth and nail to get there this weekend as the Nevada Wolf Pack travel to Romney Stadium Saturday afternoon.
The Aggies have now won three games in a row for the first time since 2001 and are 5-5 on the season (3-2 WAC). The Wolf Pack are 6-4 on the season and 4-1 in the conference, sitting in second place in the WAC behind Louisiana Tech (7-4, 5-1). This will be a key game for both teams seeing as a win for the Aggies would put them in a tie for second place with Nevada. Needless to say, both teams really want to walk away with the win.
Nevada is coming off a difficult loss to WAC leaders Louisiana Tech at home, 24-20, where it managed to gain 465 yards of total offense but gave up a late lead, surrendering 21 points with less than 10 minutes remaining in the game.
Utah State and Nevada are very similar teams in their style of play. Both teams base their offense on the run and will look for opportunities when they present themselves in the passing game.
While the Aggies rank sixth in the FBS with 273.9 ypg, the Wolf Pack isn't far behind, ranking ninth with 261.1 ypg. While running the ball may be Nevada's strength, stopping the run is the Aggie defense's. It will be interesting to see how Nevada's freshman quarterback Cody Fajardo will fare against senior linebackers Bobby Wagner and Kyle Gallagher and their band of brothers. Fajardo is definitely a duel-threat quarterback as he has thrown for 1,467 yards and six touchdowns and is the Wolf Pack's second leading rusher with 635 yards and 11 scores on the ground.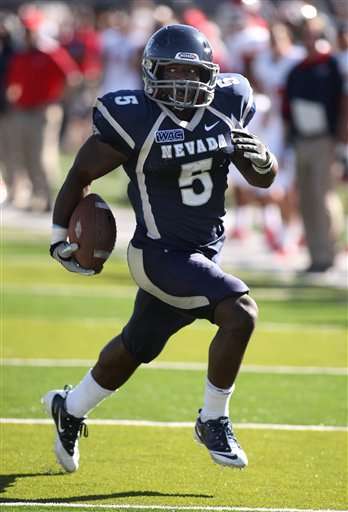 Nevada running back Mike Ball has been kicked off the team. Coach Chris Ault said in a statement Tuesday that the Wolf Pack's leading rusher violated team rules and protocol so there was no choice but to dismiss him. Ault declined to provide any details. Ball has rushed for 704 yards and three touchdowns on the season
Another point of strength for Nevada is unfortunately the weakest link for the Aggies: the ability to make plays in the passing game. The Aggie defensive secondary has been inconsistent all season long and has been unable to match up against teams that are able to look down the field.
Nevada has two solid senior wide receivers in Rishard Matthews and Shane Anderson, who have combined for 1,571 yards on 107 catches and eight touchdown catches. Andersen will need to dial up the pressure and give his defensive backs an opportunity to take advantage of mistakes.
Where the Aggies need to worry the most is on the offensive side of the ball. While the USU offensive line has been solid (if not dominate) all season long, the Wolf Pack will be bringing in a scary defensive front seven led by defensive tackle Brett Roy. The senior DT leads the WAC with 17.5 tackles for loss and 10 sacks on the season. Roy's ability to eat up space and put pressure in the backfield opens up opportunities for senior linebackers James-Michael Johnson and Brandon M. Marshall to make plays and come up with big stops.
Offensive coordinator Dave Baldwin will need to learn to stay aggressive for all 60 minutes to keep the Nevada defense on it's toes and let junior running back Robert Turbin play his game and make plays for the Aggies.
This will be no easy game for either team, and the Aggies will need to play above the level of play that they have been if they expect to walk away from this battle with a victory. Utah State will need big games from all of the Aggie running backs and from wide receivers senior Matt Austin and junior Stanley Morrison. If they can get the big plays that they have been, the Aggies might be able to pull off the upset at home.
Justin McKissick is a KSL.com contributor originally from the San Francisco Bay Area. He is currently seeking a communications degree. He has been covering USU sports since 2011. Follow him on Twitter: @justin_sr.
×