This archived news story is available only for your personal, non-commercial use. Information in the story may be outdated or superseded by additional information. Reading or replaying the story in its archived form does not constitute a republication of the story.
SALT LAKE CITY — Ten years after the attacks of 9/11, you would think that people would know better to try to bring their guns, grenades, nun chucks or knives onto an airline flight.
But judging by the cache of weapons on display at Salt Lake City International Airport on Monday, there are apparently plenty of people who have yet to learn that lesson.
Transportation Safety Administration officials set up a table featuring virtually every item necessary to supply both sides of a gang fight with what at least looked like a deadly weapon — all of which are banned on commercial airplanes.
Besides the previously mentioned items, there was also gunpowder, bullets, brass knuckles and even a Taser. While the guns on display were only toys and the grenades were inert, officials said they were all prohibited items confiscated from passengers who were filing through the security checkpoint at the airport.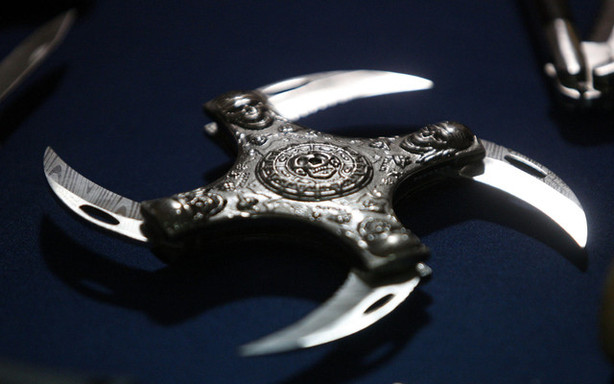 "We normally get around 1,200 prohibited items that would be considered weapons (monthly in Salt Lake)," said Vera Adams, TSA federal security director for Utah. On average, security personnel confiscate two loaded firearms per month — including 24 guns so far this year, Adams said.
Attorney Craig Swapp, known for his local TV ads, was arrested at the Salt Lake airport just last week after security agents found a small handgun and a magazine holding ammunition in his briefcase.
So why would passengers attempt to bring what would seem to be obviously prohibited items aboard a flight? Adams said the excuses vary.
"They forget the items are in their bags or they think that they are OK to travel with," she said. "It's been a long distance between 9/11 and today, and we just need to start refreshing people's memories about what can and cannot come through the checkpoint."
Adams said five guns were confiscated in October and two more this month. With the holiday travel season upon us, she said people need to be more vigilant about what they pack in their carry-on and checked luggage.
"We really need to raise awareness that you need to know who has packed your bag and what is in it," she warned.
Officials also reiterated their warning to travelers to avoid wrapping gifts in any of their luggage.
"We would hate to have someone give up their Christmas present for their niece, nephew or grandchild because of the travel rules," Adams explained. "Forewarned is forearmed."
For information on travel restrictions and appropriate packing, click here.
Email:jlee@ksl.com
×
Photos
Related Links
Related Stories