This archived news story is available only for your personal, non-commercial use. Information in the story may be outdated or superseded by additional information. Reading or replaying the story in its archived form does not constitute a republication of the story.
No. 4 Fremont (10-2) vs. No. 1 Lone Peak (13-0) Friday, 2:30 p.m. at Rice-Eccles StadiumSALT LAKE CITY - As Lone Peak celebrated their thrilling win over Jordan in the 5A semifinals they remembered the feeling they had at this time last season.
"It's such a relief," says slot receiver Connor Humphrey, "It was sad to lose in the semifinals (last year) but going to the championship means everything. We are playing for the first championship Lone Peak could ever win."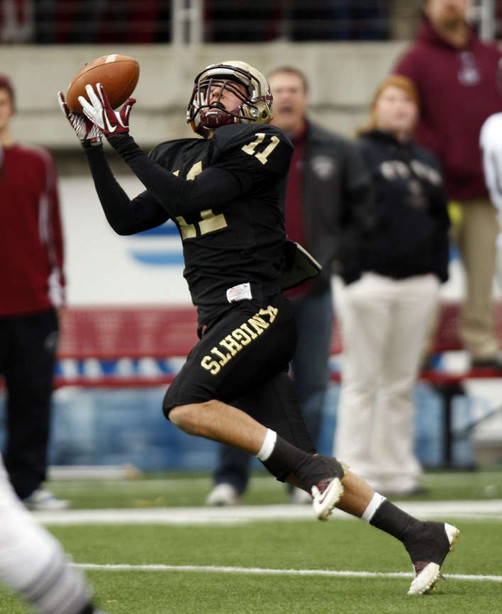 Lone Peak lost to Fremont in the 2010 5A Semifinals 20-14. They haven't forgotten the feeling they had after that loss and have used it as motivation this season.
Several players from that team returned this season including star quarterback Chase Hansen who has led the 13-0 Knights to the best season in school history. He's put up huge numbers against the best teams in the state including Bingham, Jordan and Northridge. The Utah commit has completed 59 percent of his passes for 2,675 yards, 37 touchdowns and just 5 interceptions. He is also the team's leading rusher racking up 1,149 yards and 14 touchdowns.
His athleticism and elusiveness despite his 6' 4" frame make him one the most if the most exciting player to watch in the state but he is quick to tell people this team is much more than just him. He cites their thrilling win against Jordan as proof.
"It just shows the ability of this team and it's so much more than one guy," says Hansen. I can't say enough about how much fun it's been and we ain't done yet. We're excited to get back up here."
Playmakers like Zach Saunders, Connor Humphrey, Talon Shumway and BYU-bound Micah Hanneman provide Hansen with plenty of options in an offense that averages 40 points per game. Defensively they are also talented with Hanneman at cornerback, Kurtis Taufa at linebacker (106 tackles and six sacks) Ty Crockett at defensive end (10 sacks) while Brody Berry and Andrew Schirmer have combined for 12 interceptions.
The Knights will seek revenge against Fremont a team who also has unfinished business on Friday.
Fremont is the last team to beat Lone Peak. The Silverwolves are making their 2nd straight appearance in the state championship game. Several players return from last year's team that fell to Bingham 30-7. They avenged that loss against Bingham in the quarterfinals and now look to win the first football state title in school history. To earn another shot at a title they have had to win some close games including last week's overtime thriller against Syracuse in the semifinals.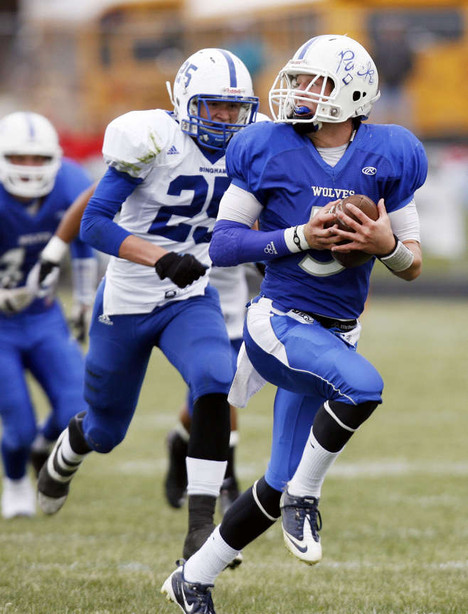 "We do a good job of staying the course when there's adversity and not panicking even when it gets toward chaos," says head coach Kory Bosgieter. "We've got an excellent group of kids. Our senior class is second to none."
Fremont prides itself on being a blue-collar, hardworking team that loves to play smash-mouth football. They lost just twice this season. One loss was on the road to semifinalist Jordan in the last seconds with their other loss coming to 4A finalist East in overtime. They are experienced and battle tested.
Offensively they are led by running back Nick Vigil. He has rushed for 3,570 yards and 44 touchdowns during his high school career including 1,226 yards and 18 touchdowns this season. The most important touchdown he made all season was with his arm. He threw a 4-yard touchdown pass to Rowdy Stucki in the 1st overtime against Syracuse that proved to be the game-winning score. He would love to be a member of the first football state championship team in school history.
"It would be huge for this school," says Vigil. "We've never had one and if we got one at the school it could start a pretty good tradition. That would be big for us." Fremont has been just as good defensively. Led by Jake Gallegos and Luke Hollingsworth the Silverwolves have held their opponents to a 5A best 11 points per game.
Lone Peak is the favorite in this game but it's important to remember that the last team to knock off Lone Peak is Fremont. This has all the makings of a competitive championship game. The chance to watch players like Hansen and Vigil are well worth the price of admission.
KSL Prediction: Lone Peak 31, Fremont 28
Email: jjensen@ksl.com
Twitter: @JJSportsBeat
×
Related Stories