This archived news story is available only for your personal, non-commercial use. Information in the story may be outdated or superseded by additional information. Reading or replaying the story in its archived form does not constitute a republication of the story.
No. 1 Logan (13-0) vs. East (12-1) Friday, 11 a.m. at Rice-Eccles StadiumSALT LAKE CITY - It can't be easy being the younger brother of a legend. Riley Nelson scored 84 touchdowns as a senior leading Logan to the 2005 3A state championship. The 84 touchdowns set a national record and earned Riley Parade All-America honors.
Six years later his younger brother D.J. is doing much the same. D.J has scored 71 touchdowns as a senior and is one win away from leading Logan to the 2011 4A state championship.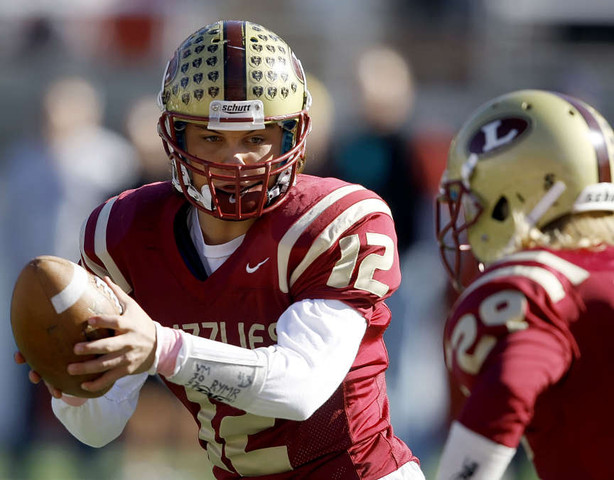 Unlike Riley's team that suffered one loss, D.J.'s Grizzlies are a perfect 13-0 and with one more win can complete the first undefeated season at the school since 1978 and just the 2nd in school history. D.J. has established his own name and legacy in Utah high school football history. For his teammates it's a joy and a thrill to play with him.
"D.J., he's a freak of nature," says teammate and Logan WR Hagen Andersen.
"D.J., in my eyes, is the best player in the state," says running back John Schmidt. "He makes things out of nothing. When you think he's tackled he comes out of it and throws a touchdown for 40 yards. He's amazing."
Nelson pulled off one of those 40 yard touchdown plays against Bountiful in the quarterfinals. It was part of an incredible performance by Nelson who racked up a state record 606 yards of total offense in the win. Despite the crazy stats he accumulated in that game he still wasn't satisfied with the performance.
"We got stopped once and that's unacceptable," Nelson said after the win. "Seriously, like, it sounds funny but our goal is to not get stopped."
It's that type of mentality that makes Nelson the player he is. That leadership has carried over to the rest of a team that is one win away from a perfect season.
Nelson leads head coach Mike Favero's spread offense which averages a state best 46 points per game. Logan is just as good on defense holding their opponents to just 17 points per game.
The last team standing in Logan's way is No. 2 East. The two teams met in the final week of the regular season where Logan crushed the Leopards 46- 14. East sat out several key starters in that game to rest them for the playoffs. They promise a much different result this time around.
"Can't wait," says quarterback Jason Cook. "We'll be ready this time. We'll be ready."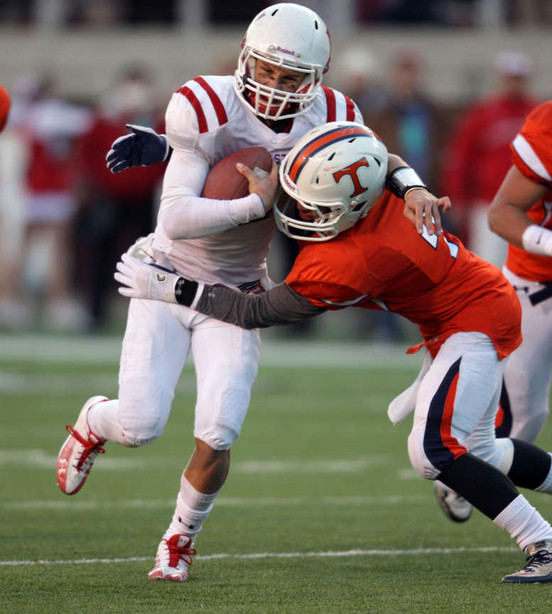 East certainly has the talent to give Logan a challenge. Quarterback Jason Cook and running back Liti Molisi have combined to rush for almost 2,500 yards and 26 touchdowns in their option offense. Defensively they may provide Nelson with his toughest test of the season. East set a school record for interceptions in a season and their defensive front is as big and physical as any team in the state regardless of classification.
East has won big games this season including an overtime win at Fremont. Head Coach Brandon Matich is confident in his team's ability to compete with Logan on Friday.
"They score a lot of points, sure," says Matich. "We've just got to come out and prepare and play the game. Our kids will be ready. They are excited to play."
Matich has rejuvenated this storied program and turned it back into a winner. In 2009 East suffered through a 1-8 season. Since Matich took over the program last season the Leopards have gone 20-4. No matter what happens on Friday running back Liti Molisi says East is a program on the rise that will be playing in multiple championship games as long as Matich is leading the program.
"Coach Matich turned this program completely around," says Molisi. "We're ready. This is going to be tradition now."
Forget what happened in week 10 of the regular season. This should be a much different game. The key for both teams will be defense. East must keep Logan's high octane offense off the field and when they are on the field they need to force turnovers which they have done to opponents all season.
The Logan defense must defend the option and not allow East to sustain long drives. Containing Nelson may prove to be impossible but East may be the team with the talent, speed and size to get it done.
KSL Prediction: Logan 28, East 17
Email: jjensen@ksl.com
Twitter: @JJSportsBeat
×
Related Stories