This archived news story is available only for your personal, non-commercial use. Information in the story may be outdated or superseded by additional information. Reading or replaying the story in its archived form does not constitute a republication of the story.
PROVO -- What is there left to play for? BYU fans are asking themselves this question, as its first season as an independent is coming to a close.
The rumors of BYU joining the Big East are heating up, and the lack of interest for the remaining opponents has caused many to wonder what the point is. Could joining the Big East improve the casual fans interest at BYU? During last week's Idaho game there were numerous empty seats.
"I would certainly like to see (LaVell Edwards Stadium) full," said BYU coach Bronco Mendenhall, "(but) to me the (announced Saturday crowd) of 58,000 is still a really strong showing under those circumstances. And then when you add those 58,000 to all the others that are seeing it (on ESPN2), there are still more people seeing our games."
Fan Apathy Many fans are grumbling about the lack of excitement surrounding this year's football team this late in the season. Since week two Cougar fans have known the end their season would end in Fort Worth at the Armed Forces Bowl. With the poor quality of opponents on this year's schedule it seems hypocritical for the athletic department to ask the fans to "Rise Up."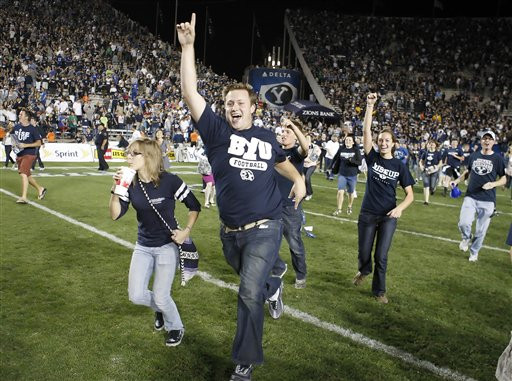 Greg Wrubell, the "Voice of the Cougars" on KSL radio, said that the lack of attendance "...might be an overreaction to factors combining there was a late start, on a cold night and on ESPN." He added that there was also a lack of incentive for fans.
"It's hard to get up for New Mexico State, Idaho and Hawaii," said Tom Kirkland of KSL 5.
However, this year's schedule wouldn't be much different if BYU had stayed in the Mountain West. The Cougars have played five teams from the WAC whose combined record is 18-31. The combined records of the bottom five teams from the Mountain West are 17-30.
Even though the lower end teams in the Mountain West were bad last year, if BYU lost it affected the Cougars place in the conference and likely a chance at a conference championship. At this point if BYU loses to New Mexico State and Hawaii and it wouldn't make a difference.
However, the future still seems brighter as an independent than in the Mountain West.
Independent Satisfaction "It'll be challenging, but these are exciting times," said BYU Athletic Director Tom Holmoe said of the Cougars' new- found independence.
"I have always been a huge proponent of BYU going independent when they were in the MWC," said David Locke, host of Locked on Sports on 1320, KFAN. "Ten games on an ESPN entity in year one of independence shows a script that can be very successful for BYU Football."
---
I haven't even thought about the Mountain West since BYU left.
–Greg Wrubell, "Voice of the Cougars"
---
"I haven't even thought about the Mountain West since BYU left." Wrubell said.
Kirkland said he absolutely thinks that BYU did the right thing leaving the MWC.
"They had to take a chance... it was a no-brainer."
BYU has said that future Independent schedules won't look like they did this year. The Cougars have agreements to play Notre Dame, Boise State, Georgia Tech, Houston and Southern Miss on a consistent basis in the future.
"I don't think the value of BYU's ability to go to different major cities each year as an independent to spread the message of BYU can be underestimated," Locke said. "In two years BYU will be in Atlanta, Chicago, Dallas and Portland."
Mendenhall and Holmoe have both mentioned a desire to play service academies and institutions that stand for something more than just football. However, they have made it clear that they want to play the top competition from all regions of the nation.
---
I don't think the value of BYU's ability to go to different major cities each year as an independent to spread the message of BYU can be underestimated. In two years BYU will be in Atlanta, Chicago, Dallas and Portland.
–David Locke, KFAN radio host
---
"I'd like to have a long-term series with Stanford. I think it's a regional game that could be a great game. They have similar academic standards in terms of who they recruit, and it's a game that makes a lot of sense with two pretty unique institutions, so I'd love to see that one," Mendenhall recently said at one of his weekly press conference.
"I'm looking forward to Notre Dame, it's a natural rivalry. It's not regional but it's national. I like the idea of Boise State as well. We restore an old rivalry with Hawaii also," Mendenhall said.
"We're excited about the possibilities of the future." Holmoe said.
Big East Possibilities If BYU were to join the Big East they would at least have something to shoot for -- a conference championship, a BCS birth -- even if there are still some teams with less than favorable names.
The downside of the Big East is the volatility of the situation. The Big East has lost half of its league over the past five years. If the Big East does go away then BYU just goes back to Independence.
"Certainly plenty of questions on our part..." Mendenhall said. "But with the landscape changing, the main benefit that I could see on a short-term scale would be inclusion into the BCS system. That's up in two years, and whether the Big East is able to hold that spot, with the new teams going in, my guess would be yes."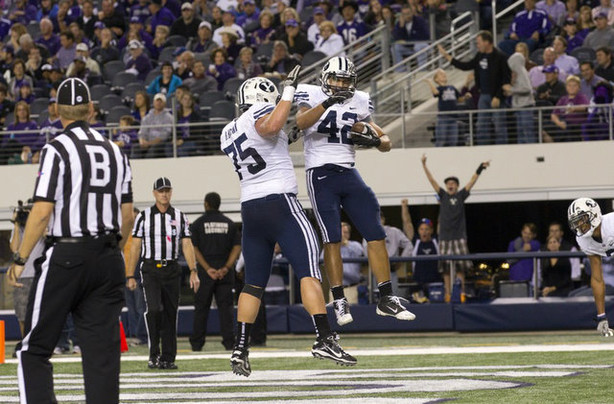 The Big East's BCS automatic-qualifying status is guaranteed through the 2013 season, so BYU may want to wait two years to see if the Big East keeps their AQ status, if not the Big East may not be the best choice.
The best scenario is a 12-team conference with a championship game and an automatic bid into the BCS, and to keep their BYU TV deal and some sort of deal with ESPN.
There are a lot of rumblings about who is coming and going in the Big East. An ideal Big East 12-team league would, involving rumored teams, look something like this:
West division: Air Force, Boise State, BYU, Houston, SMU and San Diego State.
East division: Cincinnati, Louisville, Rutgers, UConn, Navy, and USF.
Right now the West division has been reported to have Louisville instead of SDSU, so that could be a difference.
In this scenario BYU would play each West opponent once a year and two to three East opponents. If they are looking for exposure that would mean they could play in the following media markets: No. 1 (Rutgers), No. 5 (SMU), No. 10 (Houston), No. 14 (South Florida), No. 26 (Navy), No. 28 (SDSU), No. 30 (UConn) and No. 33 (Cincinnati).
That is a big exposure difference from the Mountain West where after TCU at No. 5, there was SDSU (No. 28) and Las Vegas, No. 42. For reference Utah is No. 32.
Related:
Their independence schedule is actually worse. There is still TCU and San Jose is No. 6, but UCF is No. 19, Texas is No. 44, Ole Miss is No. 48, Oregon State is No. 118 and Idaho State is No. 162. Their future independence games would include Georgia Tech, which is No. 8, and possibly Army, No. 1.
This possible scenario would open up recruiting for BYU from coast to coast. It would also cut down on travel and increase the all-important exposure. It is important to get to twelve teams or else there would be no divisions and BYU would have to travel across the country for around five games each year.
Kirkland said that some of the West division teams would worry him, saying "Boise State is legit, but not sure about the rest of them."
Better Bowling? Even if BYU gets into the Big East and they keep the AQ status, it still may not be the right move according to Locke and Wrubell.
#poll
"If BYU leaves independence solely for access to a BCS game I think it is an ill fated move," Locke said "Getting into a BCS game would happen at best once a decade and maybe even less. If the Big East answers legitimate issues with independence such as November scheduling, fan apathy and difficulty in scheduling then it is a legitimate alternative, but if it is solely for BCS access that is an ill fated pipe dream."
"It depends on the proposal, if you get the exposure it's probably preferred to independence." Wrubell said. He added that the BCS is a criterion, but the exposure is more important.
Kirkland didn't seem as worried about the automatic qualifying.
"From what I understand the AQ might go away."
BYU is locked in the Armed Forces Bowl this season. With their record right now they would be a game out of the BCS hunt if they were in the Big East this season. Cincinnati is 7-2 and BYU is 7-3. They would get into the Champs Sports Bowl if they finished in second and would be playing Florida State is conference placement held.
If they were in the Mountain West they would be looking at the Independence Bowl playing a down Miami program.
The problem with these bowls is that they are in the heart of bowl season. Both opponents would bring their own audiences, but the Independence Bowl is the day after Christmas and the Champs Sports Bowl is on the Dec. 29. The one benefit for the old Vegas Bowl was that it was the first bowl game. These other bowls are just "another" game lost in the middle of a busy bowl season. If they aren't able to get into a BCS game their bowl exposure could actually drop.
As an independent, BYU can look forward to other bowls played in more attractive and fan-friendly cities in the coming years; the Poinsettia Bowl, in San Diego, next year and the Kraft Hunger Bowl, in San Francisco, the year after.
If BYU were to go to the Big East it could have any number of possible opponents and bowl possibilities. The Big East has six bowl affiliations. The champion goes to a BCS bowl and could possibly contend for a National Championship.
All of the bowls are back east, with locations in New York, Tennessee, North Carolina, Alabama and Florida. That isn't counting the BCS game, but you can't expect BYU to be in that game every year.
However, if BYU wants to get exposure a big bowl imprint would help.
Email: onlinepsorts@ksl.com
×
Related Stories