This archived news story is available only for your personal, non-commercial use. Information in the story may be outdated or superseded by additional information. Reading or replaying the story in its archived form does not constitute a republication of the story.
PULLMANN, Wash. — The University of Utah football team will hit the road again this week as it looks to keep its Pac-12 championship game hopes alive against Washington State. The two teams will be meeting for the 11th time overall, with both schools winning head-to-head five times. The Cougars won the last meeting between the two teams during the 2000 season.
Washington State head coach Paul Wulff is in his fourth season in Pullman, where he played from 1986-1989. The Cougars have not had a winning season under Wulff, and must win the final two games of the season to become bowl eligible after defeating Arizona State last weekend. Kickoff is scheduled for 3 p.m. MT and the game will be broadcast live on KJZZ in Utah.
Wulff met with the media earlier this week to discuss last week's win as well as the match with the Utes. Here are his comments.
On former Cougar Steve Gleason speaking to the team before the win over Arizona State:
"I'm very, very proud of our players. It was a very inspirational night. Steve Gleason talked to our football team today, and it was about as emotional as I've ever personally been involved with a situation. There wasn't a dry eye in the building on the football team. He is a special guy and a big part of this victory."
On the fans who attended the game: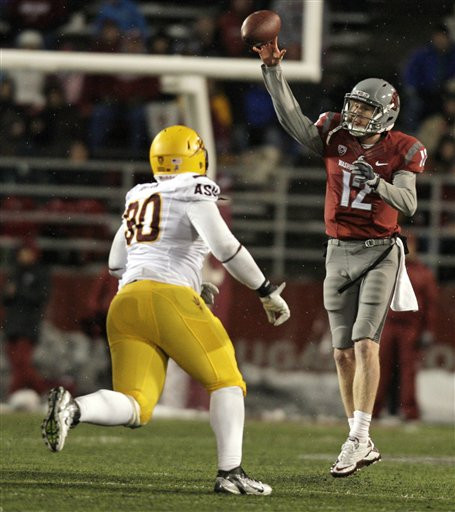 "(It was) an unbelievable showing. You think of the snow that was coming down four hours prior (to kickoff). That was amazing, and they stayed to the end. We gave them a reason to stay, obviously, but they were a big impact on the game tonight. If we didn't have the noise for their offense, to disturb them, we wouldn't have won that game."
On quarterback Connor Halliday's play against Arizona State:
"We knew going into it we were going to give him the third series. He throws the ball very well. We knew that, but there is always the concern with guys who haven't played very much. But when he gets in the game, he plays. Connor obviously did a great job. He's got a great knack. He's got a lot of growing to do, but he did a lot of great things."
On Halliday's skills:
"Connor's got a good knack for the game and he is relatively accurate with his throws. He sees the field well and he has the ability to buy time with his feet at times when they are needed. Those are some of the things he has shown so far. I think after the first play, hitting an open receiver that we had been needing, and then obviously into the next series, you could tell that he felt comfortable out there. I think he is in his element and that grew as the game went on. He was more consistent in practice and you could tell that he ramped up his intensity level and focus in practice compared to where he was. And that is the reason we felt comfortable with him in."
On where the program is going:
"Well, we are on our third quarterback, and when you are a young team, and you are trying to get over the hump and all those things, that is not an easy thing to get through. We lost our starting quarterback obviously early in the year, and then we played our backup, at that point, our most veteran player, and he did some quality things. And we also missed on some things down the stretch here and that really affected the outcome of some of our games, we felt, at the position. So we felt it was time to bring in the young guy who we redshirted a year ago.
"Jeff Tuel and Connor Halliday are two first quarterbacks I need as a coaching staff, and so far they both look like hits. We are just going to keep moving forward with those guys. This is a very youthful football team, and people don't understand that. It's a young program and a young team, but we have a lot of quality in it. I do like where we are headed. We've got a great young program. Our biggest obstacle is ourselves. We've got to keep growing and developing ourselves."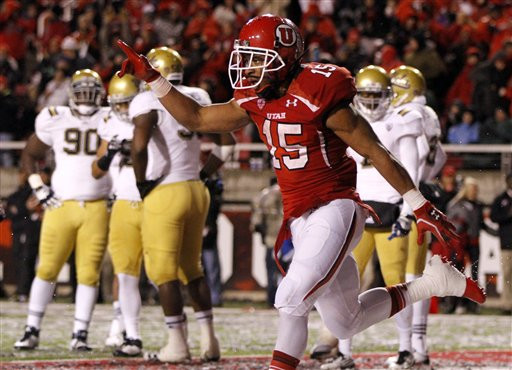 On Utah's running game: "They have just committed to it. They are physical in their front and at fullback, they are very good. John White is a really good football player. He has run the ball extremely well. They've done a good job of mixing up the different runs that they've done and they have taken care of the football as well, which has been a big part of their success these last few weeks."
On whether or not John White is the main focus:
"He is not the only guy in town there. They've got 10 other guys on that field. They are very skilled at receiver. They have excellent speed. They can go deep on you. They'll give you some gadget plays that create problems. We've got to play the whole offense. Yes, he is a big part of it, but not the only part."
On preparing for Utah's defense:
"There is quite a few. In terms of raw talent, I think this is the best defense that we've seen, along with Cal. Very veteran. They have five fifth-year seniors that start and three juniors. They are just a very veteran, savvy football team. They are very, very talented. They are all awfully good. Star (Lotulelei) is the best defensive tackle that we've seen. He is a phenomenal football player. They've got good players all across the board but there is one guy that sticks out a lot on that defense, and that is Brian Blechen, No. 4. He is an awfully good player."
Landon Walters is a history and political science major currently studying at Salt Lake Community College. He is an avid sports fan and loves writing. He can be reached at mavericksoccer_22@hotmail.com
×
Related Stories