This archived news story is available only for your personal, non-commercial use. Information in the story may be outdated or superseded by additional information. Reading or replaying the story in its archived form does not constitute a republication of the story.
BOISE — After beating San Diego Christian 58-55 Monday night in their home opener, the Runnin' Utes head to Boise State to take on the Broncos in their first road game of the Larry Krystkowiak era Wednesday.
The fifth match-up between the two programs tips off at 6 p.m. at Taco Bell Arena. Utah leads the series 3-1, including an 86-84 victory last season. All three wins came in Salt Lake City, with the one loss occurring in Boise, 62-61, in 1987.
Senior point guard Josh Watkins led the Utes with 23 points in the season opener, while adding five assists and four rebounds. Jason Washburn scored 12 points and grabbed 10 rebounds, filling in for injured center David Foster, who underwent foot surgery last week and is expected to miss at least six to eight weeks.
Washburn will have to continue to step up in Foster's absence.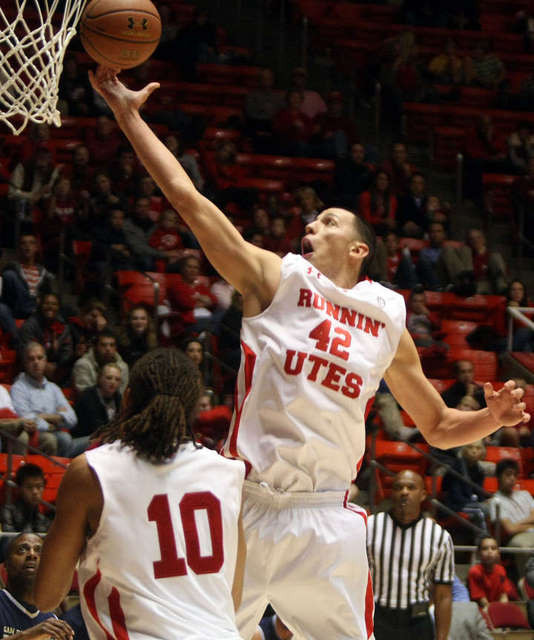 "Obviously, Dave is a dominant presence on both ends," Washburn said. "And even if he's not doing anything, he's someone you always have to pay attention to. Someone as big and as active as Dave is hard to replace."
Despite Foster's irreplaceable value, Krystkowiak liked what he saw out of Washburn and wants the guards to get the ball to him more.
"He should have had more than 10 shots," Krystkowiak said. "There were a number of opportunities where we ran plays for him and he was wide open, and we couldn't deliver the ball to him. We want to be able to have an inside presence and get him the ball."
Utah also looks to continue to feed off of the energy of Kareem Storey, who played well down the stretch, hitting 10-of-12 from the free throw line, including three in the final 30 seconds to keep the Utes ahead.
Krystkowiak likes what Storey brings to the team, but wants the freshman to get more fundamental.
"Kareem's really coachable," he said. "The biggest thing with Kareem is just making the simple play. There's a little degree of difficulty with him. And I remind him all the time that it's not like Olympic diving where you multiply the dive times the degree of difficulty. It's still two points no matter how you score them."
"All the little things count," Storey said. "Ever since I've been in college, that's what I've learned. It's not how many points you score. It's not how many assists you have. It's that box-out you make that could decide the game."
The Utes will go into Boise with a strong focus on improving their defensive performance.
"I think we had a hard time keeping the guy in front of us," Krystkowiak said of Utah's defensive performance against SDCC. "We've got to be able to not get ourselves into 911 situations where we're playing catch up. I thought our guys really put their helmets on in the second half and made it a real emphasis to keep those guys in front of them."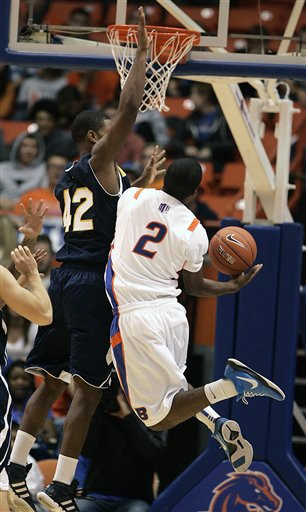 "We just need to play good defense into the shot clock," Storey said. "A lot of teams we're going to be playing are going to go deep into the shot clock with their offense, so we just need to stay disciplined."
The Utes hope to make significant improvement on the offensive side of the ball as well. The offense was at its best when they got into transition, resulting in easy baskets, and they would like to focus on doing more of that.
"We felt we could have gotten into transition more than we did," Watkins said. "The more we got into transition, the more good things happened, so we need to do that more. Any little opportunity we get to break out, we should do it, and coach told us that."
The Utah offense struggled shooting from the outside Monday night, including going 1-of-9 from beyond the arc.
"We'd like to shoot some threes, it's just not working out so far," Krystkowiak said. "We're putting up plenty in practice. We had a couple good practices this week where we looked like a different team. We were doing a terrific job shooting. And the game becomes so much easier when the shots go in."
On the opposite bench, Boise State is a high-powered offensive team that loves to spread it out and shoot outside jump shots.
The Broncos only return five players from last year's 22-13 team. Eight freshmen on this year's roster. Freshman Derrick Marks led the team with 20 points, including 8-for-8 from the field, in Boise State's season opener against Colorado Christian. Sophomore guard Ryan Watkins added 14 points on 7-of-7 shooting in the Broncos' 95-44 victory.
Boise State shot just under 64 percent and forced 27 turnovers in their debut.
Krystkowiak knows the Broncos will be hungry.
"They're well coached and you know it's going to be a hostile environment for us," he said. "So we need to be ready to roll."
×
Related Stories