This archived news story is available only for your personal, non-commercial use. Information in the story may be outdated or superseded by additional information. Reading or replaying the story in its archived form does not constitute a republication of the story.
SALT LAKE CITY — Utah State's head mens basketball coach Stew Morrill began his 14th year in Logan this past Friday with a win at home in the Dee Glen Smith Spectrum over the Brigham Young Cougars. It was the 13th time Morrill has kicked off the season with a victory. The Aggies are settling, though, as USU will now travel to Ogden and take on the Weber State Wildcats.
The Aggies took a big step in the game over the Cougars. After struggling against Adams State in its final exhibition game of the year, USU came out ready. The problem the Aggies knew they would have was the size disadvantage, but Morrill had a game plan. Despite foul troubles on both sides of the court, the Aggies walked away with a 69-62 victory, thanks in part to Brokeith Pane — who finished the night recording a game high in points, assists and steals, finishing with 21/5/3 — and sophomore guard Preston Medlin, who finished the night with 15 points, five assists and three rebounds.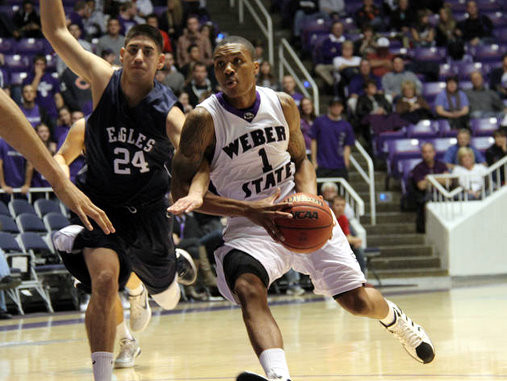 Focusing on the game ahead, the Wildcats are no slouches on the other side of the court, and the Aggies should not take this game lightly. Weber State put up 109 points on Northern New Mexico, setting a school record for 17 three- pointers in the process. Weber State finished with the game with 24 assists led by sophomore guard Jordan Richardson. The Aggies will need Pane to play fast and smart against the 6'1" Richardson and contain his playmaking abilities.
The Wildcats will showcase two juniors: guard Damian Lillard and forward Frank Otis. Lillard finished with a game high 25 points and five rebounds last week while Otis finished with an amazing 17 rebounds and 13 points in his first game as a Wildcat after transferring from SMU.
Weber State and USU are two very similar teams who rely on speed from the guard position and leadership from their forwards. They will need solid court leadership from Pane and Jardine with help from the Aggies role players. This is a game that will come down to the wire, and Morrill will need to keep his team focused for all 40 minutes to walk away with the win in Ogden.
Justin McKissick is a KSL.com contributor originally from the San Francisco Bay Area. He is currently seeking a Communications degree. Justin has been covering USU sports since 2011. Follow him on Twitter: @justin_sr.
×
Related Stories