This archived news story is available only for your personal, non-commercial use. Information in the story may be outdated or superseded by additional information. Reading or replaying the story in its archived form does not constitute a republication of the story.
LOGAN — Utah State University basketball head coach Stew Morrill begins his 14th season in Logan against the Cougars of Brigham Young in the Dee Glen Smith Spectrum Friday night. After their final exhibition game of the season against the Adams State Grizzlies, the Aggies realize that there is still much they have to work on and will need some time to work out the kinks.
The Aggies struggled against the pressure that Adams State showed them. "We didn't handle it real well in the first half," Morrill said.
"We seemed a little timid in the first half," freshman guard Steven Thornton told The Herald Journal, then added, "I'm not upset at all. It's learning. We've got to learn to play like we did in the second half the whole game."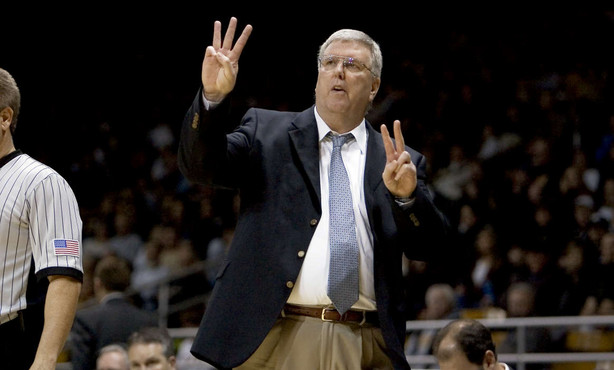 After the game Morrill said that, although he is concerned about the way his team played, he believes his team will "be fine" going forward.
The Aggies will need to rely heavily on seniors Brockeith Pane (guard) and Brady Jardine (forward) for their scoring output and will look to freshman center Jordan Stone, who has played his way into major minutes for the Aggies, to add size and defend the painted area. Size is something the Aggies will struggle against all season with the majority of the team 6'8" or below (with the exception of 6'10" Stone). Morrill will need his forwards and centers to play bigger then their height.
On the other side of the court during Friday's game, which starts at 7:05 p.m. MT, will be head coach Dave Rose's Cougars. BYU is coming off a Sweet Sixteen run and a very successful season. The Cougars suffered some setbacks late in the season, but the heroics of first-round NBA draft pick Jimmer Fredette kept BYU in games many felt they didn't have any business playing in. The good news for USU is that Rose is Jimmer-less this season and heading into Logan.
The Aggies have won 23 straight home games against BYU, their in-state rivals, and are looking to extend that streak, but it will be no easy task. The Cougars still have a talented squad, being led by junior guard Brock Zylstra and junior forward Brandon Davies. There are several new and young faces on the BYU team, but that bodes well for an Aggies bench that is equally as inexperienced.
Morrill definitely has his work cut out for him Friday night — and this season — with a team that includes nine underclassmen and only one returning starter, but don't put it past the Aggies' longtime manager. After all, he's just a winner. The Aggies have won two of the last three WAC championships and look to build on a proven history. Morrill feels like he has a very talented squad just looking to prove themselves. Aggie-faithful have much to look forward to this season.
Justin McKissick is a KSL.com contributor originally from the San Francisco Bay Area. He is currently seeking a Communications degree. Justin has been covering USU sports since 2011. Follow him on Twitter: @justin_sr.
×
Related Stories