This archived news story is available only for your personal, non-commercial use. Information in the story may be outdated or superseded by additional information. Reading or replaying the story in its archived form does not constitute a republication of the story.
SALT LAKE CITY — When the Utah offense looks across the field at its UCLA counterpart, it sees a lot in common with itself. Both teams excel in running the football. Both teams have quarterbacks that were thrown into duty due to injury to the normal starter. And neither UCLA nor Utah will be confused for a pass-happy bunch — they rank 11th and 12th, respectively, in the Pac-12 in passing offense.
Defensively it's another matter, and that's where Utah has an excellent chance at claiming victory.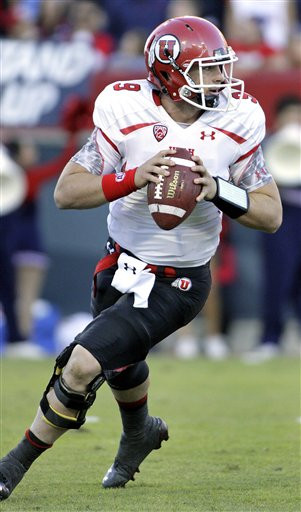 First, Utah must control down-and-distance. Forcing UCLA into second-and-long situations likely won't faze the Bruins, but third-and-long repeatedly will not be a recipe for success for UCLA. The Bruins rank 80th nationally in third-down conversions, a number that is certain to go down if Utah can force the Bruins into third-and-long on more than half of the Bruins' third-down opportunities.
Utah must get big plays out of the passing game. It's been a key part in the Utes' two-game winning streak. Jon Hays doesn't need to look like Andrew Luck, but he needs at least five throws that make the Bruins' defense pay for focusing on stopping the run. UCLA's defense is mediocre at pressuing the quarterback (109th in sacks) and stuffing the run (107th in tackles for loss), so Utah should be able to take enough shots downfield to keep UCLA off- balance.
Finally, Utah must follow the formula it has in victories against Oregon State and Arizona. Get a multiple-score lead early, play strong defense and rely on John White IV in the running game. Make a pass-last team like UCLA become pass-first and take it away from its strength on offense.
With other factors to account for that UCLA is not accustomed to dealing with —primarily, the altitude and cold — Utah carries a decided edge entering this game. But the margin between winning and losing still remains very thin. Without either one of the three aforementioned keys, the odds of Utah winning take a hit.
Patrick Sheltra is sports editor of the Twin Falls (Idaho) Times-News and the author of "100 Things Utes Fans Should Know and Do Before They Die." Read more of his thoughts on U. sports at scriptutah.blogspot.com or on Twitter @100ThingsUtah.
×
Related Stories