This archived news story is available only for your personal, non-commercial use. Information in the story may be outdated or superseded by additional information. Reading or replaying the story in its archived form does not constitute a republication of the story.
SALT LAKE CITY — Following a year when 21 Utah Highway Patrol troopers were injured while assisting motorists after freeway crashes, new signs and a recently passed law aim to make state roadways safer.
The Utah Department of Transportation and UHP unveiled new signage Thursday and reiterated the significance of a law that took effect in July that asks drivers who are involved in minor "fender–bender" collisions to move their vehicles off the interstate, to the nearest exit, before calling law enforcement. The signs will be posted along highways statewide.
The new concept is a departure from what Utah drivers have practiced for decades, said the law's author, Rep. Eric Hutchings, R-Kearns.
"This is going to be a major educational process," he said. "It's going to be very hard (at first)."
Hutchings said the idea for the change came during the last legislative session when seven troopers were struck and injured during the six-week period. He said it was then that he decided, "We've got to do something different. This procedure that we've created (of waiting for an officer after a crash) is going to get somebody killed."
---
"This is going to be a major educational process," he said. "It's going to be very hard (at first)." -Eric Hutchings
---
He said there has been a drastic increase in both the amount of vehicles traveling on Utah roadways and secondary collisions due to congestion following minor collisions in recent years.
"(With the signs and this new procedure), our number of total traffic accidents … will drop dramatically," Hutchings said.
"We are asking drivers to clear Utah interstates of minor collisions to prevent minor crashes from becoming major tragedies," he added.
The new law is applicable only to state highways and interstate freeways where UHP troopers patrol. Because the law requires motorists to behave very differently than they had been required previously, Hutchings said drivers will not be penalized if they forget to follow the new procedures right away.
"Especially in the beginning when people are just figuring out the (new rules), we don't want to cause any issues," Hutchings said. "If they do what they have always done, then dispatch will ask them if they can move (the vehicle)."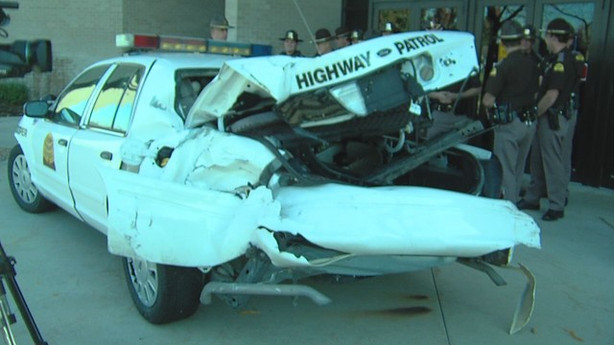 Getting motorists to change their behavior will be a challenge, acknowledged UHP superintendent Col. Danny Fuhr, but it is something that needs to happen, he said.
"We don't want (drivers) or troopers to be (in harm's way)," he said. "We're asking them to get out of the 'danger zone' and move to the nearest off-ramp."
He said troopers can help drivers much better on a less traveled, slower-moving off-ramp than on a busy highway where there is a greater risk of being seriously hurt by another vehicle.
"Just pull off to an area at the end of an off-ramp and give us a call," he said. "Our number one concern is for the safety of both the motoring public and our officers."
Email: jlee@ksl.com
×
Photos
Related Stories