This archived news story is available only for your personal, non-commercial use. Information in the story may be outdated or superseded by additional information. Reading or replaying the story in its archived form does not constitute a republication of the story.
PROVO -- The game looked ugly. BYU made mistakes and TCU capitalized on each of them in it's 38-28 victory. It wasn't one or two, and it wasn't just on the offense or special teams; every part of the game and team made mistakes. The big question that should come out of last game is something that will linger for at least a year:
Can BYU win a big game?
This won't be answered for the rest of this year, because there is simply nothing big left. However, there are some things that can be shown through the season.
The first step will be a victory over Idaho and making it big. They need to get back to do what they do well: run and play-actions. Idaho isn't a great team and the Cougars should be able to get back in the win column this week. The Vandals are probably the worst team left on the schedule so they should be able to take control and establish their identity early.
What did we learn from last game?
BYU's greatest opponent may be themselves: They were in the game for most of the game, but every time they got close they shot themselves in the foot. It was a botched snap, then another, a pick, a bad penalty, a dumb penalty, another bad snap and a bad backwards pass. These plays ended drives and gave TCU life over and over again. The defense played pretty well. It gave up five touchdowns, but there was only one over 45 yards and it was the opening possession on the second play of the game. The defense is great as long as they have a decent field position. Every scoring drive for TCU was four plays or less. If they clean up the small mistakes the game would have been closer if not a different outcome.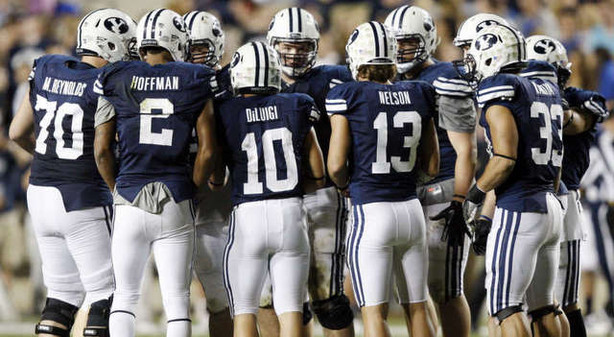 As bad as the kicking game was the return game was that good: Yes, everything went wrong in the punting game. Riley Stephenson had one punt for 35 yards, which is low for his average of 42 per punt. Justin Sorenson was two for three on field goals. Not bad, just not good. Neither was good, and when the bad snaps are thrown in there is a lot of great field position for TCU. Then a look at the return game paints a completely different picture. First, JD Falslev had a huge punt return that gave the Cougars hope in the third quarter. Return touchdowns are a rarity at BYU, so getting a meaningful one is shocking. The other part was Cody Hoffman on the kick return team. He wasn't always great, but he had 167 return yards and a 52-yard return to give BYU great field position. This unit is a strength for the first time in a long time. Nelson is who he is: He will make big mistakes and then a big play on the next game. He could carry a team with is passion and ruin them with his lack of arm strength. This game showed good and bad Riley. He kept drives alive, made a couple good throws, including his strike to Michael Alisa, and scored on a two-point conversion to bring BYU within 10. But he could have avoided the need for miracles if he keeps his arm in check. He wants to make plays that he can't and he has occasional lapses, such as the backwards pass. BYU fans will need to accept his downs with his ups and see where he can carry the team through his time.
What lingering questions do we still have?
Can Bronco win big games? This isn't an easy question, but looking at facts the question is there. Since 2008 BYU has played "big games" against TCU, Utah, Oklahoma, Texas and Florida State. BYU is 2-10 in those games. They have been outscored 399-189. 200 points could lead to a look at the talent gap between the teams. Throw in the two bowl games helps his record go up to 4-10, but it is still a big gap. It is just a question of what needs to be changed. Bronco has brought stability to the program and they have won a lot in his tenure. What else needs to be fixed can only be answered through time.
Where did the power backs go? It wasn't long ago that Alisa was the next big thing at BYU. He was the guy that was going to take control of the backfield job. He had six carries for 11 yards. Is he a product of the weak schedule like Jake Heaps might have been from last year? If Alisa isn't the guy then Brian Kariya needs to step up to pound the middle of the defense. He ended with only four carries for 15 yards. TCU is a good defensive team against the run, but BYU can't go away from their big backs that carried the team over the past few weeks.
Will the loss of Jordan Pendleton affect the linebackers? Jordan Pendleton has been riddled by injuries through his last two years at BYU and now will be out for the rest of the season. The linebackers are the heart of the defense and probably the strongest unit on the team. Will the remaining linebackers be able to compensate for the lack of his dynamic presence? Kyle Van Noy has been the best player on the defense and Uona Kaveinga is great at controlling the middle of the field. This isn't a big drop going to Jameson Frazier, but he isn't the athlete that Pendleton is. BYU shouldn't lose a lot in terms of their defense, but it still hurts.
Where did the receivers go? Hoffman had four catches for 67 yards and Ross Apo had one for 42. Both need to be more involved if the Cougars are going to improve as a team. They are both so dynamic and can change the game. Nelson got them the ball against weak opponents and now they need to get open against these better players. McKay Jacobsen has disappeared from the offense. The receivers need to be closer to 200 yards and 15 catches for this offense to be effective.
What can BYU expect from Idaho this week?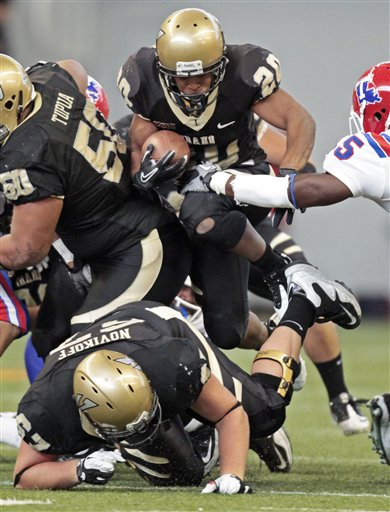 A balanced offense: A balanced offense doesn't mean they are a great offense. They pass a little more than they run, which could be due to them needing to come from behind consistently this season. They are 115 in total offense this season, averaging 291 yards per game. They made a quarterback switch two games ago to sophomore Taylor Davis and in his first start they beat San Jose State 32-29 last week. When they pass the number one receiver is Mike Scott. He has 45 catches for 568 yards on the season. Their running game is led by Princeton McCarty who has 494 yards on the season. His backup Kama Bailey averages 5.1 yards per game. A stout rushing defense: They are number 35 in the nation in run defense, which is two spots below BYU. They have two defenders that will be around the ball a lot. Gary Walker is a junior safety that is averaging just fewer than nine tackles a game. Tre`Shawn Robinson is a senior linebacker who is a tackle behind Walker for the team lead with 78. These two and Conrad Scheidt have more tackles than any player on the BYU roster. They have talent, but not a lot of depth. The passing defense is questionable. They are 100th in the nation giving up 282 yards per game. This is where BYU should be able to take advantage of the Vandals.
A bad turnover team: This team is so bad in turnover differential that BYU is tied with them. They are both minus-5 on the season. They have given the ball away less than BYU, but are worse at forcing turnovers as well. With a young quarterback BYU could get an extra possession and maybe win the turnover battle this week.
What can we expect from BYU this week?
Going back to the basics: If BYU can get a run game going early they could demoralize a team that has a good run defense. If Idaho has to bring an extra man into the box the receivers should be able to take any Vandal cornerback one-on-one. Alisa should get a bulk of runs and get going again. Nelson will hit his average with around 60 yards on the ground. JJ Di Luigi will be able to break a long run or take a swing pass for a touchdown. Overall the backs should be involved early and grind down the defense.
Pressure a young quarterback: Idaho is starting a sophomore quarterback that will make his second start in Davis. Without Pendleton Bronco may bring some different defenses to get pressure to get Davis uncomfortable. KVN could bring havoc to the Vandal offense. The game plan should be to blitz often and force mistakes.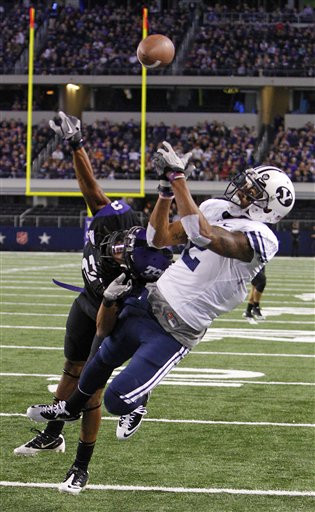 Hoffman and Apo going deep: In order to keep the defense honest Nelson is going to take some shots deep. Hoffman and Apo are both more physically talented and bigger than any corner Idaho will be able to drag out. Nelson isn't a good deep ball thrower, but he is good at getting it into the area and letting the receivers make a play. That is all that they will need. They may not have a lot of catches at the end of the game, but they should have a lot of yards and a touchdown or two. A better special teams performance: This should happen just because it would be hard to have a worse game. Stephenson will want to show that last week was a fluke and they probably won't punt nearly as much anyway. Idaho has a good special teams unit. Hoffman should be able to return at least one kick into Vandal territory and Falslev will be solid. The unit as a whole is going to try to recover from their poor performance.
Notes and stats
Idaho leads the series 2-1. The last game was a 49-6 victory for Idaho at BYU in 1955.
Idaho will be the seventh team on BYU's schedule with a losing record and the fourth with a 2-7 record.
Cody Hoffman joined Austin Collie as the only players in BYU history with 1,000 yards receiving and in kickoff returns for their career.
Riley Nelson needs 107 yards on the ground to become BYU's single-season rushing leader for a quarterback. He currently has 368 yards.
BYU is tied for fifth in total turnovers lost with 23. Idaho played San Jose State last week who is tied for first with 27.
With Jordan Pendleton's season ending injury he will play in as many games in his sophomore year as his junior and senior years combined, 13.
Conclusion:
BYU needs to rebound and Idaho is a good team for that. BYU needs to tighten up their team. They need to stop turning the ball over and stop the dumb penalties. They lost to TCU because of them and if they don't clean it up they will lose one of their last three games or maybe a bowl game to an inferior opponent.
This game will be a good measure of whether they can do that. If BYU loses the turnover battle Bronco will need to fix something as he goes forward.
The defense should be able to keep Idaho in the low teens. An interesting battle will be the defensive line of BYU against Idaho's offensive line. BYU's line hasn't been as dominant as they should have been against weaker teams. They have been knocked back and been unable to get pressure when they seem to be bigger and stronger. The line should be able to get pressure. BYU's offense will put together a better game and put up a lot of points against the Vandals.
Prediction: BYU 45 Idaho 13
Email: onlinesports@ksl.com
×
Related Stories