This archived news story is available only for your personal, non-commercial use. Information in the story may be outdated or superseded by additional information. Reading or replaying the story in its archived form does not constitute a republication of the story.
PROVO -- Coming off a tough loss to TCU and a needed bye week, the BYU Cougars are back home and preparing for a showdown with the 2-7 Idaho Vandals.
The Vandals have struggled to find any offensive consistency all season, much like BYU, but haven't had a defense like the Cougars to keep them in ball games.
Here's a look at the storylines heading into Saturday's contest:
Plug "C gap to wider"
Idaho's Princeton McCarty is a very capable runner when he gets out into the open field. The difficulty for the Vandals this season has been getting him into the open.
Cougar Tracks:
The offensive line struggles to get an effective push up the middle, so they attempt to run around defenses and get around the corner. Almost every play features multiple pulling lineman to create leverage around the "C gap."
This allows the running back to set up his blocks and choose an opening. BYU has been able to "flat-wall" B gap to B gap so far this season and with a few key players returning from injury in the front seven, the Cougar defense should be fine up the middle.
Both safeties will be very active in those outside runs as they are charged with C gap responsibility in most base cover 4 schemes.
Replace #1
As a follow up to the first storyline, the Cougars will have to replace their star linebacker and defensive leader Jordan Pendleton, who's lost with a season-ending knee injury.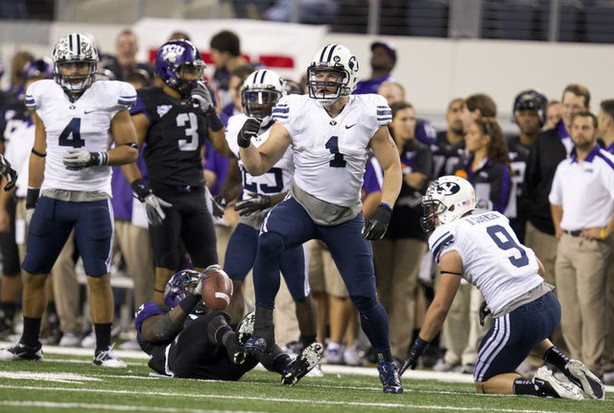 Jordan has taken on a large load this season and has been the guy that the team could count on in tough situations. One of my favorite plays against TCU was Jordan's special teams tackle on the kick-off team. Most starters don't play on special teams and Jordan previously had never been on the kick-off. I have no doubt that "Penny" asked the coaches if he could be on special teams to help his team in a big game.
He will still be a valuable commodity on the sideline, but it will be difficult to replace his, size, speed, smarts, toughness, and athleticism on the field. Wish Jordan all the best in his future pursuits.
BYU offense against themselves
I don't believe that this particular BYU team has difficulty finding motivation to play any game, even if you contrast coming off of a marque game against TCU in Cowboy stadium to playing a 2-7 team in Idaho. From what we've seen, Riley Nelson and the offense are charged and bring plenty of energy.
I'm interested to see how that energy is being channeled and what improvements have been made in terms of ball security. I love how Nelson plays the game, but after a few costly turnovers caused simply by trying to do too much, I wouldn't be surprised to see at least one ball sail into the first row of the stands this week as he works on living to play another down.
This mentality will be huge especially against stiffer competition in the future (Hawaii, Bowl game).
×
Related Stories