This archived news story is available only for your personal, non-commercial use. Information in the story may be outdated or superseded by additional information. Reading or replaying the story in its archived form does not constitute a republication of the story.
SALT LAKE CITY — The southeast view from the newest academic building on the University of Utah campus overlooks the grandeur of the Wasatch Mountains and the panorama of the Salt Lake Valley — scenery that should provide inspiration for students "to reach for the top."
The state's largest college unveiled its new "flagship educational facility" on Tuesday. The $72 million Spencer F. Eccles building will provide a cutting edge learning atmosphere for students for years to come, said business school dean Taylor Randall.
"Students care a lot about the environment that they are educated in," Randall told the Deseret News. "(This building) will give us perhaps the best facility in the United States to (teach them)."
Upon completion, the project will total 188,623 square feet on nine levels. Built in two phases, the first phase will open for use in January 2012, while Phase II is scheduled for completion in May 2013.
The facility will include 16 classrooms equipped with state-of-the-art technology, podcasting and video conferencing capabilities and the latest in wireless technologies. There will also be more than two dozen spaces located throughout the building that will be focused specifically on collaborative learning and teamwork.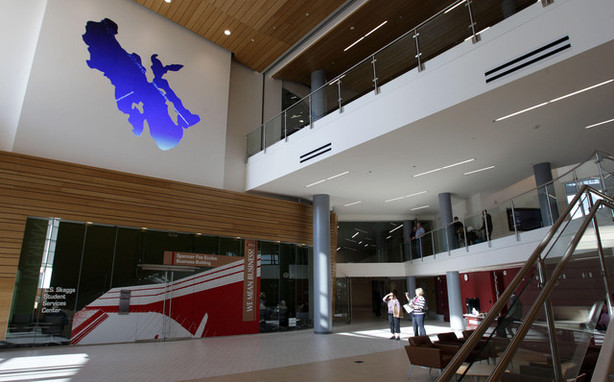 The building was named in honor of renowned alum and banking magnate Spencer Fox "Spence" Eccles — chairman emeritus of the Intermountain Region of Wells Fargo and Co. and former chairman and chief executive officer of First Security Corporation.
The George S. and Dolores Doré Eccles Foundation contributed $17.5 million for the new building — the largest single grant in the organization's 30-year history.
"I'm honored and humbled to be associated with my beloved University of Utah in this way, especially at the business school named for my grandfather David Eccles," Spence Eccles said. "It's going to make a positive impact on the economic vitality and business leadership in our state for decades to come."
While the building is now open for faculty — who have transitioned into offices there — students will not officially begin classes in the new facility until next semester. In the meantime, they have been impressed by what they have seen and are excited about studying in the new, high-tech space.
"(This facility) builds this environment and this community of business students (that) is going to be really great," said Farah Azmi, a sophomore in finance.
MBA student Jeff Ehlers said the new building symbolizes the direction he believes the U.'s business program is headed in the future.
"To show that we are really rising up and growing … trying to become a top program," he said.
Email:jlee@ksl.com
×
Photos
Related Stories