This archived news story is available only for your personal, non-commercial use. Information in the story may be outdated or superseded by additional information. Reading or replaying the story in its archived form does not constitute a republication of the story.
MILFORD, Beaver County — A faulty motor powering an automated feed system is being blamed for a weekend fire at Circle Four's farm outside of Milford that killed 1,700 young pigs.
The motor should have had two safety functions that kicked in to keep it from overheating, but both those functions failed, said Don Butler, a spokesman for Murphy-Brown, a subsidiary of Smithfield Food, which owns the farm.
"We want to learn as much as we can from this," Butler said. "We take many different precautions to prevent accidents like this. If there is anything we can do to prevent this in the future, we certainly will."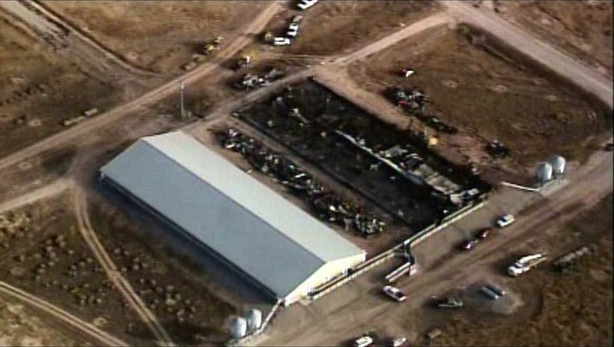 The 8:30 p.m. Friday fire ripped through a building housing 2,200 pigs. Butler said the animals were in a wean-to-finish barn, which is where young pigs just weaned are kept after they are separated from their mothers until they reach market weight. They were about 100 pounds each.
By the time the fire was discovered, the building was fully-involved, but Butler said workers were able to rescue about 500 of the animals.
Circle Four is the state's largest pig farm, employing about 500 people in its operations in Utah. Butler said those operations include 70,000 sows. Overall there are about 1 million pigs raised by Circle Four. Smithfield Food is the largest producer of pork in the world.
In 2001, a fire at Circle Four's Iron County operation killed 12,000 pigs and cost $4 million.
Butler said it is too early to put a precise figure on the dollar loss in this latest blaze, but he estimates it will be somewhere in the million dollar range.
Email:aodonoghue@ksl.com
×
Photos
Related Stories