Estimated read time: 5-6 minutes
This archived news story is available only for your personal, non-commercial use. Information in the story may be outdated or superseded by additional information. Reading or replaying the story in its archived form does not constitute a republication of the story.
SALT LAKE CITY — I can remember like it was yesterday. I was sitting with other youth listening to this amazing speaker. She had the ability to captivate every single youth. As she shared stories, insights and her love, I can personally remember laughing, crying and focusing on the warmth that was in my heart. She shared a message that even today is something that has relevance. She spoke about "being the in the world, but not of the world." She was so inspiring that I remember wanting to be better every time I heard her speak.
It is not too often when you get to hear an inspirational speaker that you then get to see them live what they preach. I cannot count the number of times I have had the opportunity to witness this particular speaker show the type of love that can only come from the deepest parts of one's heart. I saw her take meals upon meals to others who were in need. I watched as she prayerfully planned activities that would help to strengthen youth or adults in positive and profound ways. I watched as she provided a shoulder for a friend or family member to cry on. I felt the love as she strived to teach me what was right.
---
With the world in such chaos and confusion, the words my mom shares and lives by are more true now than ever: "The way in which you keep your home is often a direct reflection of your life." So, is this true for you?
---
I humbly watched as her husband of 42 years passed away and she had to pick up the pieces of her life and push forward. It was a difficult time, as her life would forever change. She would now have to do things that she had not planned on doing, like providing for herself and being home alone. Through the struggles and trials of her life, she has taught that serving others brings true happiness. Her example and dedication to that which she knows is true is beyond explanation.
All that said, it is the unconditional love she has shown her five children that has taught me the most. There is not a day that goes by she does not think about each one of them. She prays each will be safe and make good decisions. She hears of the pain and struggles they go through, and she offers words of love, encouragement and support. She strives to be an example of overcoming the obstacles put in our path. She is a modern day hero.
If you have not met my mom, you are missing out. She is amazing in every way. She has always inspired others to be better in anything they do. As I reflect on my own life, I can only say how thankful I am for everything that my mom has taught and continues to teach me. One of the greatest attributes my mom is that of teacher.
Growing up it was evident that one of my mom's missions was to teach others how to create an organized life. She often shares with groups she teaches about organization by saying, "the way in which you keep your home is often a direct reflection of your life." That can be hard for people to hear, but as you let it sink in, it's a pretty accurate statement. Go ahead and walk into the front room of your house or look at the desk at your office. What does it look like? Now compare that to your life. Interesting isn't it? I wish I could say that I am the shining example of what my mother taught but I am not. What I am is an ever- growing product of what she showed through love and patience. See, I love helping others get organized, just like my mom, and this is a long way away from where I used to be.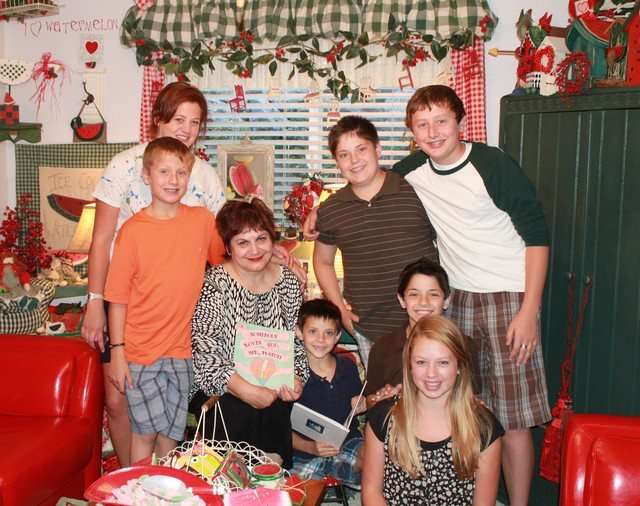 I can remember what would happen on a regular basis while I was a teen. My room would be in such a disorganized mess that I could have easily confused my bed with the pile of clothes laying on the floor. My mom would poke her head in the room and say, "This place needs to be cleaned up." Then, I would turn into Captain Quick Clean. In less than five minutes, I would be downstairs wanting to go out and play catch or shoot baskets. My mom would look at me and say, "So, your room is clean?" I would respond with pride, "Go take a look." Might I remind you that this was a routine — I was not a quick study in this area. My mom would head on up to my room, immediately look under my bed to find about 75 percent of what was all over my room. Then she merely opened a couple of drawers to find the other 25 percent. She would just look at me, and I knew that the clock would be starting over.
The story could end there, but not with my mom. She wanted me to learn that being organized would help me throughout my life. She would go and get shoe boxes to organize my socks, she would put my shirts in drawers that were alike in color. There would be a place for my sports uniforms. She created order in my room. Every time she did this, I can remember feeling renewed, energized, loved. Although my mom impacts my life every day, I am now seeing the fruits of her labor. Our boys have shoeboxes in their drawers where their socks and undershirts go.
With the world in such chaos and confusion, the words my mom shares and lives by are more true now than ever: "The way in which you keep your home is often a direct reflection of your life." So, is this true for you? My life would not be as joyous and wonderful had it not been for the example my mom has set for me. I have four amazing siblings who also have seen the love of this amazing woman. Trials have made her strong but service to others has made her stronger. She is a modern hero.
×
Photos
Related links
Related stories
Most recent Family stories