This archived news story is available only for your personal, non-commercial use. Information in the story may be outdated or superseded by additional information. Reading or replaying the story in its archived form does not constitute a republication of the story.
LOGAN -- After the final bye week of the year, Utah State head coach Gary Andersen looks to create a positive season after a 2-5 (0-2 WAC) start by traveling to Honolulu to take on the Hawaii Rainbow Warriors. Junior running back Robert Turbin and senior linebacker Bobby Wagner look to inspire their teammates to finish the year strong and become bowl eligible.
What did we learn about USU against Louisiana Tech?
The Aggies may not be as good as we thought they were. While they have played some very impressive games, they have been unsuccessful in finishing those games. But are the players the one to blame? Many have asked: at what point do fingers begin to be pointed at the coaching staff? Aggie-faithful hope they didn't learn that this is how the rest of the season will be for Utah State.
What questions do we have about Utah State?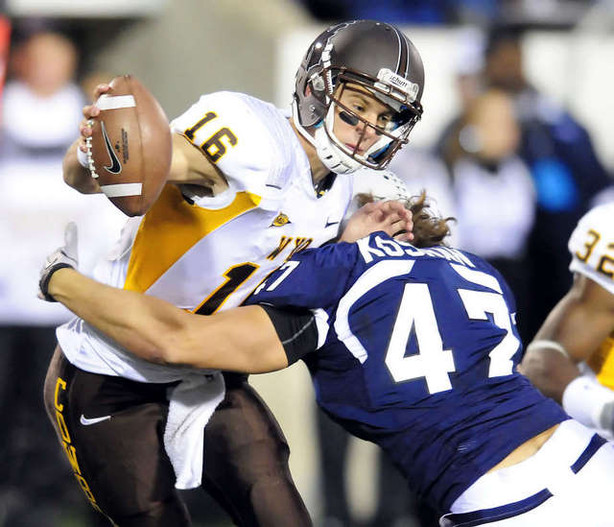 The Aggie defense has been solid all season, answering the call so often that they wore out and weren't able to hold on long enough to win. Coach Andersen, who is also the Aggies defensive coordinator, has called a good game on defense but is helped by a very talented front seven. What does not help Coach Andersen is his offensive coordinator Dave Baldwin. Baldwin has often been criticized for his conservative play calling late in games. The question is: how much longer does this current coaching staff stay in tact? Will they finish the season together? Can the offense hold on to the ball long enough to maintain the lead and the victory? The answers to these questions will remain in Logan as long as the Aggies struggle or a change is made.
What can USU expect from Hawaii?
Playing against the run is a strength for the Aggies, but defending against the pass is something Utah State struggles with. Unfortunately USU's weakness is Hawaii's strength. Hawaii's offensive game plan is no secret: throw the ball and if that doesn't work, throw it some more. The Warriors are currently ranked 8th in the nation in passing yards with 329.3 yards per game. What is truly amazing though is that Hawaii is averaging over 100 yards rushing per game as well, running the ball when they absolutely have to. Senior quarterback Bryant Moniz is certainly pleased with the way the Warriors play football, throwing for 2483 yards and 20 touchdowns on the season. On the receiving end of Moniz's throws are senior Royce Pollard and sophomore Billy Ray Stutzmann who have combined for ten TD's on the season. The defensive secondary for the Aggies will need to have the game of the season for the Aggies to pull out a win this week.
What can we expect from USU vs. Hawaii?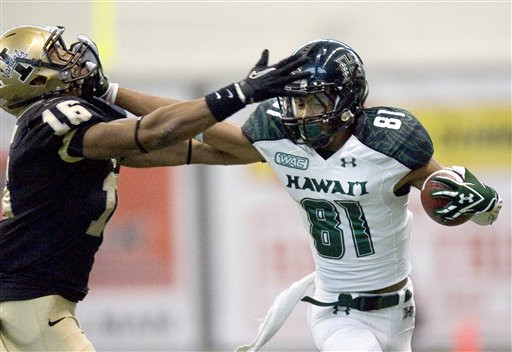 Everyone knows the Warriors want to throw the ball, but it's anyone's guess how the Aggies will play on Saturday. The Two-Faced offense has confused the Aggie-faithful all season long and maybe that's what those in Logan should expect: the unexpected. What Aggie fans want to hear is that this will be a shootout and USU will come up with big time stops and a win, but that is unlikely the way this season has gone.
Miscellaneous:
USU has not won when traveling to Hawaii since 1966.
The Aggies have lost four times this season by one- score for a total of 15 points
Junior running back Robert Turbin's first-quarter TD gives him 254 career points breaking a tie for the No. 2 spot on USU's Career Points List, taking over sole possession as the Aggies' highest scoring position player as placekicker Brad Bohn (1997-2000) holds the No. 1 spot with 284 career points.
Senior wide receiver Stanley Morrison now has one catch in 31-straight games, which leads the WAC.
Senior linebacker Bobby Wagner started for the 34th- straight time in his career, making his 39th career start overall, both of which lead USU.
Conclusion:
This is going to be a difficult game for the Aggies and one should not expect them to be able to pull this one out. What Aggie-faithful should hope for is a glimmer of hope for this offense in the future. Robert Turbin will have his usual great game, but fellow running backs junior Kerwynn Williams and senior Michael Smith will need to follow suit and have big days if the Aggies expect to come back from the islands with a victory.
Email: onlinesports@ksl.com
×