This archived news story is available only for your personal, non-commercial use. Information in the story may be outdated or superseded by additional information. Reading or replaying the story in its archived form does not constitute a republication of the story.
SALT LAKE CITY - Hike. Handoff. Run. Repeat.
It may have been simple, but Utah's offensive formula proved enough to get the Utes their first Pac-12 victory, ending a four game conference losing skid to start their inaugural season in a BCS league.
John White IV carried the ball 35 times, piling up 205 yards in Utah's 27-8 win over Oregon State on Saturday.
"We wanted to run the ball. So we did," White said.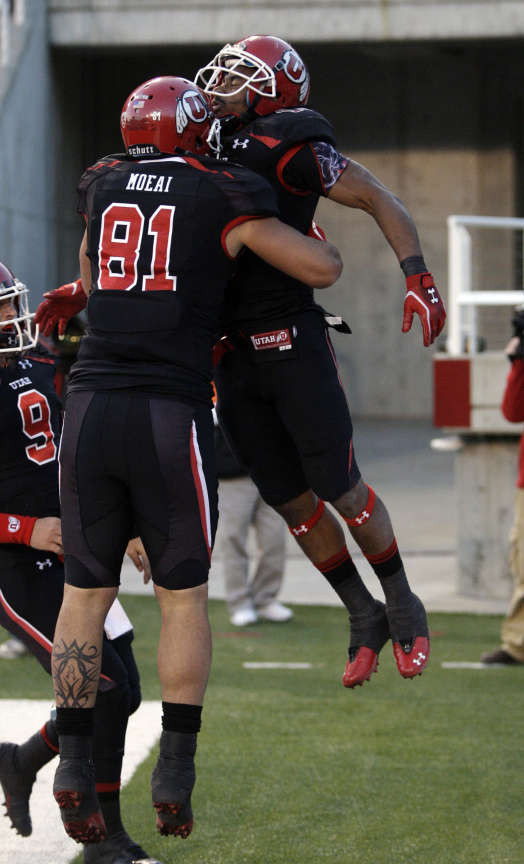 With an inexperienced quarterback under center, the Utes (4-4, 1-4) relied heavily on White. He responded in a big way, notching his first 200 yard game for the Utes.
"We got a big performance by John White," Utah head coach Kyle Whittingham said. "He was huge, over 200 yards on 35 carries in another heavy-duty workload for John."
In Utah's first four conference games, White rushed for just 215 total yards, and many were wondering if Utah's offensive line was physical enough to allow the Utes to run the ball successfully against the front four of many Pac-12 teams.
The junior running back proved doubters wrong, rushing for 161 yards in the first half against the Beavers.
"Credit the offensive line as well," Whittingham added. "They opened up some big holes in the first half."
Utah's success on the ground allowed quarterback Jon Hays to build some confidence in what hasn't been an easy start for the transfer from Nebraska-Omaha. Hays only attempted 14 passes against Oregon State, but two of them went for scores. He also did not turn the ball over and only got sacked twice.
"He managed the game, that's the best way to describe it," Whittingham said. "He did a nice job managing the offense."
John White IV Season Stats
W
vs
Score
Yds
Att
Y/A
TD
9
OREST
W 27-8
205
35
5.9
1
8
@ CAL
L 10-34
39
15
2.6
1
7
@ PITT
W 26-14
171
36
4.8
0
6
ARZST
L 14-35
85
17
5.0
1
5
WASH
L 14-31
35
14
2.5
0
3
@ BYU
W 54-10
174
22
7.9
3
2
@ USC
L 14-23
56
20
2.8
1
1
MONST
W 27-10
150
19
7.9
1
"I'm getting more comfortable in this offense every week," Hays said. "I'm feeling great right now, the opposite of last week, that's for sure."
The offense's ability to move the ball also allowed the defense to get some rest. Conference opponents have dominated the time of possession this season, and while the Beavers still beat the Utes in that category, it was by the smallest margin of Utah's five Pac-12 foes.
Utah's defense was exceptional Saturday, holding Oregon State to just 32 yards on the ground and sacking quarterback Sean Mannion six times. The defense also forced four turnovers, recovering a fumble and intercepting Mannion three times.
"We've been losing a lot and were sick of it," said safety Brian Blechen said. "It was really important [to get this win]. We haven't been playing the way we wanted to."
The Utes now head to Arizona to take on the Wildcats (2-6, 1-5) in Tucson.
"Hopefully we'll put back-to-back games together," Whittingham said.
Email: rojackson@ksl.com
Twitter: @rojackKSL
×