This archived news story is available only for your personal, non-commercial use. Information in the story may be outdated or superseded by additional information. Reading or replaying the story in its archived form does not constitute a republication of the story.
SALT LAKE CITY -- You wont find an orangutan sipping wine and commenting on the state of modern art any time soon (although you might find some of their paintings around town). But that doesn't mean they don't have any culture.
After hundreds of thousands of hours of observation and almost 40 years, a group of anthropologists claims that they have show that variations in behavior between different groups of orangutans in Sumatra and Borneo can't be fully explained by environmental or genetic factors, and that culture is principal in explaining how different groups act.
In fact, they said that genetic factors played a relatively small role, leaving a big part for "plasticity" - that is the ability to change behavior on the fly.
"The cultural interpretation of the behavioral diversity also holds for orangutans — and in exactly the same way as we would expect for human culture," said Michael Krützen, lead author of the study. "It looks as if the ability to act culturally is dictated by the long life expectancy of apes and the necessity to be able to adapt to changing environmental conditions." Krützen teaches at the University of Zurich.
By "culture," the anthropologists mean behaviors that are passed down through the generations by being learned, and that don't have any environmental necessity - that are arbitrary to some degree.
For instance, you might find a group in Borneo using a stick as a fly swatter, whereas a group in Sumatra simply uses their hands. Neither is necessarily better, but the use of sticks persists because young orangutans are taught to use them and then teach others to use them.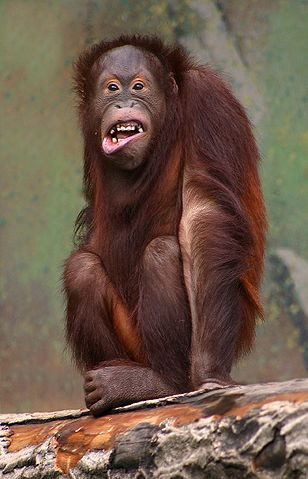 The behavior is part of the shared knowledge of the group that persists even though individuals dies off. This is exactly the definition of culture, or at least a common one.
'Now we know that the roots of human culture go much deeper than previously thought. Human culture is built on a solid foundation that is many millions of years old and is shared with the other great apes," said Krützen.
Orangutans are actually the most distant relatives of humans among the great apes, breaking off from our common ancestor some 16 million years ago. Showing that culture exists among apes that existed so long ago shows that the evolutionary foundation for human culture has been around for some time.
According to the study summary, "individual and cultural plasticity provide a plausible pathway toward local adaptation in long-lived organisms such as great apes and formed the evolutionary foundation upon which human culture was built."
The study went so far as to actually use satellites to observe the apes, as well as a variety of remote detectors, allowing scientists to continue the study in some form even when not directly in the field.
"The novelty of our study,' said co-author Carel van Schaik, "is that, thanks to the unprecedented size of our dataset, we were the first to gauge the influence genetics and environmental factors have on the different behavioral patterns among the orangutan populations."
Email: [dnewlin@ksl.com](<mailto: dnewlin@ksl.com>)
×
Photos
Related Links
Related Stories