This archived news story is available only for your personal, non-commercial use. Information in the story may be outdated or superseded by additional information. Reading or replaying the story in its archived form does not constitute a republication of the story.
PROVO -- BYU's front seven has been a force to be reckoned with all year. With much credit going to the linebackers, the defensive line has made a lot of big plays of their own, and given opposing offenses plenty of reason to be worried.
Experience is not a foreign word to the starting defensive linemen, consisting of one senior and two juniors.
With the exception against the University of Utah, the defensive line has been pivotal in holding opponents under their season average in rushing. Ole Miss, UCF, and SJSU were all significantly held under their average when going up against BYU's defensive line.
Hebron Fangupo - A transfer from USC after last season, the 330-pound Fangupo plugs holes before they open and his speed is a nightmare for opposing quarterbacks and running backs, who don't anticipate a lineman of Fangupo's size to move so quickly.
He is deceptively quick.
With 18 tackles and a team high 5.5 tackles for loss, Fangupo has been the biggest, and best surprise for the Cougar defensive line this season.
---
We just gotta go out there, stay humble, be relentless and just dominate.
–Hebron Fangupo
---
"All I do is do the best for my team, I try to represent Heavenly Father and the team," said Fangupo. "We just gotta go out there and perform... we just gotta go out there, stay humble, be relentless and just dominate."
Romney Fuga - After suffering a season ending knee injury last year, Fuga has bounced back this season to become a pillar for the defensive line. At 321 pounds, Fuga has acquired 15 tackles, one of which for a loss. Fuga has been constantly improving, and has a growing desire to get to opposing quarterbacks; a mindset necessary to be an effective down lineman.
Eathyn Manumaleuna - Manumaleuna's name will forever be remembered amongst BYU fans as the hand that blocked the potential game-winning field goal against UCLA in the Las Vegas bowl in 2007. Since then, Manumaleuna has returned from his mission, and is a major force to be reckoned with on the defensive line. With 18 total tackles, including 13 unassisted tackles, it gets frustrating for opposing offense's to go against Manumaleuna.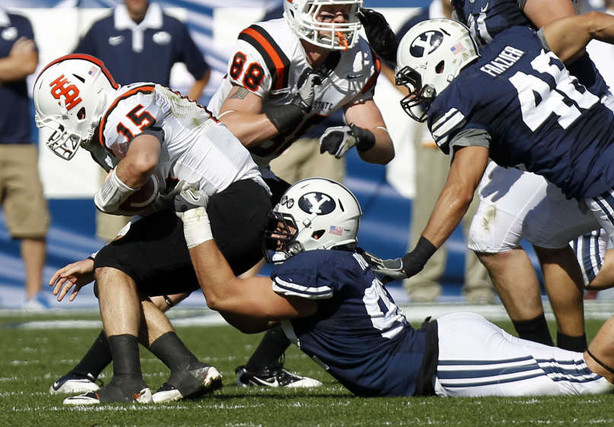 Along with the big three defensive linemen listed, other big contributors include: freshman Travis Tuiloma, sophomore Graham Rowley, junior Jordan Richardson, senior Matt Putnam, and sophomore Mike Muehlmann.
Putnam became eligible for the first time this season two weeks ago, battling issues with grades, and has already made an impact, including a tipped ball against Oregon State that led to a Brandon Ogletree interception. Putnam saw significant playing time last year, and looks to bounce back after missing five games.
Muehlmann converted to the defensive line from the tight end position, and has acquired two tackles, one of which going for a loss of five yards. Muehlmann continues to learn more as the season goes by.
The defensive line with be relied upon against a strong TCU team with fantastic speed and a dynamic running game. It'll be up to the defensive line to plus those running lanes and make the Horned Frogs one-dimensional on offense.
Email: onlinesports@ksl.com
×
Related Stories