This archived news story is available only for your personal, non-commercial use. Information in the story may be outdated or superseded by additional information. Reading or replaying the story in its archived form does not constitute a republication of the story.
PROVO -- Here it is already the eighth game of the season.
It just goes too fast.
It seems to be going too fast for Coach Mendenhall also.
He has stated two weeks in a row that the team is in a state of urgency to improve to their potential. The team has worked extra sessions in these past two weeks in contact drills and have practiced for a little longer in the early days of the week.
You might be asking yourself if BYU needs to get better quicker for this weeks game with Idaho State. I think they are probably better than Idaho State without the extra practice. I believe the urgency to improve is because BYU goes to Dallas next week to play TCU.
Coaches will not look ahead with their team to prepare for an opponent later on in the season. Teams always play games one game at a time. But, with the slow start this year on offense, they might have some catching up to do and this week's game provides that opportunity. The Idaho State game becomes the last test to prepare for TCU.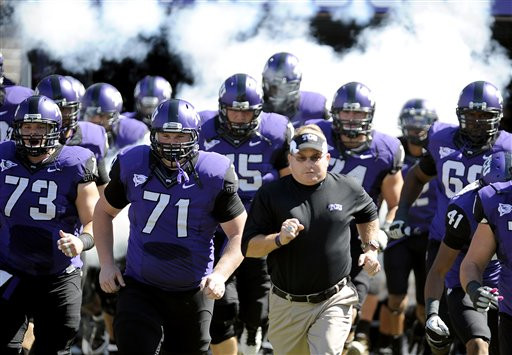 Each week's game is like a chapter test and the team is evaluated by the fans for their grade. It is also like a math test in that the things you learned the week prior is still needed to be used on the next test. This week's test isn't as hard as next week's test, so the coaches are working harder to get the team more prepared for the big test next week.
That is why there is some urgency to reach their potential so they are ready. It is a good strategy to help catch the team up to where they should be and that will also help them be better prepared for a good TCU team without taking away from the preparation for Idaho State.
Here's the scoop on Idaho State. You have probably heard already that The Bengals from Idaho State throw the football.
They do.
They use no huddle and run the plays quite quickly in games. They had a game earlier this season in which they ran more than 100 plays.
That's crazy.
They throw the ball an average of 52 times a game and run the ball only 23 times a game. However they are sacked six times a game that count as a run in the statistics, so they have more like 17 runs to 58 passes called. With that imbalance, you know BYU's first objective.
#1 OBJECTIVE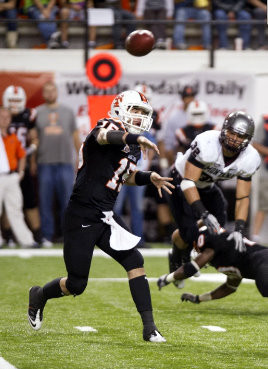 Play the pass. This should be a tough challenge for BYU. ISU completes 63 percent of its passes fo over 10 yards a catch. Not bad.
They throw for 339 a game and have 14 tds scored through the air. 68 percent of their first downs come through the air. However we have talked before that teams that are one dimensional are easier to defend. That should help BYU limit first downs this week.
Idaho only runs for 22 yards a game. If BYU can pressure the QB with just a four man rush, they should minimize the effectiveness of ISU pass attack. This is not just a defensive secondary problem. Rushing the passer is very fatiguing. Chasing the QB 50 or 60 times in a game would be a killer. BYU will need to rotate the defensive front often to keep them fresh. With two players injured there, that might be a little problem.
The strategy of Idaho State is to keep possession of the ball with the pass, move quickly down field and score points. It was a good strategy sometimes for Gary Crowton when he was at BYU. Here is the challenge for the Bengals. They give up an average of 246 yards a game rushing to their opponents. That is too many, it is also 5.7 yard on every run against them. BYU is getting good at running the ball.
#2 OBJECTIVE
BYU will attempt to run the ball and put together long time-consuming drives to keep the ball away from the fast-break offense of ISU. The less time that ISU has to put their quick drives together along with some failures (because BYU will play the pass from objective #1) will get them behind on the scoreboard. Did I say that BYU is getting good at running the ball? Three games in a row of over 200 yards rushing is good at running the ball.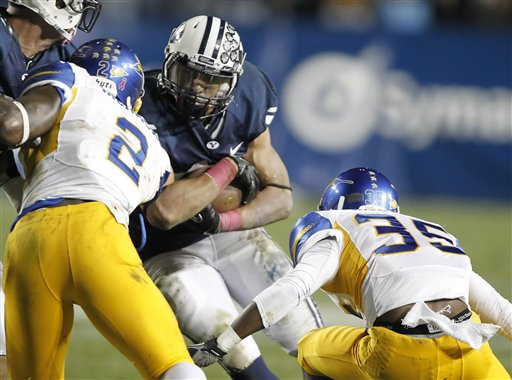 I think Greg Wrubell told me that in Bronco's tenure, this is the first time that BYU has run for over 200 yards and thrown for over 200 yards for three games in a row. I believe that it will go to four games in a row.
Idaho State either wins by a lot of points or they lose by a lot of points. They have won their two games by an average of 33 points, and they have lost their five games by an average of 25 points. There are no close games so far this year. This brings up the third objective.
#3 OBJECTIVE
To make this game a little easier to win, it will help if BYU can score first and even better if they can also score second. Teams that have struggled to win games lose some enthusiasm when they get behind early. On the other hand, if ISU scores first, then they will be in scoring range for most of the first half, because BYU would have to offset the first score of ISU and then score twice more to gain a comfortable lead. Staying close in the game for Idaho State would help to keep their desire to complete their goal of upsetting BYU.
Scoring early and forcing ISU to punt early will set a dominant tone for the Cougars. BYU is a big favorite in this game and needs to pass this weeks' test to gain more confidence by playing to their potential right now.
QUICK HITS
Some very notable people graduated from Idaho State. Here are a few:

Ron Boone, the Booner of Utah Jazz fame
Merril Hodge, ESPN commentator and former Pittsbugh Steeler
Marvin Lewis, Cincinnati Bengals head coach (from a Bengal to a Bengal)
Roger Williams, pianist and singer (King of the Road)
Stacy Dragila, the 2000 Olympic gold medalist in the pole vault

BYU produces quarterbacks and tight ends, Idaho State produces punters. The current punter was a FCS All- American last year. He is the sixth Bengal punter to do so since 2000.
×
Related Stories