This archived news story is available only for your personal, non-commercial use. Information in the story may be outdated or superseded by additional information. Reading or replaying the story in its archived form does not constitute a republication of the story.
PROVO -- The win against Oregon State should mean a lot to Cougar fans and the team itself. They went into a Pac-12 school and won pretty convincingly. The next couple of games are the "soft" part of BYU's schedule; not saying that a 1-5 Beavers team was a great team but it still gets easier.
This was the closest they came to a complete game this season and if they can roll that into this week's matchup against Idaho State they should put up a performance that BYU fans can just sit back and enjoy.
With that said, there were still a few problems that they will need to overcome to get past the one tough team left, TCU. They left some points on the field and had a few too many mistakes on both sides of the ball. Cougars have every right to celebrate this win. They just need to make sure to build off it and not just enjoy the ride.
Here is a look at what we learned from last week and what is coming up next week as BYU plays Idaho State.
What did we learn from last week?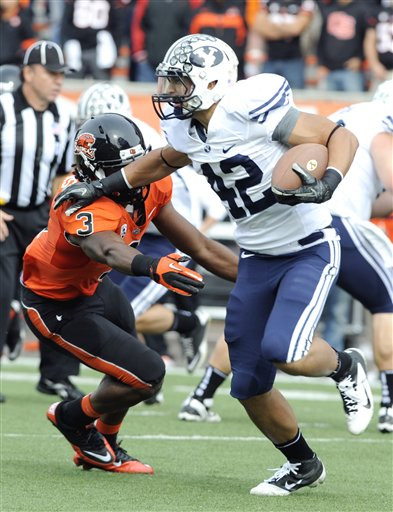 The running game is BYU's identity. This isn't LaVell's BYU football, even though they had a strong running game back in the day this BYU team is a running team. Michael Alisa has climbed the depth chart to get 20 carries last week and become the feature back. JJ Di Luigi has found his spot as the change-of-pace back, averaging over nine yards per carry last game. Both had a touchdown and Alisa's 84 yards could have been better had a long rushing touchdown in the third quarter not been called back due to a holding penalty. Riley Nelson did his job leading the team with 87 yards on the ground, which will hopefully get brought down a little against weaker opponents. The only real question is what happens with Bryan Kariya and Josh Quezada. Both are talented and had great games last year, but it appears they are slowly being phased out. Kariya is a senior and a good soldier who will take whatever role is given him; and lately that's been lead blocking for Alisa.
Quezada is only a sophomore. He has skills and BYU will need to find out where to put him. If he is going to become the Di Luigi-type back for next year he needs to get some touches. If he is going to be a featured back the coaches need to figure out how to split carries with him and Alisa, another sophomore, for the next two years.
You'll love it at Ogletree. Brandon Ogletree has been the quiet player of the four linebackers, but that doesn't mean he's been unproductive. As a matter of fact, he leads the team in tackles. The Kyle Van Noy interception grabbed the highlights, which is what KVN does, but Ogletree was responsible for the other three turnovers. Yes, all three. He forced two fumbles and got an interception. He also had one and a half tackles for loss. The linebackers were superb, but this week Ogletree grabbed independent defensive player of the week honors.
Cody Hoffman is regaining last year's form. Hoffman has entered beast mode, the new term for someone unstoppable. Nelson has found his new favorite target and now realizes that if he is in trouble just throw it to Hoffman and let him make a play. He had nine catches for 162 yards and a touchdown. This team has talent across the board, but Hoffman was the breakout player last year and as he gets more comfortable with Nelson he will get more targets. Once teams have to double up on Hoffman consistently Nelson's running ability along with Ross Apo and McKay Jacobsen as deep threats will force defenses to cover a lot of ground with not enough people to do it.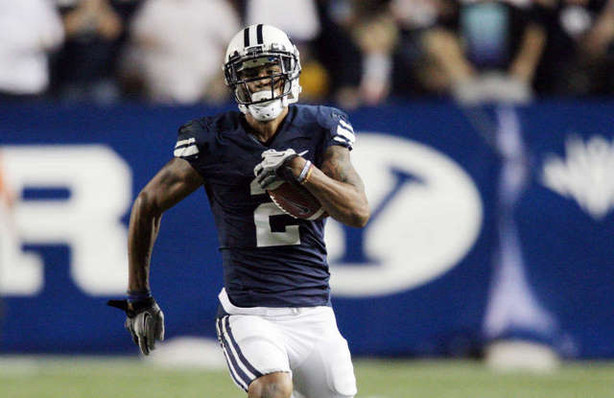 The offensive line has gelled. It took a while to get the talent of the line together. Terrance Brown has some awful games, but he has looked really good in the last two. This whole unit has done its job. They got the Cougar runningbacks holes for 282 yards rushing. One sack and two tackles for loss show discipline and winning the battle of the trenches. The only problem was the penalties, two of which nullified touchdowns. If they can cut those down a little more this line will move anyone.
This team can play a full game. This was an absolute question going into this game. They had one great half and one sloppy half in every game leading up to this. The first half of the Cougars wasn't great last week, but they were in charge the whole time. The pick-six turned the tides, but they owned that half. The second half they were able to put the game away. Each half was solid, neither was perfect, but neither was bad either and that is a good start.
What lingering questions do we still have?
What can BYU do to stop penalties? BYU had 10 penalties for 79 yards. That is way too many. They can get away with it against inferior teams, but they will turn close wins into close losses. Penalties forced BYU into three points from three possessions (off turnovers) in Oregon State's territory. The second drive of the second half had a holding call that took away an Alisa touchdown and led to a punt. The next drive had BYU about to go for a fourth and two and an illegal substitution pushed them back into punting range. These are the small things that need to be fixed.
Will the turnovers stop? There were two turnovers, but both were big. Alisa's fumble came off a long drive by the Beavers and gave them the ball back with a short field. Fortunately they missed a field goal on the drive. The pick-six by Jordan Poyer was a good play by a good player, but a really, really bad job of Nelson not looking off his receiver. He has done it a few times this year. Nelson has locked on and telegraphed his throw early. The game would have looked a lot different had Oregon State hit that field goal and gone in to halftime up 17-14.
Can we get special teams stability? There have been great games, bad games and last game. Punting has been generally good. Riley Stephenson wasn't at his best last game. The field goal unit had one blocked and missed a long field goal. Since Hoffman's touchdown there haven't been any big plays for the return teams. The coverage has been decent. It isn't about making big play after big play, although that would be nice. It is about knowing what they will get week in and week out.
What will blowout protocol be? This may not be a huge problem, but could really affect the future of the team. BYU will get a 30-point win at some point this season, they may get a few. What will they do with the offense, and specifically Heaps? Does Heaps take offense to garbage time play? Will they try to play him with the first-team offense to see what happens? Will they let him air it out and pile it on a lesser opponent? How Bronco handles this will be interesting. This is something else that isn't huge, but will be looked at and they will need to have a plan.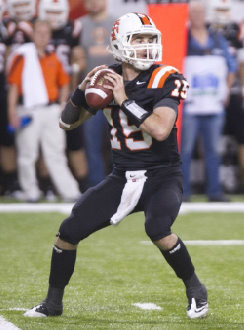 What can BYU expect from Idaho State this week?**This is a subpar team from the Big Sky conference.** That should say a lot about Idaho State. They aren't a good FCS team that could surprise BYU. They have given up at least 33 points in four of their losses and the other they only scored three. They have two blowout wins where they scored 44 and 50. It would take a monumental collapse from BYU (seven turnovers?) and a fantastic game from the Bengals to make this game close.
A fast offense looking to throw a lot. They will throw the ball around 70 percent of the time. They have basically five times the amount of passing yards compared to rushing yards. They play an up-tempo game which produces around 90 offensive plays per game. Their leading receiver, Rodrick Rumble, which wins the award for best name this week, has 75 catches and eight touchdowns is just under 1,000 yards receiving. For perspective, he has 600 yards less than the entire Cougar team, three fewer touchdowns than the team and more receptions than Hoffman, Apo, Jacobsen and TE Austin Holt combined. They have two other players with more than 24 receptions.
A porous run defense. With the improving BYU rushing attack, this will be their dream defense. Last week Weber State rushed for 308 yards. Montana is a passing team and still ran for 211 yards. Their two wins they held their opponent under 100 yards. They have given up 316 yards per game during their losses. BYU has more talent than both of these teams and should be able to impose their will. Expect that number to grow.
What can we expect from BYU this week?
A heavy dose of the run game. 316 yards given up by the Bengals on the ground and 235 on average over the past three games by BYU equals big numbers on the ground. They will look to slow down the fast pace of the Bengal offense and the best way is to chew the clock with the run. BYU has had no back go over 100 yards this season. If they choose too they could have three or four, realistically. Alisa and Di Luigi should get close to that number by the first half. If BYU's defense can get a couple turnovers expect a performance of Biblical proportions.
A bending defense looking to make plays. BYU will give up some yards in this game, it is bound to happen. The secondary will be tested and they will give up short plays to force them to earn the yards. They will try to get some hits on the quarterback early to force him to get rid of the ball early. They won't change how they have played, but they may try to make an extra play or two to force some turnovers.
A big win. This is a BYU team that is simply better than the Bengals. These are the games that good teams show why they play in the FBS. A win by fewer than 20 points would be a bad win. While some may say there are no bad wins it would be a win by a smaller margin than Weber State did last week. This game should be over in the third quarter and the second team should still put up some points. Don't expect 70. Bronco will take the clock down and he has generally tried to not embarrass teams, but if the defense holds big plays down a 40-point victory is very manageable.
Notes and Stats:
This will be the fourth time BYU plays Idaho State. BYU is 3-0 with the last game coming in 1951.
BYU is 5-4-1 against teams from Idaho. They have losing record against both Idaho and Boise State.
Hoffman has 918 total yards combining offensive and special teams, averaging 131 yards per game, which is good for 43rd in the nation. Di Luigi is next with 426 yards and Jacobsen is third with 228 yards.
Van Noy is currently tied for 13th in the nation in interceptions with three.
BYU has turned the ball over in every game so far this season. They have also had a takeaway in every game except against Utah State.
Conclusion:
This lines up perfectly for BYU to give the BYU fans something to cheer about for a couple of quarters before they get bored and go home. Idaho State will score early to scare BYU, but by half time this game will be in the Cougars control. The defense will pad some individual numbers as KVN and Pendleton will rush the passer enough to get a couple sacks a piece, but the team defense may struggle to keep the yards down.
The only real question will be when Bronco slows down. The second team may be more talented than the Bengals. If they just run the clock out in the second half how high will the rushing yards go? If they are up by a lot and the offensive line does its job they could get up to the 500 yards rushing mark. The secondary will have their hands full, but they will do their job enough for a big win in the end.
Prediction: BYU 49 Idaho State 13
×
Related Stories