This archived news story is available only for your personal, non-commercial use. Information in the story may be outdated or superseded by additional information. Reading or replaying the story in its archived form does not constitute a republication of the story.
SALT LAKE CITY -- Sheriff deputies in Ohio were forced to shoot nearly 50 exotic animals Wednesday night after their owner opened their cages and committed suicide. The bizarre event was one that had people questioning if something like that could happen in Utah.
The name "Ligertown" may resonate with several Utahns, who have a long memory of escaped tigers and ligers running wild in southeastern Idaho.
In 1995, 19 ferocious big cats escaped from ramshackle enclosures at a private zoo in Lava Hot Springs, Idaho. Deputies killed the last cat days later when the animal was stalking its prey at a nearby elementary school.
Idaho's Ligertown was a lot like private zoos in Utah decades ago. However, before the Ligertown incident, private zoos with dangerous animals were going out of business in Utah.
"They were a big concern for us," said chief investigator John Paul Fox of the Humane Society of Utah.
Fox took several pictures of the junky zoos with dangerous animals in the 1970s and 1980s. He said they were typically roadside tourist attractions or animal supplies to movie companies. The zoos had "dirty cages, lack of veterinary care (and) poor diets," Fox said. "There was a lack of security in all those facilities."
---
The state law in Utah is very strict. Basically it prohibits people from being able to have wild and dangerous animals in their possession.
–Mark Hadley
---
He described the scene as a place where people could just drive on the site, walking among the grizzly bears, jaguars and cougars. "There would be nobody there the whole time you'd be there at the facility."
Rising costs to maintain the private zoos and tougher state laws eventually put the zoos out of business in the 1990s.
"The state law in Utah is very strict," said Mark Hadley of the Utah Division of Wildlife Resources. "Basically it prohibits people from being able to have wild and dangerous animals in their possession."
Only one wild animal facility was grandfathered in: the Heber Valley home of one-time movie star Bart the Bear.
"Other than that one individual, we're not aware of anybody who has these types of animals in their possession," Hadley said.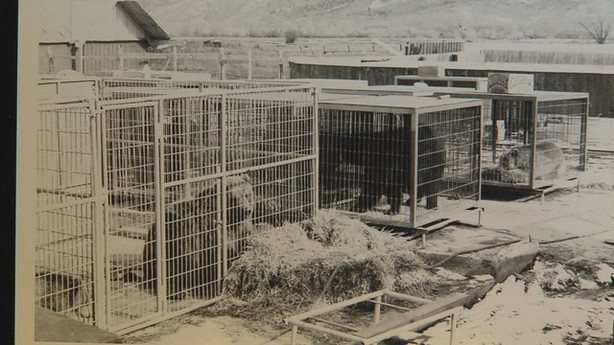 The state wildlife board did grant one notorious exception, however. In the late '90s, rancher John Pinder obtained a variance to own Simba the Lion. Police captured Simba at a 7-11 when Pinder drove it into Vernal -- unrestrained -- in the back of his pickup truck. Pinder is now serving a life sentence for two unrelated homicides.
Fox believes others have secretly kept dangerous animals though.
"I think there is probably some wildlife, some big wildlife -- big carnivores -- including bears and cougars that may be out there in someone's backyard out in rural Utah that the DWR and we don't know about," Fox said.
The state law considers only certain animals to be dangerous: big cats, venomous snakes, wolves, alligators and bears. If an individual has them in captivity anywhere in the state, the DWR would like to know about it.
Email: hollenhorst@ksl.com
×
Photos
Related Stories