This archived news story is available only for your personal, non-commercial use. Information in the story may be outdated or superseded by additional information. Reading or replaying the story in its archived form does not constitute a republication of the story.
WEST VALLEY CITY -- A Utah man is using board games to bring a community together and spotlight local designers.
Justin Chavez, an enrollment adviser at the University of Phoenix, created the Salt Lake County Quarterly All-Day Gaming group last year to provide locals interested in board gaming with the opportunity to meet with others of like interests. The group, ranging in size from 10 people to dozens at times, meets four times a year for an all-day gaming event.
In celebration of the group's one-year anniversary, Chavez spotlighted three Utah designers Saturday at Epic Puzzles and Games on the corner of 4700 S. and 3600 West.
---
Playing games has brought my family together.
–Dawn Christensen
---
"I want to promote more Utah-designed games and support the designers we have here already," said Chavez. "Board gaming is a really tough industry. If I help support the Utah designers, they can produce more games in the future, which is better for everyone."
Scott Nelson of Idaho Falls, Idaho, was one designer featured at the event. Nelson became involved with the Utah gaming industry four years ago while living in Salt Lake City. He demonstrated Food Fight, a card game, and shared some good news.
"I'd like to announce that TOG Entertainment has agreed to produce my first board game: Hog Father," said Nelson. "I'm really happy about it."
Nelson partially attributed his success to the help of the Board Game Designers Guild of Utah, which exists to "create quality prototypes that can ultimately be published," according to guild member Dave Bailey.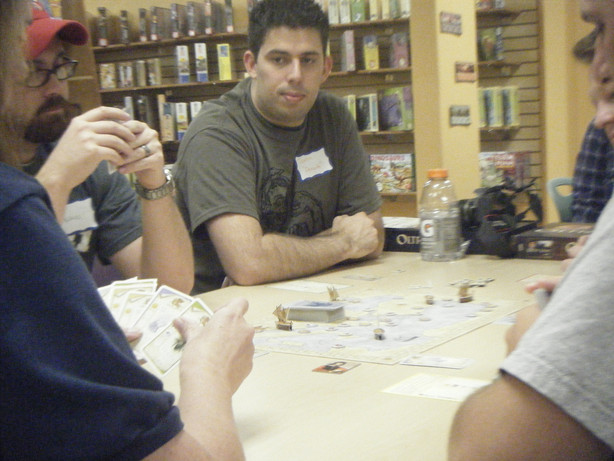 "The guild gives people the opportunity to test games on people who can provide constructive criticism," he said. "We've had some wonderful things come out as a result of it."
Board games can be powerful tools for teaching participants social skills because they "help people interact with each other instead of with computers," said Bailey.
Families, particularly, can use board games to strengthen their relationships with one another.
"It's Utah culture," said Bailey. "Family is important, and there are things we can offer to families through board games, such as learning to work as a team or graciously accept defeat."
It is for that reason that Bailey, a co-founder of the SaltCON board-gaming convention in Salt Lake City, is trying to attract more families to the annual gathering. The convention was originally created to provide a way for game designers to meet publishers, but has recently focused on strengthening its appeal to families.
"I think there are a lot of families playing board games in Utah, and the number is growing," said Bailey. "More people are participating in events like SaltCON because they help bring people together, and that's important."
Bringing people together is one goal of Dawn Christensen, owner of Epic Puzzles and Games. The owner said she opened her store to Chavez's group because "it's good for the community to have a place to play that's not going to cost them money."
---
It's too bad our politicians don't play more board games. Maybe they'd learn how to get along better.
–Dave Bailey
---
"A lot of people spend a lot of time in their homes playing video games and not talking to each other," she said. "It's good to have a gathering place where people can socialize and be doing something fun."
"As a child, it was always a treat when my parents would play games with us," she continued. "I want to bring that to my family, as well. Playing games has brought my family together."
Chavez, too, believes board gaming is growing in popularity in Utah because of the state's focus on the family. He said quality time with his family while growing up was one reason he wanted to create the event.
"Growing up, we played board games as a family to bring us closer," he said. "This is nice because you get to meet new people and try games you may not otherwise get to try before you buy them for your family."
More people than just families could stand to learn something from gaming, according to Bailey.
"It's too bad our politicians don't play more board games," he said. "Maybe they'd learn how to get along better."
×
Photos
Related Links
Related Stories