This archived news story is available only for your personal, non-commercial use. Information in the story may be outdated or superseded by additional information. Reading or replaying the story in its archived form does not constitute a republication of the story.
SALT LAKE CITY — When Utah takes the field Saturday against Pittsburgh, the Utes will be looking at a team whose season has been about as disappointing as their own. Much like Utah has been its own worst enemy with turnovers, Pitt has been likewise with a pair of close losses — by three points to Notre Dame and by four to Iowa — the latter seeing the Panthers blow a 17-point lead with 10 minutes to play.
And like Utah, Pitt is coming off an ugly conference loss. Against Rutgers, Pitt turned the ball over four times and lost 34-10 in a game that was far more statistically even than the final score indicates.
The first key should be obvious: Limit turnovers. After forcing 12 over its first three games, Utah has forced just one in the previous two games. Conversely, Utah has 10 turnovers in its previous two games. Turnovers have not been nearly as critical for Pitt, as it is -1 in three wins and -3 in its three losses. Not a huge difference overall, but they were against Rutgers. It will be a point of focus for Pitt coach Todd Graham and quarterback Tino Sunseri, who has seven in 118 attempts.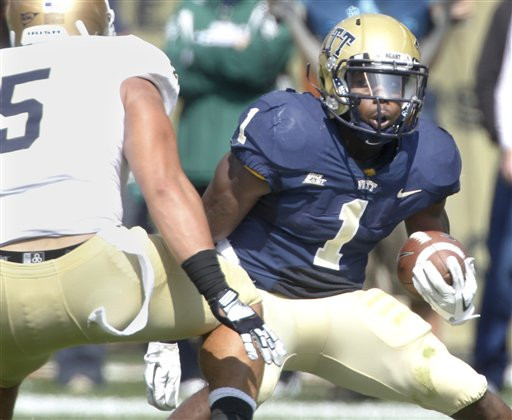 Utah would love to put Pitt's offense in a position where Sunseri has to make plays. Such an objective would be achieved by bottling up running back Ray Graham, who ranks second nationally in rushing. Graham missed last year's game in Salt Lake City, but still managed to rush for 922 yards while backing up Dion Lewis.
Graham has three games in which he rushed for more than 200 yards, including two this year. Even his poorest efforts are better than most backs' best days, as he rushed for 97 and 89 yards against Notre Dame and Iowa. However he does not have home-run capability, as the longest of his nine touchdowns is all of 8 yards. This should benefit the Utah front seven, which has largely shown to be very effective against the run (19th nationally, 99 yards per game).
Finally, Utah must get a good game from Jon Hays. He doesn't need to light up the stat sheet like Alex Smith or Scott Mitchell, but he must complete 60 percent of his passes for about 200-225 yards and a touchdown or two. Numbers better than that will significantly improve Utah's chances of winning. Just as important, Utah needs to be at or better than 50 percent on third down. That's a tall order for a team that ranks 105th nationally on third down, but a necessary one to control the clock, maintain a lead and keep Graham off the field.
Patrick Sheltra is sports editor of the Twin Falls (Idaho) Times-News and the author of "100 Things Utes Fans Should Know and Do Before They Die." Read more of his thoughts on University of Utah sports at scriptutah.blogspot.com.
×
Related Stories