This archived news story is available only for your personal, non-commercial use. Information in the story may be outdated or superseded by additional information. Reading or replaying the story in its archived form does not constitute a republication of the story.
At his team's annual Media Day on Wednesday, BYU head basketball coach Dave Rose acknowledged that Gonzaga would be the team that "you'd probably have to go with" when looking for a favorite to win the West Coast Conference basketball title in 2011-12, adding that "we'll just try to see if we can compete with those guys."
Then, when asked about his own expectations, those who gave been around Rose long enough knew very well what the answer would be. "What are our expectations?" asked Rose, repeating the question. "We expect to win the league."
"That's why we practice, that's why we recruit, that's why we do what we do; to try and win league championships, get our team in the NCAA Tournament and advance as far as we can."
*******
You can hear Rose's Media Day interview session, and interviews with players Noah Hartsock, Charles Abouo, Chris Collinsworth, Stephen Rogers, Brock Zylstra, Matt Carlino and Nick Martineau, in "Cougar Cuts," to the left.
*******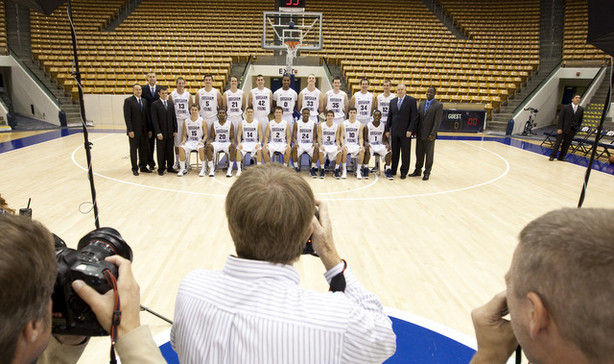 Rose's team enters the new season heading into a new league, with a team looking for new "go-to" guys on offense and defense, after the graduation of the program's alltime scoring leader (Jimmer Fredette) and steals leader (Jackson Emery).
"The challenge is still the same," said Rose, "as far as trying to put the next team out on the floor, and trying to compete for championships--that feels pretty familiar."
"It will be interesting to find out who's going to be our late-clock scorer, our late-game scorer. I think there's lot of guys over there right now who think that they're the guy."
"I do believe that the experienced guys will be the guys that probably get the first look."
*******
Other Rose highlights--
On Chris Collinsworth's recovery from microfracture knee surgery:
"Chris is actually doing really well. If you ask him right now, he'll probably tell you he's still a little frustrated, because he's not close to being where he wants to be. But compared to where he was four or five weeks ago, he'll probably tell you he's pretty happy."
"I believe he'll be a great contributor on this year's team."
--
On newly-reinstated center Brandon Davies not being available for interviews on Media Day:
"We sat down and tried to map out the future, and it was really kind his choice. He said 'Coach, I'd really like to just concentrate on getting back in with the team, and workouts, improve my basketball game, and get comfortable in school."
"We discussed it and came to a conclusion, that once the season started and we started playing games, he'd get back into the swing of things with the media."
--
On his point guard situation heading into camp:
"We're excited with the group we have. I think everybody wishes that Matt (Carlino) was available from day one, but it will be interesting to see how the first eight, ten, 12 games go--how that works out."
--
On whether Brock Zylstra has earned more playing time (Zylstra played some PG on the team's summer trip to Greece):
"I think that Brock is one of those players that we expect to have a breakout year. I do believe there will be an opportunity for him, and now we'll see how he takes advantage of it."
"I'm excited to see who will actually start that first game."
--
*******
×