Estimated read time: 10-11 minutes
This archived news story is available only for your personal, non-commercial use. Information in the story may be outdated or superseded by additional information. Reading or replaying the story in its archived form does not constitute a republication of the story.
PITTSBURGH – On paper, the matchup between the University of Utah and the University of Pittsburgh this weekend looks to be a game against two struggling teams. While it is true that both the Utes and the Panthers have struggled in recent games, that doesn't mean that the game at Heinz Field won't be a good one.
Pittsburgh Head Coach Todd Graham is in his first season in charge of the Panther program after stops at Rice and Tulsa. He is hoping for a better game against the Utes than last week against Rutgers as the Panthers begin a stretch of three straight games at home.
The Utes currently hold a perfect record against Pitt with two wins and zero losses, including triumphs in the 2005 Fiesta Bowl and last season's overtime victory in Salt Lake City. Kickoff is scheduled for 10 a.m. Mountain Time on Oct. 15. The game will be broadcast live on ESPNU.
Graham spoke with the media earlier this week about the matchup with the Utes. Here's what he had to say.
On the loss at Rutgers:
"We made too many mental errors in key areas. We didn't execute our plan at all. We made an uncharacteristic mistake on kickoff coverage. We've been one of the best in the country and they returned a kick deep in our territory. That was a key play in the game. They had a short field most of the time, that's how their scores resulted. If we would have taken care of the ball and — even if we didn't score — play field position, I think it would have been a different game.
"We didn't do what we needed to do. I did think our punter, (Matt) Yoklic, did a good job punting against a team that puts a lot of pressure on the punter. We knew that we had to win the turnover ratio, we emphasized no negative yardage plays and we emphasized special teams. We had to win special teams, and we didn't get it done there.
"I thought we had good practices; we're just being inconsistent and we are not being mature enough as a football team to execute the plan. That's our job. It's my responsibility to do that. Obviously, I didn't have them ready. We are working as hard as we can to get that done. We have a great belief in these guys. We are at the halfway point, and it's far from over. It's not how you start, it is how you finish."
On issues in the passing game against Rutgers:
Pittsburgh running back Ray Graham (1) is runs with the ball away from his brother Rutgers defensive back Khaseem Greene (20) during the first half of an NCAA college football game in Piscataway, N.J., Saturday, Oct. 8, 2011. (AP Photo/Mel Evans)"The whole premise of our offense is timing, so there are a lot of factors that go into that. We didn't play very good up front, I can tell you that. It's a combination of both. The bottom line is that it is our responsibility to coach them and teach them. We're getting there sometimes, and then we are not other times. I think the pressure element and the inexperience up front was a contributing factor. The No. 1 factor in that game was that we didn't have our guys ready to play. I didn't think our guys played hard like they should. Especially on the offensive side of the ball, I thought we at times looked confused and didn't play hard. That is our job as coaches, to get our guys ready to play.
"It wasn't one singular thing. There are a lot of factors there. The key to our offense is taking what the defense gives you. When it works, you'll see a lot of different receivers touch the ball if we're taking what the defense gives us. There are things we have to do better. One of them is our hot reads, getting the ball out and protecting the quarterback. We played our worst game offensively."
On his team's inconsistencies so far this season:
"That's just not my thinking. There's been more inconsistency than I thought there would be, but there are a lot of things that are going extremely well. At the start of the season it was kind of new, we were playing a lot of different coverages and we were giving up a lot of passing yards. That has steadily improved and exceeded my expectations. We are playing pretty good defense. We have to eliminate giving up a cheap play. We were pressing and trying to make something happen. Some of those you would like to have back. I think it's part of the process.
"I think we have a good football team. I have great belief in our guys. There is no question that we can be a team that wins a championship. We can still do that. We are making too many mental errors. It is far and away the most turnovers that we've had. That is supposed to be our single focus, eliminating turnovers and having no negative yardage plays. We don't have any goals for yardage or anything like that — we want to have 100 percent ball security and we want to have no negative yardage plays. If we do that, we are going to score points.
"You also have to factor in that the other team works out and practices. We didn't operate very well under pressure. I tried as hard as I could to emphasize how motivated this team (Rutgers) was going to be. Each week it's going to be like that. It doesn't matter if you're playing Rutgers, UConn, Syracuse or whoever you're playing. They're going to bring it every single week. That is the history of this league.
"It (the team's progress) has been slower than I thought, but there are other things that have exceeded my expectations. I like this team, I like these players. We have to stay the course. I talked to them about the 'Pitt Way.' It is how you do the little things. It's the little things you do that make big things happen. That is a Coach (Johnny) Majors quote. I really believe that. We have good people on this team; they are going to show great resolve, bounce back, learn from this and get better."
On areas that are exceeding expectations: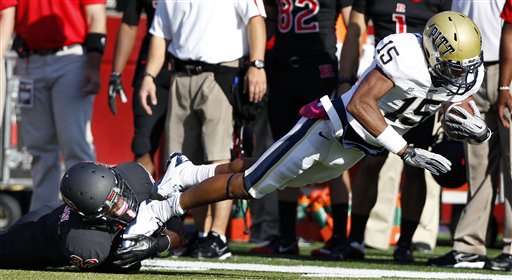 "How we've responded defensively, especially on the back end. We were giving up a lot of passing yards early, and we've really improved there. I have a lot of confidence in our secondary. (Linebacker) Max Gruder is a guy that has really exceeded my expectations. He's played extremely hard. Up front we have been very consistent at impacting the quarterback. We've given up a couple of big plays, but they've exceeded my expectations. There are some second- and third-team guys that have come in and battled. You don't really expect that, but it is football. You're going to have injuries and you're going to have those types of things happen. Ray Graham has exceeded my expectations. Zach Brown has exceeded my expectations. Drew Carswell is coming along and has a chance to be a great player.
"We're frustrated because when we execute — and you saw that against South Florida — what happens is, the ball gets dispersed to a lot of different people instead of just one person. Our punt cover has been really good and our kick cover has been good up until this last game. You are not going to go through a season that you don't have one big return, and I am proud of the effort that stopped it from being a touchdown.
"There are a lot of things that have exceeded my expectations. I like the character of these kids and the things that we are teaching them off the field and how that impacts you on the field. By no means have we accomplished all of that, but I think we have made significant change in that. There are a lot of things that we've made progress on every single day. That gives me great belief in what we are doing and in our program. We have a solid program and we are building a great foundation. It was a very disappointing loss, but we still have our goals out there on the table for us. We have to go out and get better. Sometimes adversity helps you get better in a hurry. We have to bounce back this week in a big way."
On initial impressions of Utah:
"Our guys are focused on moving forward and learning from our mistakes. We have to move forward in a hurry, with the type of schedule that we have. We're playing Utah, and Coach Whittingham is one of the best coaches in the country. They have great character, toughness and class. They are very, very well coached. They are a very good defensive football team and one that will put a lot of pressure on our offense. They have had similar problems that we have had (on offense). They've turned the football over. They are a lot better football team than their record shows. That is a very good football team coming in here to play Saturday.
"It is all about us. Each week I say that, but it's all about us maturing and getting ready to play a complete ball game every week. We are pressing forward to Utah and we've got a big challenge."
On Utah's pressure defense:
"They are very similar (to Rutgers). You will see a lot of man-free. They are very well coached. Coach Whittingham has a defensive background. They are going to play hard, tackle well and be sound about what they're doing. I wouldn't say it's exactly the same, because it's a different front and different looks. They will be a lot of the same as far as man-free and pressure."
On Norm Chow and his play-calling:
"In 1995 or 1996, he came to Allen High School (in Texas) and talked to my staff. He was at BYU at the time and we used to bring in a different speaker from all over the country. He came in and visited with us. I was very impressed with him. He is a very classy person. He is one of the smartest guys in the business. His concepts of the passing game are all over college football. He has been really a trendsetter with the West Coast (offense) and the triangle reads. He is a very good football coach and I have a lot of respect for him, but right now our whole deal is about this football team and what we're doing.
"I've got a lot of belief in these guys. We took two giant steps forward against South Florida, and there's no question that we took a couple of them backward last week. Our guys know that. They are focused on getting those things corrected. We are doing it to ourselves by turning the football over. We are working very hard to get those things corrected. The bottom line is, we have the potential to be a very good football team and win a championship, but we have to go to work, get those things corrected and get there."
Landon Walters is a history and political science major currently studying at Salt Lake Community College and is an avid sports fan. He can be reached at mavericksoccer_22@hotmail.com
×
Related Stories