This archived news story is available only for your personal, non-commercial use. Information in the story may be outdated or superseded by additional information. Reading or replaying the story in its archived form does not constitute a republication of the story.
GRANTSVILLE — Pamela Jensen is a lifelong artist.
"I grew up drawing on the walls and got spanked for it," said the 66-year-old mother of three and grandma of nine.
She especially loves drawing caricatures and cartooning. It's an art she does old-school style — with card stock paper and color pencils.
On her desk, there's a computer and a printer that Jensen only uses for one thing — creating and printing the labels for her paper doll collection she's created. She still writes and mails letters.
"The United States Postal Service loves me," she said, "because I give them a lot of business."
Apart from recently trading in her land line for a cellphone, Jensen is a self-proclaimed "old-school" woman living in the modern world.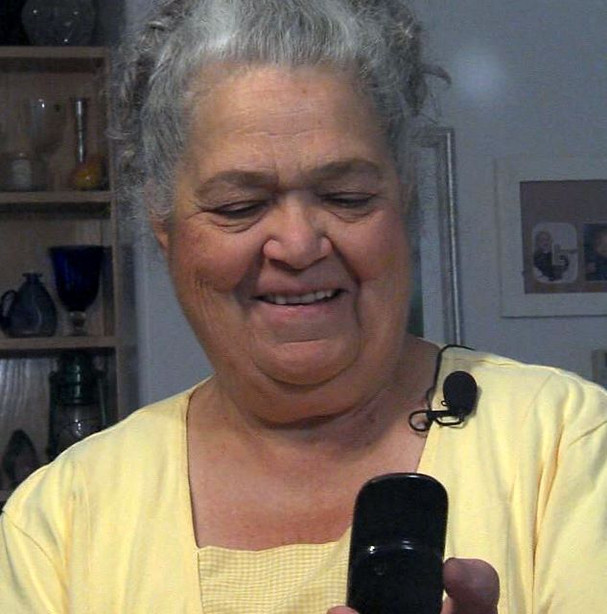 "I don't do email," she said. "Because I don't understand it and I'm not interested in it."
So how did an old-fashioned woman with virtually little interest in the digital age create an Apple application for an iPad?
"It was sort of a flukie thing," said Jensen. "(My son) wanted a game that he could use on the plane for his long trips to China."
Jensen's son told her he was tired of playing the puzzles the airlines provided in their in-flight magazines. "When the crossword puzzles are used up," she said. "They're used up."
So Grandma Pam decided to doodle. Her doodling turned into games and puzzles. Her nephew's parents came to visit one day and saw her artwork, and decided to tell their son, Justin Sullivan, about it.
"She would touch the different state presidents and would try to remember who the different presidents are," said Sullivan, owner of 3DAL, which creates educational applications for Apple devices. "So when I saw that concept, I just thought it would be the perfect mixture on the iPad to make it real."
Sullivan added the interactive buttons, which bring the games to life. In essence, he helped usher his aunt's game concepts into the digital age.
The point was to create a game that didn't require a pencil and that could be played repeatedly. Jensen came up with simple-looking games like naming the U.S. presidents in historical order, naming the books in the Bible in order and finding numbers on a page sequentially — all of which are the top sellers at the Apple app store.
---
You play (the games) and you learn something. And you get better at it the more you play the game.
–Pamela Jensen
---
Jensen says her games are educational.
"You play them and you learn something," she said. "And you get better at it the more you play the game." She says the games are deceiving because "they're harder then they look."
Over 100 games created by Jensen have been complied into an app called "Muddles," which for now are only available for the Apple iPad. They are available at the Apple app store — 25 games for 99 cents. Jensen makes 20 cents per transaction.
Even with her new-found hobby in the tech and digital spheres, Jensen said she still feels more comfortable creating on hard copy. She's already started developing other games to play — each sketched and made with paper and color pencils.
"Up until a few weeks ago, I didn't know what an iPad was," Jensen said. "I didn't know what an iPhone was or Facebook."
As someone who just loves to learn, Jensen hopes that as people play her games on their iPads, they'll not only learn but have fun.
"I hope they enjoy themselves and feel the competitiveness of it."
Email:niyamba@ksl.com.
×
Photos
Related Links