This archived news story is available only for your personal, non-commercial use. Information in the story may be outdated or superseded by additional information. Reading or replaying the story in its archived form does not constitute a republication of the story.
PROVO -- Six games into an eight-year contract with ESPN, BYU is holding up its end of the deal. While the Cougars are 4-2 — and one of those losses was an ugly blowout loss to Utah — ESPN has to be satisfied with the excitement and entertainment value of the five other games.
Of the five other games, two games have been decided by just one point. Four games saw the winning team make a second-half comeback, and four games were in doubt until the final two minutes.
Besides the late game drama, these four games saw the teams involved make plays and decisions that are rarely seen in football.
Game 1: BYU at Ole Miss — The Mississippi Rebels benched their starting quarterback. Two defensive touchdowns were scored.
Game 2: BYU at Texas — BYU jumps out to a 13-0 lead on the road against one of the biggest names in college football. The Texas Longhorns benched their starting quarterback in favor of a two-man rotation. After coming back to take the lead, Texas used a trick play to convert a third down and run out the clock.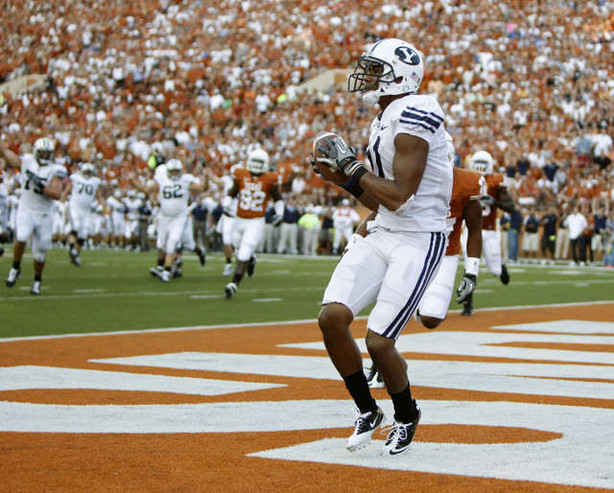 Game 4: UCF at BYU — BYU returned a kickoff for a touchdown. UCF turned the ball over trying to field a punt. The final play of the game saw a mad scramble for the ball after the UCF quarterback fumbled it.
Game 5: Utah State at BYU — It was BYU's turn to bench the starting quarterback. BYU subsequently started a fourth-quarter comeback, had it stall due to a fumble, but made an amazing 96-yard drive to score the winning touchdown on a crazy tipped pass with just 11 seconds to play.
Perhaps the biggest value for ESPN has been Kyle Van Noy. The sophomore linebacker is starting to emerge as a big-time player, and ESPN is catching it all on tape. He has been clutch late in games. He scored the winning touchdown against Ole Miss. Van Noy tipped a pass and registered a sack in the final three minutes of the UCF game.
On the season, Van Noy has 28 tackles, two tackles-for-loss, two quarterback hurries, one sack, two pass breakups, one forced fumble, one fumble recovery, two interception, and one touchdown.
Van Noy was recently a guest on the Jim Rome Show and received rave reviews. As the fame of Van Noy spreads, anyone wanting to see him play will have to go to ESPN.
From a fan perspective, especially a casual fan, football doesn't get much better than this. ESPN, however, is a business. What about the business side? Is BYU less valuable than originally perceived?
When contacted about this issue, ESPN chose not to comment.
BYU's win-loss record, no coverage for the Oregon State game on Saturday, the blowout loss to Utah, and less-than-stellar TV ratings all seem to indicate that BYU has lost some appeal to ESPN.
Obviously, a 5-0 and nationally ranked BYU team would be more appealing to ESPN. The Cougars would probably be more appealing to potential viewers, too. The good news, however, is that at 4-2 BYU can still make a run and climb into the rankings later in the year.
The 4-2 record should not be viewed as the reason why ESPN is not running the Oregon State game. Last year, when Boise State was 5-0, was on a 19-game win streak, and was making serious national championship noise, the Broncos' game against San Jose State didn't even make ESPNU. It was available, for a fee, on ESPN GamePlan.
As a BYU fan, the blowout loss to Utah was not worthy of national television, or any TV coverage. ESPN, however, should have known that this would happen sometime during its 8-year deal with BYU. When the two parties made this agreement, BYU had lost five games the previous two seasons (2008-09). Four of those five losses had been by 24 points or more, including a big loss to the Utes.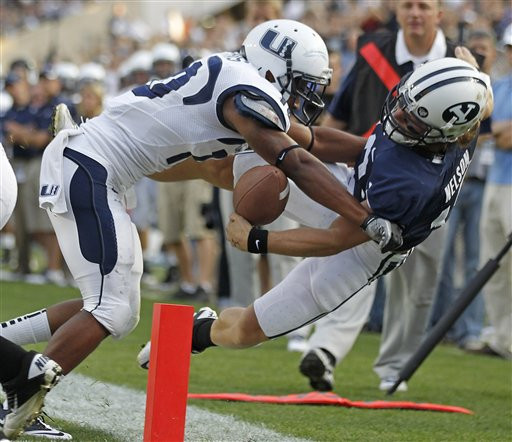 Even the best teams get blown out sometimes. Most years, at least one BCS bowl game is a blowout. What is important to ESPN is that BYU keeps these blowout losses to a minimum.
ESPN is probably more concerned about the ratings of the BYU-Utah game. Of the five games, it was the least viewed game (0.6). Then again, as business persons, they probably realized this game went head-to-head with a No. 1-vs.-No. 5 matchup on ABC.
The game on ABC went down to the wire, so not too many viewers were channel surfing. And when the No. 1-vs.-No. 5 showdown finally ended, it was nearly midnight in the eastern time zone. At that time, not too many people were going to go look for another game to watch. They have had enough and are ready to hit the sack.
Ratings, as a whole, are important. Ratings are the bottom line for ESPN. High ratings get ESPN high advertising contracts. Four of BYU's other games garnered higher ratings. The Ole Miss game was a 1.5 rating and the Texas, UCF and Utah State were 1.6 ratings. Not horrible, but not great either.
While ESPN would gladly accept great ratings for BYU games, the self-described "Worldwide Leader in Sports" probably isn't reading too much into the ratings at this point. By signing an eight-year contract, ESPN acknowledged it would take several years to build BYU's brand nationally, and to properly assess the true value of broadcasting BYU games.
In reality, BYU isn't responsible for the ratings of games. BYU's responsibility is to give ESPN a product that is very marketable. In the six five games, BYU has been 80% successful.
ESPN is responsible for promoting that product. When Kyle Van Noy recovers a fumble and returns it for a touchdown, ESPN needs to break into the games on ABC and the rest of the ESPN networks and tell the nation about it. When Cody Hoffman returns a kickoff 93-yards for a touchdown, ESPN needs to flash that highlight all over SportsCenter. When Riley Nelson captivates Cougar Nation by driving BYU 96 yards in 2:25 to complete an 11-point comeback, ESPN needs to capitalize and captivate the college football world.
When football fans realize that BYU football means watching a budding superstar, high levels of drama, entertainment, unexpected plays and decisions, and late game heroics, then they will watch en masse. This is what football fans want to see.
This is what ESPN values. This is exactly what BYU has given ESPN so far.
More BYU football coverage by Scott Rappleye can be found at http://www.bluecougarfootball.com. He can be contacted via email at bluecougarfootball@gmail.com. You can follow him on Twitter @BlueCougarFball.
×