This archived news story is available only for your personal, non-commercial use. Information in the story may be outdated or superseded by additional information. Reading or replaying the story in its archived form does not constitute a republication of the story.
WEST VALLEY CITY -- The West Ridge golf course is shutting down because the new Mountain View Corridor will be built right through the middle of the course, making this weekend your last chance to work on your drive before commuters start theirs.
But it's not the end of the road for this golf course. Sunday is the last day to play here - then West Ridge will close for about two years.
Fans of this course are lining up this weekend, trying to get in one last round of golf on a course they say they love to play. It's the first time that Jackson Cundick has played West Ridge golf course and it's also the last time he will tee off on this course, as it stands today.
"It's pretty fun, I like it. It's pretty hard, though," said Cundick.
Frequent players on West Ridge like Mark Preble, are sad to see their favorite hole go.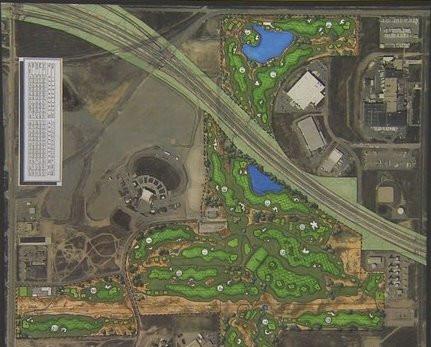 "I probably played this one forty times this year, two to three times a week," Preble said. "I know where to hit the balls, how the greens putt and it's great fun. I'll miss it."
West Ridge is shutting down, because a large area of the course is in the path of the soon to be built Mountain View Corridor, on the west side of the Salt Lake Valley.
"The Mountain View Corridor will cut through the back 9, we have purchased some land to the north and south to make up for the land the freeway takes," said Mike Richards, a West Ridge Golf Pro.
Richards started working at West Ridge 21 years ago, a few months before the course, owned by West Valley City, opened to the public. That makes its closing and planned improvements bittersweet for him.
"I'm sadly excited. I'm sad that we are losing the golf course as it is now, but we have really got a nice golf course planned for down the road in 2013," Richards said.
This sketch of the future plans shows the course will be divided by the new highway, but a tunnel under the road will connect the course. And West Ridge promises a new and improved course that will be even more challenging to play. While golfers get in a few more drives on the course they have grown to love this weekend, they are also saying a goodbye to West Ridge's staff.
The people that run it are probably the best, about as good as you'll ever get. management is terrific here," said player Jan Oswald. The full time employees will transfer to Stone Bridge, another city owned course in West Valley. But beginning Monday, construction work will begin, but the new course and a remodeled clubhouse should be ready to re-open, in July of 2013.
Email: [spenrod@ksl.com](<mailtio: spenrod@ksl.com>)
×
Photos
Related Stories