This archived news story is available only for your personal, non-commercial use. Information in the story may be outdated or superseded by additional information. Reading or replaying the story in its archived form does not constitute a republication of the story.
SALT LAKE CITY -- For most GenXers, the music of the 1990s hold a special place in their flannel covered hearts. Not only did the music define their experiences during that decade, the 1990s gave birth to a new genre of music called alternative rock.
It was music that couldn't be labeled pop or rock; it was different enough to not be either. Radio stations didn't know what to call the new sounds nor did record stores, which led to the label of "alternative rock."
Listed below are just five out of many amazing alternative rock bands that began in and rocked the 1990s. This is not an all-inclusive list, but just a small selection of some of the music and pop culture's biggest heavy hitters that changed society.
If there were space for a Top 10 list, these bands also would be included: Sublime, Dave Matthews Band, Garbage, Bush and The Cranberries.
Nirvana
Technically, Nirvana's first album "Bleach" was released on Sub Pop Records in 1989, but it was "Nevermind," released in 1991 that was the front runner of the entire grunge movement and the development of "alternative rock."
The album's frontrunner "Smells Like Teen Spirit" is an anthem song of a generation. "Nevermind" sold seven million copies in the United States alone.
#poll
Kurt Cobain's troubled yet introspective lyrics, jangly left-handed guitar playing, coupled with Dave Grohl's hard-pounding drum work and Krist Novoselic's throbbing bass lines changed the course of rock and roll.
Far from the excess of glam rockers of the '80s, Nirvana stripped down rock to the essence with a fresh twist of punk and shoegazing rock about real life, not talking dirty, smoking in the boys room, or cherry pie.
Its 1992 "Incesticide" release was a collection of rare and various recordings went gold. In 1993, "In Utero" was released and sold 3.5 million copies and featured hits like "Heart-Shaped Box" and "All Apologies."
Not only did Nirvana, along with fellow Seattle bands, Pearl Jam, Alice in Chains, Soundgarden, and Stone Temple Pilots, revolutionize rock, they revolutionized culture.
When Madison Avenue and record label suits started paying attention, a movement of flannel was born.
Cobain's 1994 death is still mourned by fans and his short but powerful contribution to rock history is still celebrated. A 20th anniversary collector's edition of "Nevermind" was released in September. After Cobain's death, Grohl went on to form the vastly successful and popular band Foo Fighters. It served up three vastly successful albums in the 1990s and continue with a new release, "Wasting Light" and and a tour that stops in Salt Lake City on Tuesday, Oct. 8th at the Maverik Center.
Radiohead
To this day, no body has and nobody still sounds like Radiohead.
With its eponymous smash hit, "Creep," hitting airwaves in early 1993, the British group's debut album, "Pablo Honey" went platinum in England and America and went triple-platinum in Canada.
"Creep" charted in the top 10 in five countries. Radiohead's debut disc has the early '90s swirling, distorted guitars that served as the sonic bed to Thom Yorke's plaintive vocals and lyrics.
The band disproved music critic wags that dubbed the band simply "Nirvana-light" as its subsequent releases delved deeper into new musical terrain and concepts. The year 1995 brought "The Bends" that brought mopey fan favorites "High and Dry" (rumored to be about Kurt Cobain) and "Fake Plastic Trees."
What do you think of the list?

What are your thoughts on the list. Is it spot on or not even close? Who's left off and who shouldn't be on there? Tell us on the comment boards and Facebook.
Its second release peaked the Top 10 and went triple platinum in England and Canada. Radiohead's third release "OK Computer" hit the music scene in 1997.
Featuring an expansive landscape of rock, ambient, and electronic sounds and exploration of modern-day alienation, "Ok Computer" is one of the seminal albums of the 1990s. Songs like "Karma Police," and "No Surprises," and "Paranoid Android" helped the album and the band win their first Grammy for "Best Alternative Album" and a nomination for album of the year.
Radiohead continued to have critical and commercial success during the 2000s, and recently released a new album, "King of Limbs" this year.
The Smashing Pumpkins
While often lumped into the grunge category for sake of record stores, the Chicago-based The Smashing Pumpkins took alternative radio by storm with its richly layered dreamy musical atmospheres melded with heavy progressive rock sound.
Its first album, "Gish" released in 1991, met some success, but it was 1993's "Siamese Dream," that blew up for the band. Featuring the classic hit "Today" the album propelled the band into the public eye.
By 1995, the band celebrated the unlikely success of "Mellon Collie and the Infinite Sadness," a double-disc risky venture for any band. The CD version of the album featured 28 songs that lasted over two hours. It debuted at No.1 on the Billboard 200 in 1995. It was certified nine times platinum in the United States.
Singles kept hitting the charts across the world's radio stage, with '90s gems like "1979," and the closeted rage anthem of "Bullet With Butterfly Wings." The album also received seven Grammy nominations in 1997.
The Smashing Pumpkins received a Grammy that year for Best Rock Performance. Its next release, "Adore" in 1998, veered far from its rock-based music into electronica territory.
While not another monster hit like its previous two albums, "Adore" was critically received. The band officially broke up in 2000 after releasing one more album with the original lineup. Lead singer Billy Corgan has recently begun working on The Smashing Pumpkins version 2. While many other bands sounded like its grunge contemporaries, The Smashing Pumpkins' sounds remains unspoiled and stands as an a sound of a generation influencing many other modern bands.
Better Than Ezra
Better Than Ezra, formed in New Orleans, self-released its debut album "Deluxe" in 1993. Reaching radio and major label's ears, Elektra Records re-released "Deluxe" in 1995, and the first single, "Good" took airwaves by storm with its jangle pop and catchy chorus.
"Deluxe" went platinum by the end of 1995, featuring beautiful numbers like "Porcelain" to the social commentary of "Heaven" and the frenetic but melodic opener, "In the Blood."
By 1996, Better Than Ezra served up their second disc, "Friction Baby," a more polished, post-grunge, robust recording with "Desperately Wanting" and the smooth style of "Normal Town," and the snappy "King of New Orleans."
While it didn't fare as successfully as its predecessor, Better Than Ezra again showcased its well-crafted songs and quality musicianship with another set of quality musical offerings. Better Than Ezra's third release, "How Does Your Garden Grow" showcased a new direction for the band with experiments in hard rock in "Pull" and electronica with "One More Murder."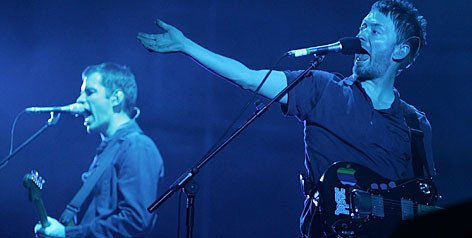 Perhaps one of rock history's most bittersweet outpourings of heartbreak, "Under You" is one of the album's crowning glories. Better Than Ezra continues to release albums and tour worldwide to its fans known as Ezralites. While the hand hasn't shared what its name really means, Better Than Ezra is one of the best, under-appreciated bands of the 1990s.
No DoubtFrom Sunny Anaheim, Calif., came the ska-soaked rock of No Doubt. Its first release in 1992, the self-titled debut, spun wheels trying to compete with the grunge revolution.
The next release "The Beacon Street Collection", a series of outtakes from the last sessions, faired better. Yet, it was "Tragic Kingdom" that helped spur a ska revival in 1995.
By 1995, the grunge scene was fading, after the Cobain's death. No Dobut's "Tragic Kingdom," produced by Matthew Wilder of "Nothing Going to Break Your Stride" fame, showcased bouncy, catchy blend of third-wave ska, punk, rock and pop into a perfect punch to take over the airwaves of the world.
The band helped bring mainstream attention to other ska bands like Save Ferris, and Buck O' Nine.
At the 1997 Grammy Awards, No Doubt were nominated for both Best New Artist and Best Rock Album. The album has sold over 20 million copies worldwide and is one of the best selling albums in history and was certified diamond by the Recording Industry Association of America in the United States and Canada by February 1999.
With a dynamic line up featuring Gwen Stefani, the band's relationships were also front and center, mostly notably with the former relationship between Stefani and Tony Kanal.
The band continued to have commercial and critical success into the early 2000s with subsequent hit singles, albums and solo projects. While the mainstream interest in the ska movement faded, No Doubt's songwriting, musicianship and creativity help it stay fresh and stay relevant.
×
Related Links