This archived news story is available only for your personal, non-commercial use. Information in the story may be outdated or superseded by additional information. Reading or replaying the story in its archived form does not constitute a republication of the story.
SALT LAKE CITY -- This weekend's 181st Semiannual General Conference of The Church of Jesus Christ of Latter-day Saints will mark 50 years of interpreting conference into multiple languages.
The process of interpretation began with the October 1961 sessions of conference.
"That first interpretation was spurred by the fact that stakes were created outside the United States, and Church leaders were being brought in to conference," explained Jeff Bateson, director of the Church's translation division, in a news release. "There was a need to make the messages available in other languages."
That early interpretation included only four languages -- German, Dutch, Samoan and Spanish. The initial team of interpreters consisted of three or four people.
An early interpreter for the church, Edna Alba, recalls sitting at a banquet table, wearing a bulky headset with her feet on a dirt floor underneath the Tabernacle during a session of general conference in the 1960s. An Army tent was pitched as a noise barrier.
The group has grown to more than 800 worldwide, with 43 remote locations. Today's interpreters use 93 languages (the latest addition is Georgian) and cutting edge equipment, individual booths with monitors and satellite relays to worldwide locations.
Interpreters began working from the Conference Center in 2000 and still rely on a paper copy of the session's agenda.
A news release includes more accounts of interpreting for general conference. Click here to read that.
In other religion news
LDS Church Public Affairs managing director Michael Otterson uses his "On Faith" blog in the Washington Post to focus on the upcoming general conference. Otterson explains that the biannual general conferences are a cultural icon for the 14-million member church.

"For people who have come to the Conference Center, or for people who watch it at home on TV or the Internet, or in a live or time-delayed broadcast in some far-flung part of the world, this is a time for listening and thinking. … All will listen to the 20-plus addresses for what seems most relevant to them," he wrote. Review his entire blog here.

Pat Robertson says his remarks about divorcing a spouse with Alzheimer's were misinterpreted. According to Christianity Today, Robertson said, "I envy the Catholic priest, because when they have someone in confession it's all kept secret. When I have somebody asking me for advice, it spreads worldwide and it's misunderstood."

Earlier this month, a viewer of Robertson's "700 Club" asked for advice on a friend who was dating another woman while his wife has Alzheimer's. Robertson said at the time that divorce would be understandable. Robertson now says his basic message is that adultery is not good. He said he wasn't giving general instruction for the world nor was he encouraging anyone to leave their spouse.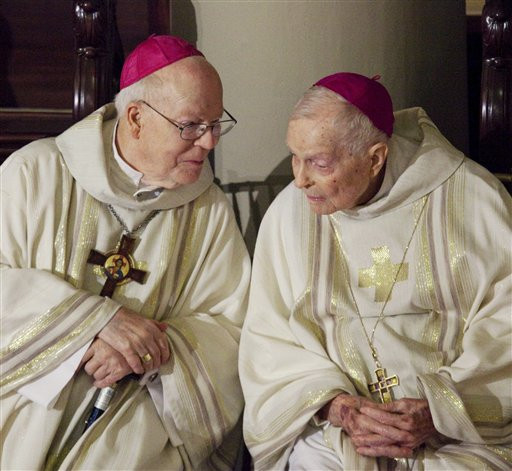 Former Archbishop Philip Matthew Hannan, who gave the eulogy for President John F. Kennedy and later served more than three decades as the head of the New Orleans Roman Catholic Archdiocese, died Thursday at age 98. The Associated Press reports when Kennedy was assassinated in 1963, his widow, Jacqueline, asked Hannan to deliver the eulogy because of his close personal relationship with the president, which dated back to the 1940s. He also officiated at a quiet reburial of two Kennedy infants in 1964. And in 1968, Hannan gave the graveside eulogy for Sen. Robert. F. Kennedy. When Jacqueline Kennedy Onassis died in 1994, Hannan presided at a brief service preceding her burial.
×
Photos
Related Links
Related Stories