This archived news story is available only for your personal, non-commercial use. Information in the story may be outdated or superseded by additional information. Reading or replaying the story in its archived form does not constitute a republication of the story.
SALT LAKE CITY -- If you think Kentucky Bluegrass is always blue and from Kentucky, think again. A new kind of Bluegrass is making its way into lawns in Utah as part of a voluntary conversion brought on by years of drought.
The University of Utah has been experimenting with several different kinds of drought-resistant grasses. They have one in particular growing where track spectators stand. It is very, very green and was discovered growing wild, not in Kentucky but in much drier Nebraska.
According to the sales pitch, it grows more slowly than most people's grass and uses a lot less water. Layne Wilcock is using it to put in a brand new lawn at this home in Salt Lake City.
"It will be a lot of savings, both in water and paying someone to mow my lawn. Plus it's environmentally green," said Wilcock.
It's called Bella Bluegrass. Grown at a sod farm in Tooele County, it's one of more than 200 varieties of Kentucky Bluegrass that have been discovered all over the world and studied to see if they will make a better, less thirsty, lawn. Owners of Biograss Sod Farms claim it will use 30 to 50 percent less water.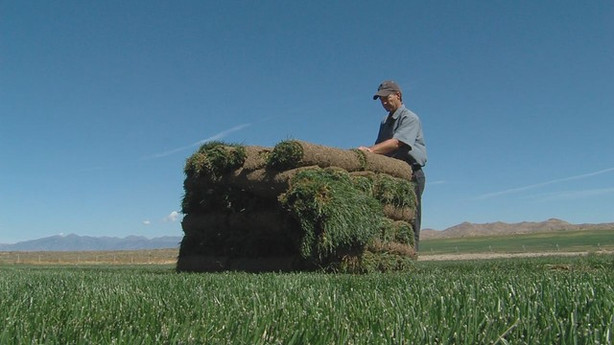 "The other thing is it doesn't require anywhere near the fertilizer, yet has fabulous deep dark green color," said Warren Bell, president of Biograss Sod Farms.
One competitor told us he's skeptical of the water savings claim. He has his own low-water sod called Xerilawn which the University of Utah is also experimenting with. It's a hot competitive new market. More and more consumers want drought-resistant lawns and Utah's recent wet year does not seem to have slowed the trend.
"The conservation ethic is there. I think people get it. We have to use less water," Sai Bell. "The population is growing. The water supply isn't growing. We have to be more efficient in how we use the resource."
Bella Bluegrass was found growing naturally in the relatively dry Nebraska plains. The ideal, of course, would be to find a wild variety, or breed a new one, that will make a dense, lush lawn but won't need any more water than what falls from the sky naturally in Utah.
"Right now those plants have not been discovered," said Bell. Are they out there? Perhaps. But we don't know." The jury is still out on whether the new Bella Bluegrass over there will live up to its promises on water savings. And so far they haven't had enough crowds watching track meets to test how it will stand up to punishment.
Email: [hollenhorst@ksl.com](<mailto: hollenhorst@ksl.com>)
×
Photos
Related Stories