Estimated read time: 2-3 minutes
This archived news story is available only for your personal, non-commercial use. Information in the story may be outdated or superseded by additional information. Reading or replaying the story in its archived form does not constitute a republication of the story.
Sarah Dallof ReportingA Herriman mom is furious after a bus driver refused to let her daughter on the school bus, even though the district says she's eligible to ride.
In the Jordan School District you need a special pass to board the school bus or you'll get left behind. Getting to the first day of second grade wasn't a problem for Alyssa Pestana, but getting home was.
Alyssa says, "The bus driver wouldn't let me on."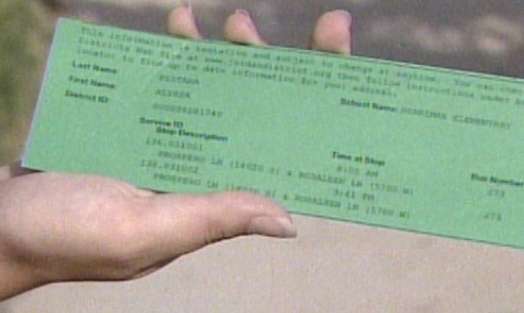 Her mother, Marie Pestana, said, "She's ridden the bus the past three years of school, never had a problem. Now she's in the office being told she can't get on the bus."
Pestana normally works during the day; a 15-year-old babysitter stays with the kids. Luckily, Marie was home to get the call from her daughter.
"Any other day I wouldn't have been there to get her. I rely on that bus to get her home," Pestana says.
It turns out Alyssa wasn't allowed on the bus because of a green pass. Alyssa's had gotten lost in some office paperwork. Marie never got the call to pick it up.
"If she doesn't have the bus pass she can't get on the bus. If she loses the pass she can't get on the bus. I don't know how they expect these little kids to keep track of a green piece of paper," Pestana said.
The Jordan School District admits another student, a kindergartener, was also not allowed onto the bus this morning due to a missing pass. The spokeswoman says the school is sorry about the mix-up, and it's just a beginning-of-the year glitch. Marie isn't confident all is fixed.
She says, "If the bus is that unreliable, how do I know she's getting to and from school?"
In both cases the Jordan School District says the students were left with adults. They plan to do away with the passes in the next few months, after the drivers learn the faces of their riders.
×
Most recent Utah stories