This archived news story is available only for your personal, non-commercial use. Information in the story may be outdated or superseded by additional information. Reading or replaying the story in its archived form does not constitute a republication of the story.
SALT LAKE CITY — The necessary improvements were in full view for anyone who watched USC's 19-17 victory against Minnesota or Utah's 27-10 triumph against Montana State. Utah needs a better passing attack out of Jordan Wynn and the receivers, while USC needs to clean up the penalties and find another offensive threat besides the Matt Barkley-to-Robert Woods combination.
Given both teams are coming off lackluster efforts, this is one of those games where the likely winner on Saturday will be the team that is better prepared. Both teams will be eager to improve on their respective opening games, but it's much more than showing up on Saturday with a greater will to perform better.
Keys to the game:
1. Utah offensive coordinator Norm Chow vs. USC defensive coordinator Monte Kiffin.
Utah vs. USC
Week 2 Game Notes
Utah (1-0, 0-0 Pac-12) vs. USC (1-0, 0-0 Pac-12)
Date: Saturday, Sept. 10, 2011
Time: 4:30 p.m. PT (5:30 MT)
Site: L.A. Coliseum (93,607/Grass) Los Angeles, Calif.
TV: VERSUS
Radio: ESPN700
Series Record: USC leads 6-3
Last Meeting: 2001 Las Vegas Bowl (Utah 10, USC 6)
Kickoff Weather: Partly cloudy, Temps: near 80
This chess match between longtime coordinators with a solid history of going up against each other promises to be a good one.
Kiffin's Tampa Two defense places a premium on turnovers and carries a bend-but-don't-break philosophy that, for example, doesn't mind giving up 400 yards as long as the offense scores just 17 points. The uniqueness of Tampa Two begins with a middle linebacker who is fast enough to drop into coverage and provide additional pass coverage on deeper routes. It is a defense that places a premium on speed, not necessarily strength.
Chow's West Coast offense is suited for attacking the Tampa Two with tight ends and a strong running game between the tackles. Ironically, the best offense for a Tampa Two is Utah's old spread-option attack, provided you have a mobile quarterback. Misdirection is poison for Tampa Two, which, by nature of its emphasis on speed and pursuit, is susceptible to putting players out of position to make plays on ballcarriers.
Here is a great article prior to last year's Arizona-USC game on the matchups presented when a Tampa Two offense goes up against a spread-the-field offense. From there, it's not difficult to find the areas in which Utah's offense is different than Arizona's. For the record, USC beat Arizona last year, 24-21. And Chow's UCLA offenses mustered just 7 points per game against USC in his three years there, with Monte Kiffin being the defensive coordinator starting last year. Obviously, similar production isn't going to cut it for Utah.
2. Utah left tackle John Cullen vs. USC right defensive ends Nick Perry, Wes Horton and Devon Kennard.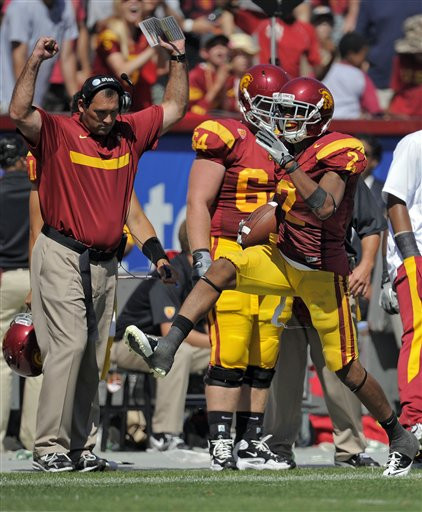 Here's an example of how USC emphasizes speed over strength: All three defensive ends will often be on the field at the same time, taking away tackle or nose guard. All three are capable of lining up on both sides of the line. Against mobile Minnesota QB Marqueis Gray, USC held him to 29 yards on 16 attempts. As a team, the Gophers ran 34 times for 110 yards, or 3.2 yards per carry. Jordan Wynn isn't as mobile as Gray, making Cullen's job in pass protection all that more important. With proper position, Cullen can physically handle USC's ends, opening up holes in the run game with John White IV. But if he's a half-step slow, it could spell trouble for Utah's offense.
3. Utah defensive backs Conroy Black and Ryan Lacy vs. USC wide receiver Robert Woods.
Expect USC to line Woods up in a variety of positions, meaning Black and Lacy — and quite likely nickel back Reggie Topps — will all get their chances at slowing down Woods, who had 17 catches for 177 yards against Minnesota. Minnesota changed coverages on Woods in the second half with success, so look for Utah to incorporate some or much of what Minnesota did to slow down Woods.
Patrick Sheltra is sports editor of the Twin Falls (Idaho) Times-News and the author of "100 Things Utes Fans Should Know and Do Before They Die." (September 2011 release) Read more of his thoughts on University of Utah sports at scriptutah.blogspot.
×
Related Stories