This archived news story is available only for your personal, non-commercial use. Information in the story may be outdated or superseded by additional information. Reading or replaying the story in its archived form does not constitute a republication of the story.
SALT LAKE CITY -- Great Scott! Marty McFly's shoes that we all dreamed of owning one day are about to become a reality.
In the film, "Back to the Future Part II," Michael J. Fox's character, Marty McFly, travels to the far distant future, 2015, and has a flashy pair of Nike's that lace themselves up. The shoes were called Nike Air Mags, and it looks like they're actually about to become available.
A viral video called, "McFly's Closet" was posted by DocEmmettBrown88 showing thousands of Nike Air Mags. For those of us who grew up in the 80's, we're drooling at the possibility of these shoes actually coming to stores.
Dieter Bohn of This is My Next.com says the dream of the Air Mag is all but reality.
"Nike actually already has a patent for 'footwear with an automatic lacing system,' which helps make this all seem more likely than it would otherwise."
Examiner.com writer, Juan Martinez, wrote that Nike is planning a special event this week and even sent out invitations from, "Nike designer Tinker Hatfield (the man behind most of the Air Jordans) that spoke about the idea of 'time' in rather reverent tones."
Matt Halfhill of Nice Kicks.com received a phone call at midnight from Nike and he says when that happens, "you know it's something good."
Halfhill says Nike flew him to L.A. and upon arriving at his destination he found a box waiting for him with an iPod shuffle that had a personal message from Dr. Emmett Brown.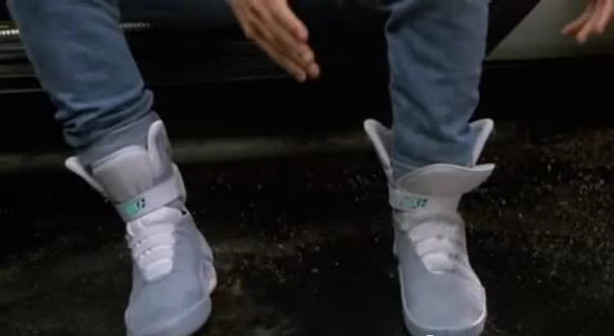 "Inside the box was an invite from to 'IT'S ABOUT TIME… an unveiling that could change the course of time,'" wrote Halfhill.
He says goodies included mid 80's candy, throwback Pepsi, metal glasses and a copy of "Back To The Future."
These high-tech sneakers won't be easy to get your hands on however.
"Nike announced that 1500 pairs of this shoe will be auctioned on eBay, nikemag.eBay.com," wrote George Kiel III on Nice Kicks.com. "With all net proceeds going directly to the Michael J. Fox Foundation. The auction will begin tonight (Sept. 8) at 8:30PM PST and end on September 18 (150 pairs will be posted on eBay per day for 10 days)."
All we can do now is pray that Tony Hawk isn't far behind Nike and is working on a functioning Hoverboard.
What do you think about the Air Mags heading to stores and how much would you be willing to pay for a pair of self lacing, Marty McFly approved kicks? Tell us on the comment boards and on Facebook.
E-mail: jclyde@ksl.com
×
Related Links