Estimated read time: 1-2 minutes
This archived news story is available only for your personal, non-commercial use. Information in the story may be outdated or superseded by additional information. Reading or replaying the story in its archived form does not constitute a republication of the story.
Ashley Hayes Reporting Police in Sandy and Midvale believe they are looking for the same suspect in two crimes overnight.
They say the suspect descriptions are similar, and the weapon and approach were the same.
Police say a robber hit two places within half an hour of each other. They are worried if they don't catch him it won't be long before he robs another business.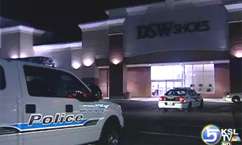 It started at a shoe store at 1132 E. Fort Union Boulevard. That's where the robber pulled out a knife with a large blade and demanded money. But the clerk didn't give it to him.
Sgt. Gregg Olsen of the Midvale Police Department explained, "She yelled to another employee that he's got a knife and he's robbing us. She said at that point the suspect ran from the store."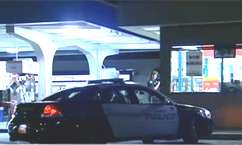 Less than an hour later a man with a similar description showed up at the Tesoro gas station at 700 East and 10600 South in Sandy. Once again he pulled a knife and demanded cash.
Sgt. Victor Quezada of the Sandy Police Department said, "The clerk did state that she knew something was funny by the way he was acting, waiting for everyone to leave, basically."
The robber escaped with an undisclosed amount of cash from the Tesoro. Police are now looking for the man. They released a surveillance video hoping to help find their suspect. They say he had a Band-Aid across his face, long curly hair and a bandanna.
Anyone with information can call the Midvale or Sandy Police Departments.
×
Most recent Utah stories