Estimated read time: 1-2 minutes
This archived news story is available only for your personal, non-commercial use. Information in the story may be outdated or superseded by additional information. Reading or replaying the story in its archived form does not constitute a republication of the story.
Ashley Hayes ReportingA girl who went on a hike last night -- then walked away after arguing with her boyfriend -- was found by construction workers at the Utah Capitol.
Detective Jeff Bedard says the girl was hiking with friends to the top of Ensign Peak, the landmark overlooking downtown Salt Lake City, under a full moon last night. She broke away from the group after having an argument, then got lost.
Overnight, she found her way to a construction site at the state Capitol, where she found a dump truck unlocked. The girl crawled inside the cab to sleep even as police were looking for her.
Construction workers woke her up this morning -- and she called her mom from a construction trailer.
Police still have a lot of questions, but mostly they are happy the girl is safe. A lot of people are relieved this morning, especially her parents. Police say the girl was found in good condition around 7 this morning.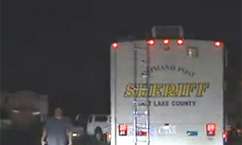 Lt. Craig Gleason of the Salt Lake City Police Department said, "I really feel for them. As the night started, certainly their mindset was, 'Our daughter is causing us some worry.' But by 3:00 they were scared. It was a long night to be a mom and dad."
The girl was missing for almost nine hours. Police had feared that she may have gotten hurt. They used high-tech equipment that senses body heat to try to find her overnight, to no avail.
(The Associated Press contributed to this article.)
×
Most recent Utah stories