Estimated read time: 2-3 minutes
This archived news story is available only for your personal, non-commercial use. Information in the story may be outdated or superseded by additional information. Reading or replaying the story in its archived form does not constitute a republication of the story.
Ed Yeates ReportingUtah researchers want to know if the "French Paradox" is all in the wine, or the grape itself. While the French eat high-cholesterol foods, they have low heart attack rates. So LDS Hospital is launching a longer-term human study that hasn't been done before.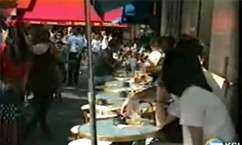 The French enjoy rich foods but still have a lower rate of coronary heart disease than we do in this country. Is it the glass of wine or something that's in it?
Chris Foote, a study volunteer, said, "I think it's interesting to find more about this purple grape juice thing."
LDS Hospital heart researchers will be looking at healthy individuals, like Chris Foote, in a first-of-its-kind extensive human trial. The trial includes not drinking wine, but a prescribed glass of pure grape juice per day, followed by intermittent blood workups.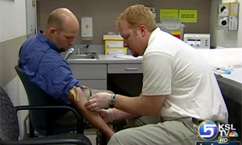 Dr. Ben Horne, a cardiology researcher at LDS Hospital, said, "There have been some very small human studies, including 20 individuals, looking at the effect of grape juice over a period of seven days. But anything longer than that has not been done in humans."
So, Utah's study will last three months and involve 100 people.
This is a scientific double-blind study, meaning 50 of the patients will get 100 percent purple grape juice, nothing added. The other 50 will get a placebo drink, something that looks and tastes like grape juice but is not the real thing.
In a study last year, an ingredient in concord grapes called resveratrol apparently showed some pretty dramatic results in animals.
"Massive amounts of resveratrol were given to monkeys, and they had very profound protection from coronary disease."
If true, pure grape juice might become a preventive you could take before, close to, or in the middle of a heart attack, if this proves out!
People interested in participating in the purple grape juice study may call LDS Hospital at (801) 408-8647.
×
Related links
Most recent Utah stories