This archived news story is available only for your personal, non-commercial use. Information in the story may be outdated or superseded by additional information. Reading or replaying the story in its archived form does not constitute a republication of the story.
HEBER CITY — Bravo can run like lightning, jump sky-high and swim like a fish.
But the Chesapeake Bay retriever's amazing athleticism is actually overshadowed by a unique life-saving skill you'd never expect in a dog.
The K-9 Hero of the Year will get a $1,000 cash prize when the winner is announced opening day, Friday at 11 a.m.
Bravo and other incredible dogs will be showing off their talents this weekend at the Soldier Hollow Classic Sheepdog Championship and Festival in Heber City. The event will also feature several contests including K-9 Hero of the Year.
Bravo and his owner, KC Owens, make quite a team. Owens described Bravo as a very calm, very cool and very collected gentle giant. She said he's all business.
"He takes work very serious, whether it's work or play," she said. But this bond goes deeper than that.
"I don't know how many times this dog has saved my life, literally," she said.
Bravo is a diabetic alert dog. That means he actually senses when KC's blood glucose level is either dangerously high or low, and he alerts KC to take care of it. "He just keeps on me until I do something about it," she said.
KC has Type I diabetes, but with Bravo's help, she is able to stay active with dog competitions, and that's the best reward for both of them.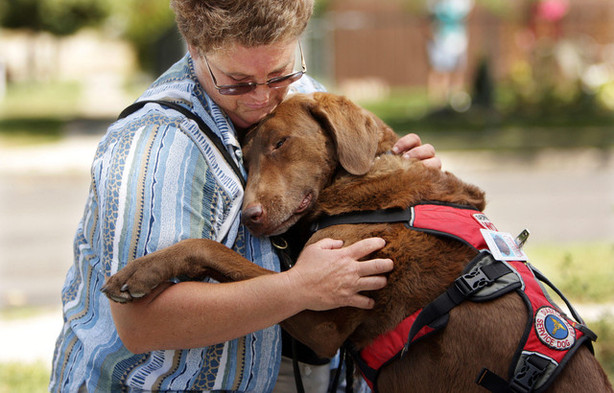 Bravo wasn't trained to be a diabetic dog. He taught himself to alert KC, and he actually alerts her 15 to 45 minutes before the technology is designed to do that. "If that isn't a hero, I don't know what is," she said.
The theory is that dogs like Bravo are reacting to a change in scent created by chemical changes in the body related to glucose imbalance. Owen said she was honored, awed, humbled and blessed to have a dog like Bravo.
"Are animals capable of that kind of love, I don't know," KC said. "I can't answer that for anybody else, but I'm telling you, when I've seen those alerts, it's like looking into the eyes of an angel."
Bravo also helps others ready themselves for their own diabetic alert dogs, and he alerts them if their blood glucose is off.
The K-9 Hero finalists also include registered therapy dogs Brooke and Scout from Spanish Fork. They visit hospitals and mental health facilities and have an uncanny ability to know when someone needs a little extra attention.
Another finalist is Uintah, a certified search and rescue dog with Rocky Mountain Rescue from Brigham City. She has been training with her handler for over five years. Uintah has pushed beyond her limitations and has sacrificed her own well-being while on searches.
Bravo will compete this weekend in field trials, hunt tests and dock jumping, and he's got serious credentials. But, he'll also keep an eye on KC, to make sure she stays healthy.
Contestants submitted their stories on the Soldier Hollow Classic's Facebook page.
The K-9 Hero of the Year will get a $1,000 cash prize when the winner is announced opening day, Friday at 11 a.m.
Email:jboal@ksl.com
×
Photos
Related Links
Related Stories