Estimated read time: 4-5 minutes
This archived news story is available only for your personal, non-commercial use. Information in the story may be outdated or superseded by additional information. Reading or replaying the story in its archived form does not constitute a republication of the story.
John Hollenhorst ReportingA new strategy is in place to try to provide answers for the families of six trapped miners. A robot will crawl through the Crandall Canyon mine in Emery County.
Sunday night mine officials had already started to try to get the robot into the mine where the six men have been missing since a cave-in August 6. There are also plans to drill a seventh borehole into the mountain.
The robot is another step, but even the planners will be surprised if it leads to anything useful. Cameras lowered into the mine so far have shown mostly a jumble of coal rubble.
They can see only a few feet from the drill hole. But now they're using a robotic camera that can actually crawl hundreds of feet through the mine and send video to the surface.
Jack Kuzar with the Mine Safety and Health Administration admits, "It's a long shot. I repeat, it's a long shot. But we owe it to the families to do everything possible to locate their loved ones."
Academic experts says there are many ways the robot could be foiled, such as getting stuck in the hole, tangled in chain-linked roofings, stymied by mud and rocks.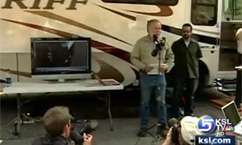 Dr. Robin Murphy, director of the Center for Robot Assisted Search & Rescue at the University of South Florida, said, "The Crandall Canyon mine is one of the most challenging situations I've ever seen. And so frankly, I give us less than a 50 percent chance of being able to come up with additional information."
As previously stated, one more drilling attempt will be made in hopes of finding something six previous drill holes didn't find.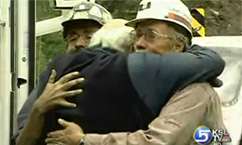 Bob Murray, president of Murray Energy Corporation, said, "We haven't given up hope. And now we're going to drill a seventh hole."
Murray embraced leaders of the drilling effort on Sunday. He says moves are already underway to seal the mine, an idea strongly opposed by the six miners' families.
Edward Havas, an attorney for the families, said, "As long as there's any possibility of rescuing or recovering these miners, it's just not acceptable to close this mountain up as long as there's a possibility."
But the families do support the robot camera.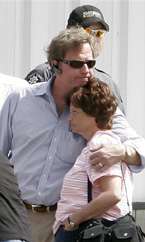 Another lawyer for the families, Collin King, said, "They want to know more. So anything that tells us more information one way or another is a good thing."
When we asked him if he agrees that it is a long shot, King replied, "No question about it."
The robot camera idea has been in the works since day one, they say. The device was assembled over the last week. It has two cameras and it's designed to be lowered down a drill hole and then crawl around the mine.
It's on a cable 1,000 feet long, and it can theoretically climb over coal rumble in the mine. It's designed to send live video back to the surface through a mile of fiber optic.
The camera is similar to one used to search within the wreckage of the World Trade Center in New York City after the Sept. 11, 2001, terrorist attacks. It can take images in the darkened cavern from about 50 feet away with the help of a 200-watt light, can travel 1,000 feet from the end of the test hole -- a much wider range than previous cameras used in the search efforts -- and has some ability to move around the rubble, officials said.
Bob Murray and his corporate partners seemed defensive Sunday, even bitter at suggestion they hadn't done enough. They say 200 employees have taken great risk and made huge sacrifices, so far to no avail, and no one is saying when this thing will be over.
The Crandall Canyon miners were last heard from about 3 a.m. Aug. 6, just before a thunderous shudder inside the mountain cracked the ribs of the mine and filled passageways with debris, cutting off an exit route. It's never been clear if they survived the cave-in.
Digging through the rubble-filed mine shaft was halted after a second collapse killed three rescuers and injured six others Aug. 16.
Sunday's announcement came a day after crews penetrated the mine with a sixth borehole, finding a debris-filled area too small for the men to survive, officials said.
(The Associated Press contributed to this report)
×
Related links
Most recent Utah stories