This archived news story is available only for your personal, non-commercial use. Information in the story may be outdated or superseded by additional information. Reading or replaying the story in its archived form does not constitute a republication of the story.
This is the first of a two-part series documenting four Jazz players' quest to win this summer's Nike 3-on-3 championship in Los Angeles.
LOS ANGELES — Sports scandals, negotiating nincompoops and soaring summer temperatures have dehydrated the sports landscape, leaving fans parched for news that's not drowning in lockouts, labor issues or universities that are willful violators.
While some sports fans have savored the recent return of the NFL, it's doubtful that the NBA and the Utah Jazz fan's thirst for news of a similar return will be quenched before the end of the calendar year.
However, in an unprecedented move, four Jazz players trying to keep their skills sharp went to compete in the 3rd Annual Nike 3-on-3 Basketball Tournament in Los Angeles, Aug. 6-7.
Jeff Griffin, Layne Mangum, Tyler Lathem and Sam Blakely are names fans won't find on last year's roster and even the most die-hard Utah Jazz fan probably won't recognize these guys; that is unless you're a fan of the wheelchair NBA and the Utah Wheelin' Jazz.
Griffin is the heart, soul and face of the Utah Wheelin' Jazz. He's cast from the same physical mold as Karl Malone.
Mangum resembles a long-time Jazz superfan, with the mouth to match.
Lathem and his physique could easily be mistaken on Salt Lake City streets for that of Matt Harpring and in the Hollywood Hills for Matt Damon.
Blakely is the young up-and-coming southpaw superstar, transitioning from the juniors to the adult team. According to Griffin, Blakely "has the whole package … and the body to be a star in this league."
I followed Griffin and his other Wheelin' Jazz cohorts for 48 hours where 20+ of which were used to drive to Los Angeles and back in a truck with a camper in tow so they could camp out for two days of what would essentially become their summer basketball training camp.
The Wheelin' Jazz left on a Friday afternoon, slept at a campground to save money, competed Saturday and Sunday morning, before making the drive back to Salt Lake City in time for work the following Monday morning.
Despite the trip, all is not well with the Wheelin' Jazz.
It will take more than Griffin's bulging biceps and chiseled chest to overcome this summer's leadership and money issues, some of which have fractured the core management members, team moral and relegated one long-time member to look for another team.
Will this Los Angeles trip begin the process of building broken bridges and healing hurt feelings? Or will the camper's tight quarters, summer heat and the strain of competition lead to more meltdowns, anguish and aggravation that further divides the team?
Griffin must use his mind over his muscle to avoid the same unraveling fate as the able-bodied NBA and Utah Jazz. Can he bring the team back together as the 2011-12 season hangs in the balance?
FRIDAY, 11 A.M. MST
The Wheelin' Jazz are already running 90 minutes late.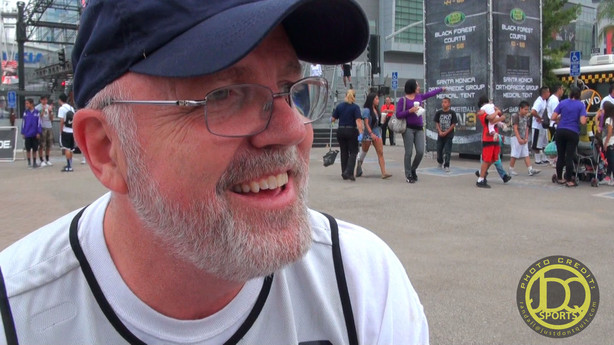 Mangum's house is the meeting place nestled close to the golfer's paradise of Thanksgiving Point. He is one of the original members of the Wheelin' Jazz and his house is the furthest south. He's heading up this trip and it's his truck they'll all have to pile into for their 10+ hour drive to Los Angeles.
Griffin only has to come a few miles from West Jordan, while Blakely is coming from east of Park City, Utah, some 45 miles away and Lathem isn't any closer, coming from Ogden, Utah, some 60+ miles away.
Surprisingly, not everyone who plays wheelchair basketball is actually confined to a chair. Some players have single- or double-leg amputations and get around on crutches. While others have a diagnosis that isn't as visible. Mangum is one of those players.
At 21, Mangum was diagnosed with a curvature of the back known as scoliosis. At 28 he said he "suffered an injury related to scoliosis that has left me with nerve damage and numbness in my lower back and legs. I live each day with pain and weakness in my lower back and legs."
After practicing or playing a game, he will pop out of his chair and help those who don't have his type of mobility. For most able-bodied observers, it can be a somewhat jarring paradigm shift to witness as preconceived wheelchair perceptions are challenged.
Once everyone arrives, all the everyday chairs and sport chairs are stowed, Tetris-style, in the shell-covered bed of Mangum's truck. There's one long, rectangular-shaped space in the shell where a window used to be, but nobody's worried about the chairs flying out.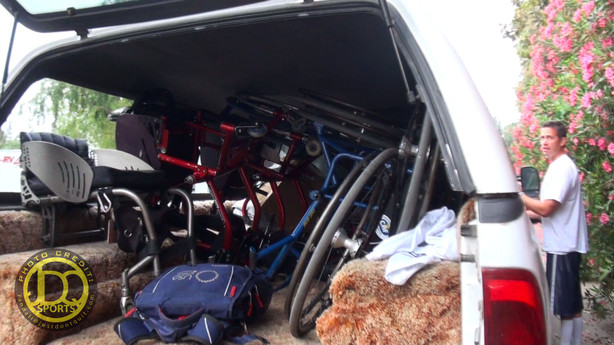 With everybody packed up, they're ready to exchange the warming Utah desert for the unfavorable Fahrenheit readings of Las Vegas, Death Valley and the Mojave Desert at the hottest parts of the day.
3:00 P.M. MST
The Wheelin' Jazz roll into St. George, Utah, to grab the camping trailer that they'll hitch to the back of Mangum's truck. The plan is to stay at a campground in landlocked Pomona, Calif., some 32 miles east of downtown L.A. where the games will be played. They have a game on Saturday at 9 a.m. and possibly the 8 a.m. early game on Sunday.
Mangum said the distance "won't be a problem."
If you've never been to LA, it'll be a problem.
It's not necessarily the distance that's the issue, it's all those cars they manage to pack onto those roads that tends to be the problem.
Someone mentions that there's another campground in Malibu, Calif., that's about the same distance from downtown where at least you'd have the beach to relax at while you watch the sunset melt into the water after pushing on pavement all day. Mangum says the plans have already been made.
10:00 P.M. MST
Related:
Finally, after 11 hours, the freeway signs are starting to announce Pomona for the next six exits. Mangum's truck makes its way off of I-10 and covers the short distance to the campground and their camping spot.
"It went by pretty quick," Mangum says. "We had a couple little problems with the truck. It kept wanting to overheat going up the hills. So that kept me occupied, trying to keep the temperature down, make sure everything was OK. We got to a certain point and we didn't have any problems with it anymore."
Now, let's not confuse this with a Boy Scout camping trip where there are tents to pitch and firewood to collect for that night's campfire. Mangum backs up and unhitches the camping trailer, slipping it into its spot among the multiple rows of RVs and trailers.
"It was kind of a fun ride. Yackin', telling jokes and having fun," Mangum continues. "It was long, but I enjoy it. I like to take road trips. It's fun for me, get to know the teammates a little better, have some laughs. It's good for me."
While the local time is an hour earlier, 9 p.m. PST, there's no wormhole that lets you skip that hour of travel. Eleven hours is 11 hours, no matter the time zone of the final destination.
"It was like I was flying to Europe, but only ended up in California," Griffin says. "We traveled (11) hours in that truck. It felt like I was in (coach seating) in the back of the plane just cramped with everyone else. I'm ready to be in my wheelchair right now. I didn't think I'd ever say that. I'm ready to be back in my wheelchair."
As all the guys pile out, they are more than ready to run around and stretch out their extremities, which brings up an interesting question:
Do you still feel the need to stretch your legs after a long drive?
Griffin and Lathem both smile and sort of chuckle when I ask that question. They are paralyzed from the waist down and have lost the everyday use of their legs.
"You might find this ironic," Griffin starts, "but my legs were numb. It's not the same numbness as paralysis, but my left leg was numb and I was ready to get out and stretch. It's a weird sensation, it's hard to describe."
"Same," Lathem concurs. "After a while you can feel it's not the same. It's different. You can just feel something. You're like, 'OK, my legs are numb. I gotta get out of this truck. I'm paralyzed and my legs are numb, I've been here way too long.'"
And with that, Lathem pops-a-wheelie, imitates a spinning top by doing numerous circles in his chair and heads off to find a bathroom.
Griffin gets ready to follow Lathem's lead.
"I'm just glad that we're here and nothing happened," Griffin quips, looking at Mangum.
"Hey, you got here," Mangum retorts.
"That guy can do like five things at once," Griffin marvels. "I'm surprised. Every time you get into the truck, you put your life into his hands and amazingly, we've had no problems."
"He's got good hands," Blakely chimes in softly from the edge of the conversation.
BEDTIME
SATURDAY, 12 A.M. MST
Griffin rolls up to the camper door, stops and starts to rise out of his chair.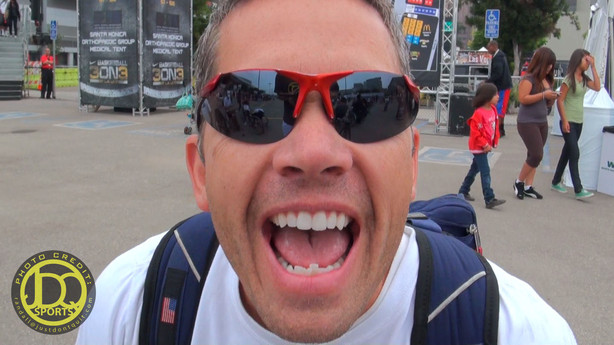 Fifteen years ago, he ruptured the L1 vertebrae in his spine and broke his back in three places when he fell more than 40 feet while painting a barn. He has not been able to walk since.
Doctor's told him that he wouldn't walk again. I met Griffin seven years ago in the summer of 2004 and even then, some eight years after his accident, he told me "I don't believe them."
He said it matter-of-factly, with a calm look in his eye that made you want to believe him, even if it was just because he believed.
What the doctors declared to be a medical impossibility, he has turned into a reachable dream by regaining feeling in parts of his legs and can now actually move around without the aid of crutches.
He reaches for the camper door. He is under his own power and pulls the latch of the door open, using it as a slight balancing tool. He lifts one leg up and places his foot on the first of three steps leading into the camper. He does the same with the left on the next step and again with the right until he's standing on the camper floor.
Imagine if someone tied a scarf around your knees so they were constricted and pigeoned inward, then asked you to walk. You could take steps forward on a limited basis with your feet swinging forward outside the framework of a normal stride.
He is standing upright and moves, crab-like, toward the back of the camper where his spot awaits his arrival. I asked him if he considers this to be walking.
"I consider it moving forward uprightly," he beams. "There will be a day where I walk and run and box out with my hips and not my wheelchair. But, um, until then, I've gained some mobility and learned how to move uprightly."
He credits his love of sports, his competitive athletic activity and belief in God with helping him recover from the accident.
"Everybody is good enough to accomplish their dreams and goals, if they pay the price and just don't quit," he said. "I think the only limitations people have are those they put upon themselves and those they allow others to put upon them."
Our conversation turns to the team and basketball.
"We've got a bunch of injured players playing on this 3-on-3," he says.
"It is wheelchair basketball," I remind him.
"Well, that's true we are all paralyzed," he dead panned. "But we've got some injuries other than being paralyzed. Tyler just wrapped his RZR (four-wheeler) around a tree two days ago. And then, Layne, he hurt his shoulder. Doing what, I don't know. And then just yesterday, I was lifting weights and probably did too much and pulled my back muscle to where every time I move a certain way, it just takes the breath away from me. So, it'll be interesting to see how we play."
Griffin patiently answers my questions while he sits at the edge of his fold-out camper bed, legs dangling towards the floor. He grabs one leg and plops it onto the mattress.
"Can you move your legs at all without the help of your hands?" I ask.
"Uh, my feet nothing. I'm a killer at the 'hokey pokey,'" he says dryly while shaking it all about to demonstrate the lack of control and motion in his foot. "But no, I can't move my feet yet, but my legs I can move. I'll kick you if I need to, but I try not to."
He lifts his other leg into his bed for the night and stretches out. He barely fits. We chat a little bit more before saying good night.
"Gonna say my prayers and go to bed," he announces, like Walter Cronkite signing off for the night. "And, uh, we'll see you guys tomorrow."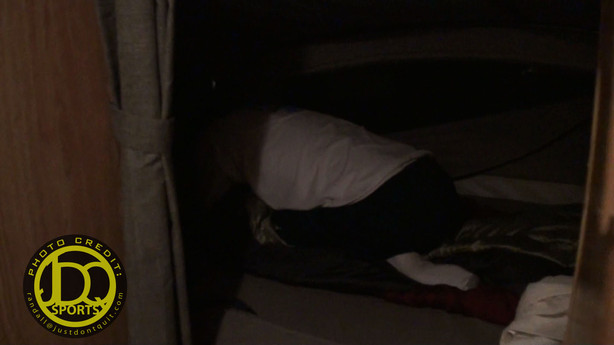 With that, he turns over onto his stomach, brings each leg up and underneath him in a kneeling position, puts his elbows on the bed, clasps his hands together and bows his head.
I would like to know what's being said between Jeff and his God.
What would I say to him if I were Griffin at this point?
Would it still be a negotiating session? Would anger and rage still encroach on the conversation? Are there deals being proposed? Would I still ask 'Why me, God?'
Or would it be more along the lines of simple thanks for being alive and gratitude for family? How does his faith help him overcome insurmountable odds on a daily and yearly basis? Especially now that those days and years total more than one-and-a-half decades.
Randall is the founder of the digital media site www.justdontquit.com which motivates people to chase their dreams through Sports & Entertainment storytelling on Digital, Social & Mainstream Media platforms; in English and Spanish.
×
Photos
Related Links