Estimated read time: 3-4 minutes
This archived news story is available only for your personal, non-commercial use. Information in the story may be outdated or superseded by additional information. Reading or replaying the story in its archived form does not constitute a republication of the story.
Sarah Dallof Reporting While there is anger in the community surrounding the Crandall Canyon mine, Friday night the focus was on love and support for the families of the six trapped miners.
A fund-raiser in Helper raised tens of thousands of dollars. We counted at least $32,000 in big corporate and family donations, and that was before the real bidding began.
In a town where good news is painfully slow to surface, the money poured in Friday night at lightning speed. Rebecca Whipple spent $1,000 at the auction. "I've got three beautiful quilts. One was $500. One was $350," she told us.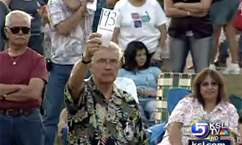 Helper City pulled together the fund-raiser in less than a week, relying on generous neighbors to bring in auction items, then step up to the plate to donate. They weren't disappointed.
John Jones, a Helper City Council member, said, "It's a great outcry from our county saying, 'Hey, we care. We want you to be OK, and we want you to know we're here.'"
But amid the friendly competition for top bid, a solemn reminder of the reason for the fund-raiser: six miners trapped, three rescuers dead, another two seriously injured. Prayers were said and candles lit for all. Following a moment of silence, big donors stepped forward carrying checks for thousands of dollars.
Paula Christensen, the cousin of trapped miner Don Erickson, said, "Everybody knows everybody, so everybody is willing to give and do what they can."
The smiling faces and outpouring of support are something Paula Christensen wishes Erickson could see.
"I think he'd have a warm heart and a tear in his eye," she said.
There was a lot of hope Friday night that Saturday will hold good news. A sixth borehole being drilled into the mine is supposed to be completed sometime Saturday. Mine co-owner Bob Murray has said it will be the final drill hole.
There was speculation Friday afternoon that Murray may close all Utah mines on Oct. 1. A spokesperson for Murray Energy, Inc. could neither confirm nor deny the rumors, but said there has been discussion on the topic. Some say this would be a huge economic blow to central Utah communities.
Meanwhile, the United Mine Workers Union is now officially involved in the Crandall Canyon Mine situation. Notice was served Friday afternoon that the organization will be representing miners in future plans about what happens at Crandall Canyon coal mine.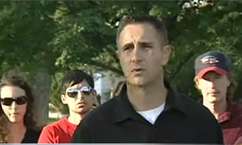 The fight for these miners' families, however, is just beginning. According to the Deseret Morning News, they may seek legal action to get their loved ones back, dead or alive.
A family statement read, "We want our family members returned to us alive and, heaven forbid, dead. Don't let them leave them in the mine."
They intend to file a temporary restraining order preventing the sealing of the mine. They believe not enough is being done.
"We have prayed day and night for a miracle, and now we feel Mr. Murray is abandoning us. Sealing up the mine with the loved ones inside, without knowing if they perished, is outrageous to us," family spokesman Sonny Olsen read in a statement from the families.
Meanwhile, the funeral for rescue worker Brandon Kimber was to take place Friday night in Moab.
×
Related links
Most recent Utah stories