Estimated read time: 2-3 minutes
This archived news story is available only for your personal, non-commercial use. Information in the story may be outdated or superseded by additional information. Reading or replaying the story in its archived form does not constitute a republication of the story.
AP Photo/Mike Terry/PoolAlex Cabrero Reporting
It took Gary Jensen 53 years to have all the family and to make all the friends he's had in his life. Today it seemed like every single one of them was at his funeral to say goodbye. "It has been truly amazing," Jensen's son, Dustin, said.
It's not easy talking about the death of your dad, but for Dustin Jensen, it's getting easier because of hid dad's friends. "He was a man that could make friends anywhere and make everybody laugh and smile, and it's just an honor to stand here and hear the stories that these friends have had with my father," he said.
Gary Jensen was killed in the Crandall Canyon mine when it collapsed last week. His funeral was today, and it seemed anybody who ever knew him came to Salina to say goodbye. "The family feels it appropriate to express their appreciation for the overwhelming support from family, friends, community and church," Gary's brother-in-law, Steven Lambertsen, said.
Jensen worked in the mining industry for over 30 years, joining the Mine Safety and Health Administration in 2001 to make working conditions safer for miners.
"His biggest thing was helping people, and that's why he enjoyed the safety end of it. And he loved the people, and he was one that would go in and joke with them, and all the miners truly loved him," Dustin recalled.
But even more than that, he was a family man going to all his children's games and activities and helping neighbors and family members, no matter what it took. "If you had any type of issues that you had to go through with your kids or with you and your spouse, or if you just needed a new loan on an automobile, Gary was there to help you," Lambertsen said.
Jensen was buried in the Redmond Cemetery, the town where he was raised and he lived his entire life.
He leaves behind his wife, four kids and three grandchildren.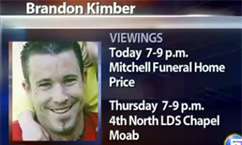 Brandon Kimber is the third rescue miner killed in last week's collapse. There is a public viewing this evening at the Mitchell Funeral Home in Price.
A private funeral will be held for him Friday in Moab. A second viewing will follow the funeral.
×
Related links
Most recent Utah stories