This archived news story is available only for your personal, non-commercial use. Information in the story may be outdated or superseded by additional information. Reading or replaying the story in its archived form does not constitute a republication of the story.
VERNAL — Looking at the photo Tracy Beede held of her son Friday afternoon, it's hard to imagine that he was always a mama's boy.
In the image, Sgt. Daniel Gurr is resolutely standing guard as fellow Marines move away from a helicopter that has just dropped them on the deck of a ship. He's clad in full battle gear, his assault rifle muzzle down.
"He always worried about me," Beede said, sitting in the front room of her Vernal home surrounded by a growing circle of family and friends.
"He'd call all my friends and ask, 'How's mom doing?'" she added.
Of course, Beede feared for her son's safety, too. Less than five hours earlier the worst of those fears became reality when the mother of four answered a knock on the door and found two marines and a sailor standing on her porch.
"I knew," Beede said.
Gurr, who enlisted in the Marine Corps before entering his senior year at Uintah High School, was shot and killed Friday by enemy small-arms fire during a foot patrol near Malozai, in the Helmand Province of Afghanistan. The 21-year-old had recently been promoted to sergeant, his mother said, and was assigned to 3rd Recon Battalion, 2nd Marine Division.
Gurr is the fourth soldier from Utah to be killed in Afghanistan since July 5, when Army Spc. Preston J. Suter, 22, from Sandy, was killed when enemy forces attacked his unit with an improvised explosive device, according to the Defense Department.
On July 10, [Lance Cpl. Norberto Mendez-Hernandez]() of Logan died while conducting combat operations in Helmand province. And on July 16, U.S. Army Cpl. Raphael Arruda, 21, of South Ogden, was patrolling the Kandahar province in a mine-resistant vehicle when the truck was hit by an IED, family members said.
Gurr had declared as a child that he would join the military when he was old enough, family and friends said. He had played "soldier" as a kid, Beede said, and revered her father, who had been in the armed forces.
At age 17, Gurr convinced his parents to allow him to enlist in the Marine Corps. He choose that branch of the service, his mother said, because "the uniform was better, so he could pick up more chicks."
"That's a 17-year-old kid," she said.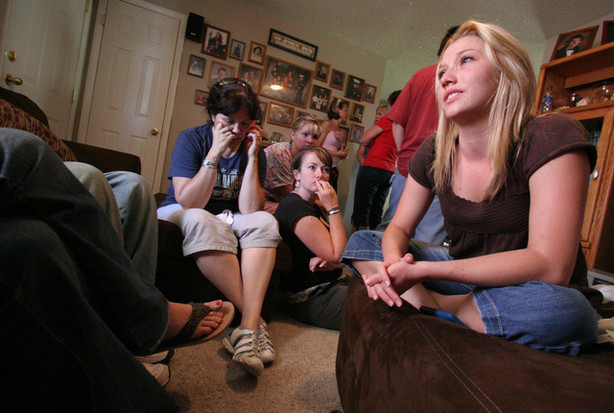 But Beede didn't find that 17-year-old kid when she traveled to Camp Pendleton, Calif., to watch her son graduate from boot camp just months after he finished high school.
"He'd gone from the little boy I'd sent to boot camp to a man; a through and through man," she said.
"I had probably never been so proud of him, and not as just a mom, but as an American," Beede added. "To watch that many Marines graduate and that many young men and women be ready to take the oath and make that sacrifice for our freedom, for our country — to give up everything for that — it was amazing."
Gurr spoke last with his mother on July 27, her birthday. She said he was thrilled that the place where his unit was living finally had air conditioning, but he still longed for a real shower. Despite those hardships and the dangers of combat, Gurr was happy, his mother said.
"He was hot and tired, but loving it," she said. "He loved his platoon. They were his family, his brothers."
Another person Gurr had a lasting love for was Stephanie Sabin. The couple dated exclusively nine times over the past six years and had reunited in February. They were even engaged for a while in 2009 after Gurr flew Sabin to Okinawa to propose.
"It was perfect," Sabin said as she recalled dancing in the middle of the barracks with Gurr before he got down on one knee and asked her to marry him.
Despite their on-again, off-again romance, Sabin said Gurr was "still the first person I always wanted to talk to." They spoke in July for three days when Gurr's unit spent some time at Camp Leatherneck in Afghanistan, she said.
"I'm still waiting for somebody to wake me up," Sabin said.
Beede said the loss of her son has left her feeling numb, but she believes he died in the service of others doing something he was always meant to do and that he squeezed every experience possible into his brief life.
"I did not see a moment since Daniel's been born that he didn't enjoy life," Beede said. "He lived life to the fullest."
That life included playing soccer and serving as a student body officer at Uintah High, where he dipped and kissed the school's female principal after accepting his diploma, friends and family recalled Friday, a memory that brought a mix of tears and laughter.
"At 21, that boy lived a full life," Beede said.
She said her biggest fear now is that people will forget her son and his sacrifice.
"He was a true man with a heart of gold," she said. "He would have taken a bullet for anybody, even if he didn't know them."
----
Written byGeoff Liesik of the Uintah Basin Standard with contributions from Jennifer Stagg.
×
Photos